Local
Bird electric scooters show up — unannounced — in Cambridge and Somerville
Local officials said the two cities were unaware of the company's rollout Friday.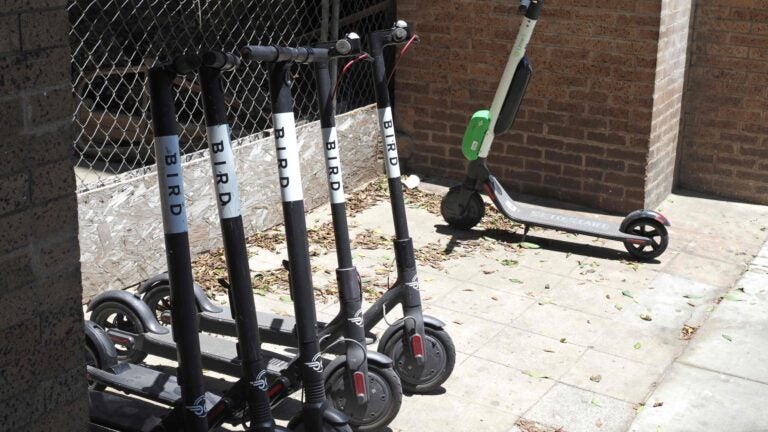 They've arrived.
Bird, one of the dockless electric scooter-sharing companies descending on cities across the country, quietly made their entrance into the Boston area Friday.
A Bird spokesperson confirmed that Friday marked the first day of the company's expansion into Cambridge and Somerville, as well as Providence, after a Boston.com reporter spotted three of their scooters on Highland Avenue in Somerville and reached out earlier that morning.
"Birds are now available in the neighborhoods throughout the Cambridge and Somerville areas and as ridership grows, we will adjust the number of Birds and areas they're available based on rider demand," the spokesperson said.
Bird didn't specify how many scooters were rolled out locally, but the company's app displayed dozens of locations across the cities Friday where the scooters could be found. The company says it won't add any more scooters until each one averages three or more rides per day.
They're here. pic.twitter.com/SgAkuwLeHv

— Nik DeCosta-Klipa (@NikDeCostaKlipa) July 20, 2018
Spin and Lime, two other so-called e-scooter companies, have also expressed interest in expanding into New England. Similar to dockless bike-sharing, riders unlock the scooters using the companies' mobile apps. It costs a base fee of $1 to ride a Bird scooter, plus an additional 15 cents-per-minute of the trip. The company says it provides an affordable transportation option that's "perfect for those 'last mile' trips that are too long to walk, but too short to drive."
In keeping with Bird's reputation, the scooters appear to have shown up unannounced. Somerville officials were completely unaware of the company's local arrival Friday, according to city spokeswoman Jackie Rossetti.
"The City does not have a contract nor any kind of agreement with Bird Scooters and we were not aware of the rollout of the program," Rossetti told Boston.com in an email.
Lee Gianetti, a spokesman for the City of Cambridge, also said they were unaware of Bird's rollout and that city officials had no form of agreement with the company.
Over the last year, Bird has clashed with several cities for showing up virtually overnight and operating without a permit. Some local officials have expressed concern that the scooters, when not parked correctly, can present safety hazards and obstruct public ways.
However, in an effort to avoid cluttering city streets and sidewalks, Bird recently committed to a model of "responsible growth" and said it will pick up and reposition scooters on a nightly basis. On Thursday, the company also announced a program to waive its $1 base fee per ride "for anyone who is currently enrolled in, or eligible for a state or federal assistance program."