Local
What happens if you ride one of those Bird scooters into Boston?
"We recommend that riders stay within their city lines."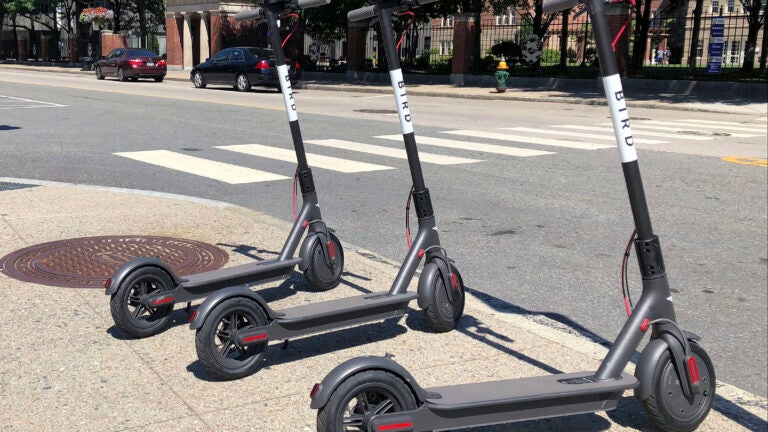 Despite making its debut in the Greater Boston area Friday, the dockless electric scooter-sharing company Bird hasn't yet swooped into the city itself.
"The City of Boston does not have a formal partnership with Bird Scooters," Samantha Ornsby, the press secretary for Mayor Marty Walsh, told Boston.com in an email Monday.
That didn't stop the company from dropping off scooters in dozens of locations without notice overnight last week in Cambridge and Somerville. For now, Walsh says that any that show up in Boston will be impounded.
"If they drop them off here, we're going to pick them up off the street and they can come pick them up at the tow yard," the Boston mayor told reporters Sunday.
Shortly after Bird arrived Friday in Cambridge and Somerville, the company's smartphone app began displaying a red "no ride or park zone" covering the entirety of Boston.
"We recommend that riders stay within their city lines while using Bird and avoid the 'no ride zones' visible in the Bird app," a Bird spokesperson told Boston.com in response to questions about the zone.
Walsh said Sunday that he's not necessarily opposed to Bird operating in Boston, but warned that "they can't just show up here," like they have in other cities.
"There has to be some regulation and some notification of what's going to happen," he said, later adding that there would first need to be a "real good vetting process to see if in fact we want something like this."
Walsh said that city officials had met with Bird representatives in the past, but that their arrival Friday caught him (as well as most everyone else) by surprise.
Walsh's office says they expect that any dockless scooters left on public property in Boston will be removed immediately by the scooter's owner — similar as with the dockless bike-sharing companies that recently sparked something of a local border war. The city began seizing dockless bikes from a local startup operating without permission in Boston, which is one of four communities with an exclusive territorial contract with the station-based bike-share system Blue Bikes.
A Bird spokesperson said Monday that the company "collects any vehicles left in no-ride zones." So it may be a matter of who gets to it first — the city, the company, or even another rider.
Boston has no exclusive territorial agreement when it comes to scooters, but city officials do have safety concerns.
Bird directs users to park scooters so that they do not obstruct public pathways, such as sidewalks, streets, or storefronts, and has pledged to efforts to reduce clutter. However, city officials say that scooters left haphazardly could present a safety or mobility issue if the California-based company comes to Boston. Euwyn Poon, the co-founder of Spin, another dockless scooter-sharing company, told Boston.com last month that Boston's uniquely old streets and narrow sidewalks could making parking "a bit more challenging than a more modern city."
Walsh said Sunday he also was particularly concerned about tourists, unfamiliar with Boston's "confusing" streets, using the scooters.
"It could be a real hazard here in Boston," he said.
Even with the relative challenges perhaps posed by Boston's infrastructure and weather, it's an appealing market for dockless scooter and bike companies due to the area's many students and so-called "last mile" trips. Bird has declined to comment on potentially expanding to Boston. The company, which has launched in 20 cities across the country, also showed up announced in Providence last week, in addition to Cambridge and Somerville.
Despite receiving no prior notice, Somerville officials say they're reaching out to the company in the hopes of reaching an agreement that furthers the city's goal of reducing dependence on the private automobiles.
"We believe that electric scooter companies can be a part of the solution if the providers work with us, share data, and ensure compliance with safety and accessibility laws," Jackie Rossetti, a spokeswoman for the city, said in a statement Monday. "We will be reaching out to Bird to start that conversation immediately."