Local
Cambridge says Bird is operating illegally, but won't take any action yet
The city plans to meet with the scooter-sharing company next week.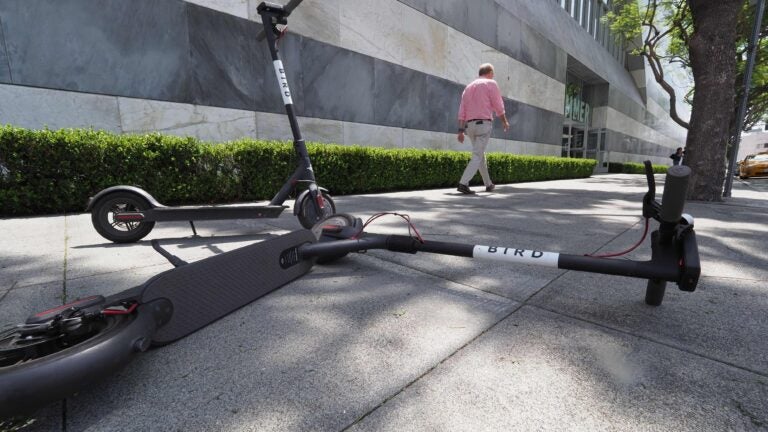 Bird is flying against the law in Cambridge.
City officials say the California-based, scooter-sharing company has not received or requested the necessary permissions to bring its business to Cambridge. In a letter Tuesday, Cambridge City Manager Louis DePasquale warned Bird that its operations were thus "illegal."
"The City will not permit Bird's electric scooter to be parked and used on City-owned streets, sidewalks, and other public property without all required authorizations and permissions having first been obtained," DePasquale wrote to Ashwini Chhabra, the California-based company's senior director of public policy.
However, the city isn't taking any enforcement actions against Bird — which deployed its dockless scooters without any prior notice in Cambridge and Somerville last Friday —  just yet (other cities have sued the company or seized its scooters for showing up without permission).
"We plan to meet with Bird first to discuss their business before we determine our next steps," city spokesman Lee Gianetti told Boston.com in an email Wednesday, when asked about the possibility of impounding scooters.
"Our staff are considering the City's options."
Cambridge officials are planning to meet with the company Monday morning.
DePasquale, who noted that the city is a "leader in mobility options that reduce dependance on private automobiles," wrote Tuesday that he is open to Bird operating in Cambridge. And while the city wants to further those transportation objectives, he said the it must also enforce laws and regulations to protect public ways from "misuse and obstruction" and ensure public safety.
Bird says its services have already been "enthusiastically adopted" by Cambridge residents and that the company shares the city's goal of reducing dependency on cars.
"We look forward to working with the city to build a framework that permits Bird to continue providing Cambridge with our convenient transportation option that reduces traffic and carbon emissions," a Bird spokesperson told Boston.com in a statement Wednesday afternoon.
Cambridge has specific regulations for motorized scooters, including bans on riding them on sidewalks, at night or without a helmet, or parking them in a way that obstructs pedestrian traffic or access for disabled people.
Those regulations align with Bird's existing rules and guidance. The growing, yet controversial, company has clashed with other cities across the country for deploying its scooters without permission, but more recently has taken a more cooperative approach and has committed to efforts to minimize the degree to which their scooters clutter city streets.
Boston Mayor Marty Walsh has warned that the city will seize scooters — as they did with dockless bikes — if the company shows up without notice across the Charles River. But Somerville officials also say they've reached out to Bird in the hopes of coming to terms, following the scooter company's unexpected arrival last week.
"We believe that electric scooter companies can be a part of the solution if the providers work with us, share data, and ensure compliance with safety and accessibility laws," Jackie Rossetti, a spokeswoman for the city, told Boston.com.