Local
'It doesn't make sense': Friends and family remember Richelle Robinson, 15, who died after being thrown to the ground in Cambridge
Authorities are investigating what they say was an "apparent assault" on the teen Sunday evening as she was walking down Cambridge Street to a friend's house.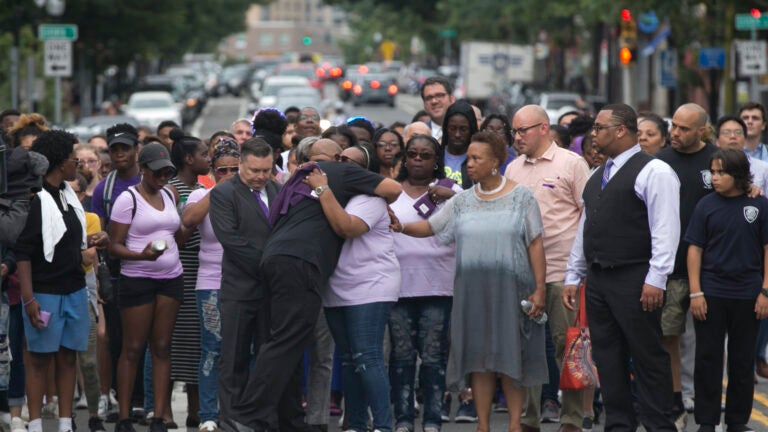 Friends and relatives of the 15-year-old girl, who died after being thrown to the ground in what authorities say was an apparent assault, gathered in Cambridge Wednesday night to mourn and remember the young teen.
While authorities have not released the name of the girl, who was a student at Cambridge Rindge and Latin School, family members have identified her to the media as Richelle Robinson.
"She was a very smart young lady, and very responsible," her family's statement read, according to The Boston Globe. "She was loved by many. She had future plans to become an emergency medical technician. She loved to dance and she loved makeup and getting her nails done."
With permission from her family and her mother, we can now identify the Cambridge teen who passed as Richelle Robinson. Her family says "she was a very smart young lady, and very responsible." She wanted to become an EMT. #wcvb pic.twitter.com/9tphjw2Tum

— Julie Loncich (@JulieLoncich) July 25, 2018
She would have turned 16 in September, according to the Globe.
More than 100 people gathered at the MBTA's Lechmere Station Wednesday evening, many dressed in the teen's favorite color of purple, and walked together down Cambridge Street to the spot near the intersection of Warren Street where police say Richelle was pushed to the ground on Sunday.
Right Now: Family & friends of Cambridge Teen Richelle Robinson walk her final steps. #wcvb pic.twitter.com/uTjuMi8xh6

— Mary Saladna (@MaryWCVB) July 25, 2018
According to the Globe, the mourners lit dozens of candles and placed flowers and teddy bears on the sidewalk.
Atia Mahabir, a 17-year-old student at Rindge and Latin who worked with Richelle at the city's Community Art Center, left a painted portrait of her classmate with the letters "RIP" at the makeshift memorial, MassLive reports.
"I wanted to draw her in her memory and to give to the family to kind of show that people still care and people are very, like, disappointed about what happened," Mahabir told the news site.
Pastor Wayne Deleveaux addressed the crowd, recalling that Robinson was "always joyous" as he urged those gathered to honor the teen's memory.
"We're going to remember one thing, that Richelle lived a good life," he said. "That she always smiled. That she was a great teenager, as well as a kid, and we're going to continue to live that example she left behind."
Shocked friends, teachers, and family members told reporters at the vigil that they were struggling to understand the sudden loss of the 15-year-old, who was described as a dedicated student and caring person.
"She was always one of those people who's positive, that's always there," Tatiana, a friend of Richelle's, told Boston 25 News. "It doesn't make sense, like no one is prepared for this."
A family friend, Marqus Santos, 19, told MassLive he would often see the teen on holidays and she would do his sister's hair.
"She was always friendly, always hanging out with her friends," Santos said. "Fifteen is just too young … somebody who never really experienced all of their life."
Kendal Schwartz, an eighth grade teacher, told MassLive the 15-year-old participated in the police department's youth boxing program.
"She was just a beam of light every time she came into the room," she said.
Family ID's 15 y/o who died after Sunday Cambridge assault as Richelle Robinson. "She was loved by many. She had future plans to become an Emergency Medical Technician. She would have celebrated her birthday 16th birthday in September." Walk in her honor begins at 6p #Boston25 pic.twitter.com/j0QH0VxLMi

— Drew Karedes (@DrewKaredes) July 25, 2018
Connie Henderson, another one of Richelle's eighth grade teachers at Cambridge Upper School, recalled that the young student was very organized, keeping a color-coded notebook.
"It's a really hard thing to accept and understand," she told the Globe of her former student's death.  
Cambridge police say they responded to a report of a young woman being thrown to the ground on Cambridge Street around 6:30 p.m. Sunday. Richelle was transported to a local hospital in what authorities said was critical condition and was pronounced dead around 2:45 p.m. on Monday, according to the Middlesex District Attorney's office.
Middlesex District Attorney Marian Ryan told WCVB it was unclear if it was a targeted or random attack.
"At some point, (she) is seen being thrown to the ground on Cambridge Street around the 700 block," Ryan said. "And then folks rush over to help, she's bleeding, obviously needing emergency care, she's taken to the hospital and did not survive her injuries."
Police said she struck her head when she was shoved to the ground.
Authorities are asking any members of the public with information about the attack on the teen to contact police or the DA's office.
"Police are attempting to locate and identify any witnesses…" #Cambridge Police are handing out these flyers to businesses to display in the area where a 15-y-o girl was thrown onto the sidewalk & later died of injuries. #wbz pic.twitter.com/UWiMTF2cUM

— Christina Hager (@HagerWBZ) July 25, 2018
"Investigators are attempting to locate and identify any witnesses to the incident including information concerning the identity of a person seen in the area on a bicycle," police said.
https://www.facebook.com/CambridgePolice/posts/1881992161838818