Local
'Our lives have changed completely': Family of Vermont woman injured in tour boat explosion gives update on her condition
Stefanie Schaffer was one of 12 people aboard the boat in the Bahamas when it exploded, killing a woman celebrating her wedding anniversary.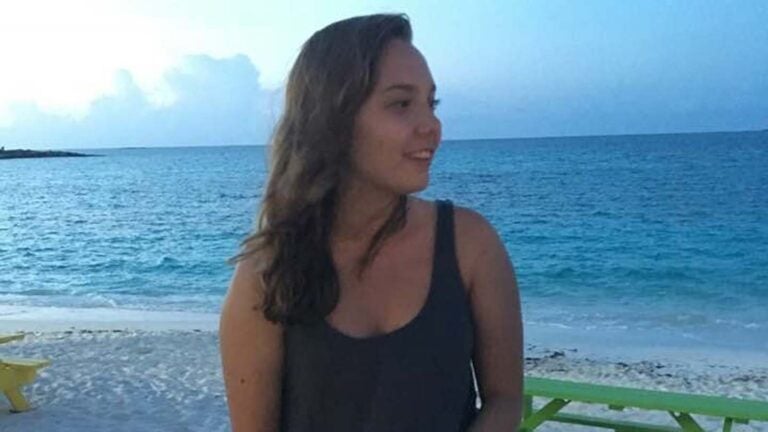 Stefanie Schaffer and her 13-year-old sister Brooke got to the dock early on June 30 with their mother, Stacey, and stepfather, Paul Bender. They were looking forward to the swimming pigs.
It was the family's first trip to the Bahamas, and, according to Bender, they'd spent several days deciding on which excursion voyage they wanted to take on their vacation.
They eventually decided on Four C's Adventures, arriving early to sign in and pay for the voyage that would take them to the Exuma Cays, a 20-mile round trip over the course of a couple hours.
The family from Rutland, Vermont, climbed aboard with their friends John Inman and Sheila Jones and their two kids, Haiden and Kyle.
Bender said they listened with the two other passengers on board, Maleka and Tiran Jackson from Atlanta, Georgia, as the captain explained the itinerary.
The boat pulled away from the shore and started to pick up speed.
"We were all happy, smiling," Bender recalled. "Stacey was a little bit nervous because the boat was going pretty fast. And I'm sitting there. And all of a sudden there was a bang."
The boat, which was carrying 10 American passengers and two crew members, had exploded.
The force of the blast sent Bender flying forward. His wife and Maleka Jackson were thrown into the water.
"When I came to, when I got up, I looked, and there was nobody on the boat," Bender said. "Everybody was gone."
He looked down and saw that Tiran Jackson had been flung down to the floor of the boat. The Vermont man reached down to try and help his fellow passenger when he heard someone yelling that the boat was on fire.
"I couldn't see Stefanie, she was under wreckage," Bender said of his 22-year-old stepdaughter. "I just couldn't see her."
He and Jackson got off the boat into the shallow water. A second tour boat that launched moments after theirs pulled up nearby.
Bender saw his wife in the water about 150 feet behind them.
"I hear her screaming, 'Where's Stefanie, where's Stefanie?,'" he said.
He and Jones began screaming to the people aboard the second boat that there was someone still on the burning vessel.
"A couple guys got off and went and got Stefanie," Bender said.
They floated the 22-year-old to the diving platform at the back of the boat, laying her down flat.
Bender held her head in his arms.
"I didn't know what to do except hold her," he said.
Inman and another man tied tourniquets on her legs, which were severely injured in the blast.
Once on shore, a stretcher was fashioned out of a piece of plywood to carry Schaffer onto dry land.
An ambulance had been called, but medical help was nowhere in sight, according to Bender.
He said Inman and Jones sprang into action, finding a pickup truck and its driver, a man named Edmund Burrows, nearby. They cleared equipment out of the truck bed and loaded Schaffer in.
Bender, who had been struck in the head, could barely stand. Jones scooped up Stacey Bender — who sustained a collapsed lung, fractures in her leg, wrist, and ribs — and carried her to the truck.
Brooke climbed into the back of the truck with her sister, giving her water and trying to keep her older sibling calm as the truck raced down the island's small roads.
"We drove 45 minutes from the boat company to the George Town hospital," Bender said. "And this driver is doing the best he can, honking the horn in traffic."
EXCLUSIVE: Survivors of fatal Bahamas boat explosion speak out for the first time. https://t.co/bgYFs6aG7g pic.twitter.com/fgk2H4D1r9

— ABC News (@ABC) July 3, 2018
After a few hours, Schaffer was medevacked to a hospital in Nassau, and she was later airlifted to Florida, where she remains in an intensive care unit.
Both her lower legs had to be amputated, and she was in a medically-induced coma for about a week and a half, Bender said.
Maleka Jackson, who had been in the Bahamas celebrating her 15th wedding anniversary, died from her injuries. Her husband, Tiran Jackson, was severely injured and had his left leg amputated, CBS Miami reports.  
The explosion is being investigated by government authorities in the Bahamas, according to the Nassau Guardian.
Bender estimated that Schaffer has had about 11 or 12 surgeries in the last three weeks. She's now awake and responsive, but her stepfather said she doesn't yet know about the extent of her injuries.
She isn't able to communicate yet, he said, and her doctors are keeping her sedated a lot of the time to keep her calm and comfortable.
https://www.facebook.com/george.j.schaffer.1/posts/10216382768221203
"When she's comfortable, she's smiling," Bender said. "But for the most part, it's uncomfortable. A lot of her bones are broken, and there's no realistic, comfortable position. But for the most part, she smiles. She laughs if you say something funny. She cries."
The 22-year-old majors in public health at Castleton University. A dancer until she was about 15 and a member of the soccer team all through high school, Schaffer is a thoughtful listener who was dedicated to her studies, according to Bender.
"She's shy," he said. "She doesn't like a lot of attention. I think all the attention she's getting, if she realized it, it would be way over the top for her. She's very humble."
Following the news of the explosion, friends and relatives of the Schaffer and Bender family rallied to raise funds for the Rutland residents. A GoFundMe campaign has raised more than $160,000 since it was started, and recently friends of the family have started selling bracelets — light blue bands with the words "Stef Strong" stamped across them.  
For those who hear their story, Bender urged people to take extra care when planning a vacation to a new place.
"Just have a plan on, 'What are you going to do if something goes wrong?'" he said. "Because we never expected this."
Bender said he and his wife expect to be in Florida with Schaffer through at least September as her care continues.
But beyond that, he said, the focus is just on helping the 22-year-old heal.
"Our lives have changed completely," he said.