Local
Police say her dead classmate's blood was found in her treehouse. Now she's charged with murder.
Julia Enright, 21, is accused of killing 20-year-old Brandon Chicklis.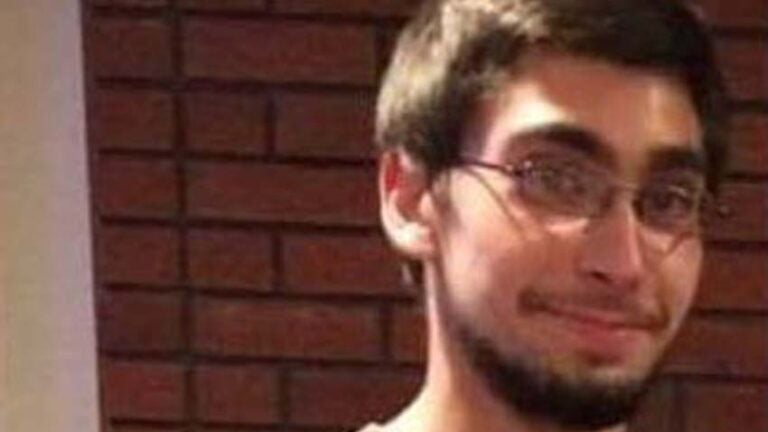 Brandon Chicklis would have celebrated his 21st birthday on Tuesday.
Instead, the woman accused of killing him at her Massachusetts home and dumping his body off a state highway in New Hampshire was arraigned for his murder.
Julia Enright, 21, of Ashburnham, was held without bail on a murder charge and a not guilty plea was entered on her behalf, according to the Worcester District Attorney's office. Her arrest on Monday night stemmed from a weeks-long investigation that spanned Massachusetts and New Hampshire after Chicklis's body was discovered in early July.
He was initially reported missing by his family in June.
"This was a very thorough investigation," Worcester District Attorney Joseph Early said during a press conference Tuesday.
Here's what we know about the alleged crime.  
What authorities say happened
Authorities say Chicklis, 20, left his home in Westminster, Massachusetts, on June 23 with the intent of visiting his family in New Hampshire.
Kristen Beevers, the girlfriend of Chicklis's father, Paul Chicklis, told Worcester's Telegram & Gazette the young man was on his way to Windham, New Hampshire, to join them for dinner.
"He was on his way to join us for a belated Father's Day dinner," she said.
He was reported missing the next day by his family members after he didn't show up.
At the time, New Hampshire State Police could find no evidence indicating that the young man had arrived in Windham, according to the Telegram & Gazette. They were searching an area around a shopping center in Rindge, New Hampshire, roughly 40 miles west of where Chicklis was due for dinner, when they found the gray Honda Civic he had been driving.
The car was discovered on June 29 in the parking lot of a Hannaford supermarket on Route 202 in Rindge, according to the DA's office. On July 10, his body was discovered by a jogger about six miles from the supermarket on the side of Route 119 in Rindge, authorities said.
His manner of death was determined to be homicide by New Hampshire authorities.
"Mr. Chicklis's cell phone records placed him at 171 Packard Hill Road in Ashburnham, Massachusetts, on June 23," Early said. "Several search warrants were executed at that address and evidence was gathered."
According to the Monadnock Ledger-Transcript, there was no further activity from Chicklis's cell phone after June 23, indicating that it had either been turned off or destroyed where it was last detected. Helicopters, divers, and law enforcement officials descended on the property last week, which belongs to Enright's father, according to The Gardner News.
Chicklis and Enright knew each other, according to the DA's office, having been classmates at Montachusett Regional Vocational Technical School.
Enright told police she'd made plans to meet her former classmate at her home on June 23 and they spent the day drinking alcohol, the Ledger-Transcript reports. She told authorities Chicklis left to purchase drugs and never returned.
At the Packard Hill property, investigators found blood, identified Monday as the Westminster man's, on the stairs leading to a treehouse, inside the treehouse, under the treehouse, and in Enright's car, according to the Ledger-Transcript.
"It was apparent that the treehouse had recently been cleaned and a new rug had been placed on the floor," court documents obtained by MassLive read. "When the rug was removed, it appeared that blood had seeped down through the floorboards."
According to the Ledger-Transcript, Enright told police she'd taken friends to the treehouse in the past, but she denied being with Chicklis in the structure or her car on June 23.
Investigators believe the young man was killed in Ashburnham and his body was taken to New Hampshire.
The case returns to court on Aug. 29.
What we know about Julia Enright
A family member of Chicklis told NBC10 Boston that Enright and Chicklis had once dated, and that they'd remained friends after their breakup.
According to MassLive, they both graduated from Montachusett Regional Vocational Technical School in 2015 and they were friends on Facebook.
NECN reports Enright worked as a phlebotomist for Quest Diagnostics, and she was known as a dependable employee at a Dunkin' Donuts in Ashburnham where she previously worked.
"It literally blows my mind," a high school classmate told the station. "I would never have thought that Julia would even be considered a suspect in this."
Another former classmate described Enright as an "outsider."
"She always climbed trees a lot, so I'm not shocked she had a treehouse," the person, who did not want to be named, told NECN. "She's really smart, didn't play any sports, stayed to herself a little bit, only had a couple of friends."  
An attorney for Enright could not be immediately reached for comment.
What we know about Brandon Chicklis
Chicklis was a young man who worked hard to achieve his goals, Beevers told the News, calling the 20-year-old's death "unbelievable."
"He had no enemies," she said.  "He was brought up good."
A former Eagle Scout who loved the outdoors and camping, he studied drafting in school and became an HVAC technician, according to the newspaper.
"He was one of the most kindest, lovingest person ever," Chicklis's grandmother, Louise Rocka, told NBC10 Boston. "If you called him he was there. If you needed him for anything he was there for everybody."
After his body was found, a GoFundMe page was set up to raise funds for funeral expenses.
"We have unfortunately lost our dear son, grandson, nephew, brother, friend and much more and are looking for ANY contributions towards funeral expenses to this very tragic event that has occurred," his family wrote. "We appreciate any and all that you can give and thank you immensely."
As of Friday, more than $13,000 had been donated.
Messages of condolences have poured onto the page along with the donations.
"There has not been a day that has gone by that we didn't think about you and your family since the day you went missing," wrote John, Kellie, and Taber McPhillips. "Our thoughts and prayers are with you and your family. The Top Notch Plumbing crew was [lucky] enough to have worked with you in the construction field and got to know what an amazing young man you were."
"I still can't believe I'll never hear your voice again buddy," his father, Paul Chicklis, wrote on Facebook. "You had so much more Life to Live I love you so much son."
According to the GoFundMe page, funeral services for Chicklis will be held in Fitchburg, Massachusetts, on a yet-to-be-determined date.