Local
Massachusetts marijuana regulator Shaleen Title on the industry's slow rollout and what comes next
"It's obviously been a very long time since November 2016."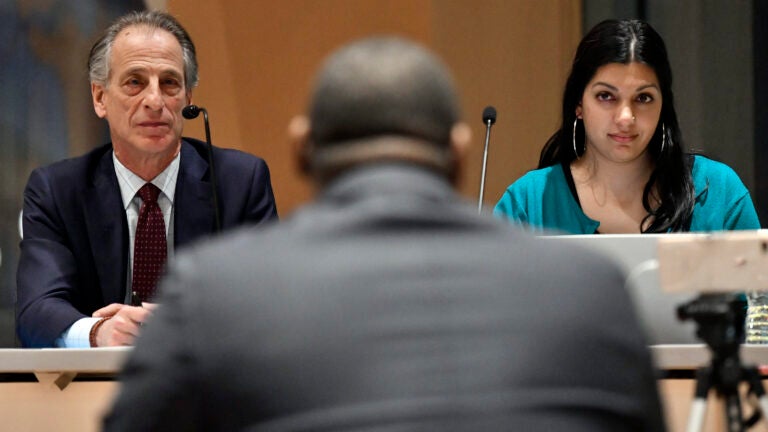 Shaleen Title says marijuana is her "lifework." Even on the Cannabis Control Commission, the months-old agency set up to implement and govern the state's adult-use marijuana industry, that makes her unique.
Of the CCC's five state-appointed commissioners, Title is the only one who actually voted for the 2016 ballot measure to legalize recreational marijuana in Massachusetts. After all, she did help write the referendum itself.
But even if Title's fellow commissioners don't share her background as a longtime legalization advocate, she says she's been "pleasantly surprised" to see equal commitment from her colleagues to rolling out the new industry.
That said, the process perhaps hasn't gone as quickly as some may have hoped.
"It's obviously been a very long time since November 2016," Title said in a recent interview.
And what has been surprising to Title are the challenges — several of which are out of the CCC's control — of not just getting dispensaries open as quickly as possible, but making sure they're implementing a fair and inclusive industry.
"We're a brand new agency," she said. "I wouldn't have realized this if I wasn't in this position — just how much work it is to build an agency from scratch at the same time that you're trying to go through this."
Title recently spoke with Boston.com about some of the reasons for the slow rollout, the barriers facing many retail marijuana shops, and what's next for the CCC in the months ahead.
This interview has been edited and condensed for clarity.
What are your thoughts on how the rollout has gone over the last month or so? Obviously, a lot of people had there eyes set on that July 1 date for when retail shops could open, and I was curious what you would say has been the main cause for the delay?
Title: I can really sympathize with the people who feel like this is going really slow. It's obviously been a very long time since November 2016. It's just a matter of making sure that we are following the law, because there are a lot of items that have to be checked before a license can be issued. A lot of those involve third parties, particularly getting municipal approval.
That is just the process that we're going through as fast as humanly possible, but, at the end of the day, if we made a mistake and we didn't follow the law, can you imagine the delays that would come from that? So we're just being careful and following the law as fast as we can.
Are there any particular lessons looking at what other states have done rolling out their industries, whether it be Colorado or Washington or any of the other states that did this a few years ahead?
Title: From my perspective — and I did work on the Colorado law and the Colorado campaign — I think that we were not aware yet of how much proactive effort it would take to make this a diverse and inclusive industry for the small businesses who are involved. I think that our voters and our legislature made that a priority. That's probably the biggest lesson for me.
I would say also the environmental regulations are probably something that Massachusetts is a leader on, looking at other states' rollouts. That's probably the main two.
In what way on the environmental regulations? That hasn't been something that's gotten a ton of coverage.
Title: I think you're right. So there's a perception out there that marijuana cultivation is a huge consumer of energy. And so, A, we wanted to make sure we collected data on that. So we actually know how much energy is being consumed. And B, with Massachusetts being a leader in energy efficiency in general, we wanted to be intentional and deliberate about making sure there were standards in place for the industry as it starts out.
So we're the first state to have environmental efficiency regulations and then we also have a working group in place with experts on the subject to make recommendations to the commission moving forward.
Another question I feel obligated to ask — and I know that the CCC has been reluctant to put a timeline on when the first shops will open and that's not completely in your control — but I was curious what your estimate is for how long it's going to take before the first dispensaries open.
Title: I'm pretty hesitant to do that, because I don't want to break people's hearts, you know? If you tell me something that I'm in control of and ask me to give you a date, I'll absolutely do that.
If you look at our regulations that were due in March, we did those ahead of time. We've met all of our deadlines. But I don't want to make a suggestion and then not have it met.
I know one of the main barriers right now is that there haven't been any labs that have finished their license applications. Why do you think that is?
Title: Yeah, so I had called the labs back in the spring — all the ones that were operating — and asked them to come in and meet with me to just talk about the process. Some of them didn't even know that they had to apply, because they had just gone through the medical process. A lot of this is just the way this has ended up being set up. It's complicated.
We're just trying to work with the labs and make sure this is set up as fast as possible. I assure you that as soon as there is a lab with a completed application, it will be in front of us. We specifically passed that as a policy, that it would jump right to the front of the line.
So what does the commission's work look like right now?
Title: As an entity, licensing is the top priority. That probably takes up the majority of time here.
Me, personally, I'm very concerned about the low number from economic empowerment applicants, [who were given priority review,] especially since as I said in [Thursday's] meeting, as more time goes on, the more licenses are issued, the less meaningful that benefit becomes.
So I'm very focused on making sure we hear directly from those applicants about what the barriers are and why they're not applying, so we can address those head on. And then separately, we do have this first-in-the-country equity program that we are getting off the ground.
The RFQ that we have out right now is for companies, nonprofits, organizations, anyone that has experience working with these communities or that has areas of expertise that are applicable. They can apply to us, and we'll be going through and deciding how to structure the program, with those vendors.
So those are my priorities, but, if you ask the other four commissioners, you get four different answers.
With the economic empowerment applicants, what have you found to have been the biggest reasons for why you're not getting a lot of applicants?
Title: We did actually do a survey and [Thursday] released the preliminary results, which were from 61 respondents who had gotten back to us. It was very much what I expected to see. It was consistent with my anecdotal experience, but of course you want to get real data.
It showed that the primary barriers are finding funding, developing a concept/business plan, and getting through the local approval process.
Are there any particular reasons for that?
Title: To me, it makes intuitive sense. It's very difficult to find capital in an industry where you can't go to the bank and get a loan. That's one reason why we have such a striking lack of diversity, because people who are able to borrow capital from their friends and family, it's easiest for them to move forward in this process.
The concept and business plan piece of it, we're doing our best to provide pathways and resources through the equity program to help train people in business skills. That is something that we have control over.
And then the local approval process, I believe that the vast majority of municipalities are trying to do this right. But they just need — they're busy, they have a million other priorities — so they need information from us to help answer their questions and walk them through it. That's what I was trying to do with the local equity guidance that we drafted [Thursday].
As you mentioned, the commission is seeking public comment on two draft guidances. Could you explain the thinking behind those?
Title: So the host community agreement guidance, which was drafted by Commissioner [Britte] McBride and which I fully support, it was addressing the question that has been raised recently around community impact fees.
Let me explain what that is. When the legislature was setting up the structure where applicants would have to get approval at the local level and approval at the state level, they set it up so that an application can't be approved by us at the state level until it has local approval.
And so they were balancing two different interests.
The one interest is that we don't want municipalities to have to bear any kind of burden. They shouldn't have to be paying if there are costs to them for hosting these businesses. We want to encourage them to help these businesses. So the legislature added a three percent local tax, which they can use however they want to benefit their local communities, and then they also wrote in that optionally, as a voluntary matter, they could contract together in the host community agreement for the business to cover costs that come up that are reasonably related to them being in that city or town.
They also were considering that it's a top priority in this law that this should be an inclusive industry that's open to everybody, open to small businesses. And in order to prevent a situation where local approval would just go to whoever is willing to pay the most, they put a strict cap, so those costs can't exceed three percent [of annual revenue].
The reason that this has become an issue is because a few municipalities have decided that that three percent is not enough for them. And so they have started drafting agreements where they ask for three percent, with like no documentation, and then, on top of that, more money and all sorts of ridiculous descriptions for what those additional amounts of money are for.
And it got to the point where the two legislators who led the passing of this law wrote us a letter. Sen. [Pat] Jehlen and Rep. [Mark] Cusack asked us to start enforcing this three-percent cap, so that's what led up to that discussion [Thursday] and releasing this guidance to make clear what the law says about the three percent.
And then what was the thinking behind the equity guidance?
Title: The equity guidance was also a long time coming and that was because I was just getting contacted by a lot of municipalities — Somerville was one of them — where they said, "We want to do this right, but we're just really confused about what we're supposed to be doing."
Which is true. There's not really a clear process in the law about what should happen at the municipal level. They gave them a lot of discretion. There's not like here's steps one, two, and three of how to do this.
My fellow commissioner, Commissioner [Kay] Doyle, she wrote an excellent municipal guidance document that we released very early on that clarified it, but we were still getting a lot of questions and I in particular was getting a lot of questions about how to do it equitably.
The second document is a set of recommendations for if you want to do this equitably and you're wondering how to approach this process, here's an approach you can use.
That makes sense. Like you said, a lot of these towns have a lot of other priorities and probably didn't have a particular person devoted to rolling out an adult-use marijuana industry on the local level.
Title: I think that's exactly it. A lot of things are still confusing to us — and we do this all day long and it's the only thing we work on. So I can imagine for them how incredibly complex it must be.
That said, some parts of it are not complex. And the three percent part is not complex.
Is there one thing that you think gets most misunderstood about the work that the commission is doing?
Title: Two things.
The first is just that we can't issue licenses willy-nilly. We have to go through a process. I've already kind of outlined that, but I'd mention it again, because I think it is a misunderstood thing about our commission.
And then secondly, just the fact that we're a brand new agency. I wouldn't have realized this if I wasn't in this position — just how much work it is to build an agency from scratch at the same time that you're trying to go through this.
This is, to my knowledge, a unique model. I don't know if any of the other states started an agency from scratch, and I think it's a really good way to do it. It doesn't get talked about a lot, but the fact that we're an independent agency that's not beholden to any kind of political influences and the fact that you have five commissioners with five distinct areas of experience, I think has played out in exactly the way it was intended. We really have had public conversations where we're talking about something for the first time and I'll hear the public health side of it and the public safety side of it for the first time. And I'll be like, "Oh, OK that makes a lot of sense," and then we come to a good compromise decision.
Being the only commissioner that voted for the 2016 ballot measure and coming from your background as a legalization activist, what's this job been like for you?
Title: I've been pleasantly surprised to see that everyone is as committed as me to roll this out as quickly and efficiently and effectively as possible.
I do sometimes feel like there's an additional amount of pressure on me, because marijuana is my lifework, and always has been and will always continue to be. I think my colleagues, you could put them in charge of regulating any other industry and they'd be just as good, and, you know, I probably wouldn't [laughs].
So I do feel some pressure, but it's also a benefit, too, because I know that once you go through this, you're able to help give feedback to all the other states that are now going to follow us and help them do it even better.
What sort of feedback have you gotten from friends and former colleagues in the marijuana industry about how this is going?
Title: I would say that I hear that they think it's going well, but that — I mean, there's concern because of the difference between what's theoretical and what's written in regulations versus what actually happens, and we're starting to approach that transition now.
Now is when people will really see — when I will really see and really demonstrate — how committed are we to what've said and are we actually going to make it happen or not.
So going forward, how do you expect the rollout to develop over the next few months? What does August and September and October look like? 
Title: I think that it will move quickly. We already are in like a smooth, quickly progressing pattern. The ones that we've already licensed, we'll move forward with inspections and then they'll start opening, and then we'll keep licensing more and they'll go through that process. I do expect it to be steady.
That said, the local control process is a critical factor here. And what happens when all of those moratoriums end at the end of the year is really going to affect the number of applications that we can see. That's probably the biggest thing that's up in the air to me.