Local
Here's why Cambridge and Somerville are threatening to confiscate Bird's scooters
The electric scooter-sharing company is facing legal barriers at both the local and state levels.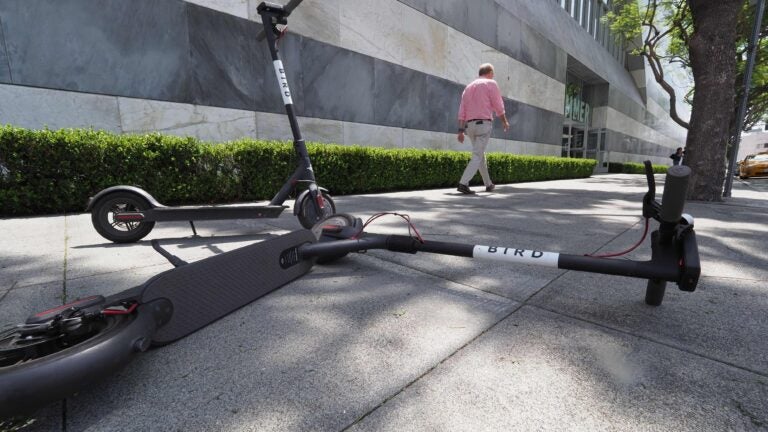 Bird's local rollout has run into some proverbial bumps in the road.
The California-based company arrived unannounced in Cambridge and Somerville last month, catching local officials by surprise with the July 20 launch of dozens of their dockless electric scooters. But now, both cities are ordering Bird to remove their scooters from their streets — and threatening to impound the vehicles if the company doesn't soon follow suit.
In a cease-and-desist letter Tuesday, Somerville City Solicitor Francis Wright Jr. told Bird that the city will begin confiscating any scooters found within its borders Friday. Cambridge followed suit Wednesday evening, issuing a cease-and-desist notice ordering Bird to remove their scooters from the city within 48 hours. In the letter, City Manager Louis A. DePasquale similarly told the company that any scooters found in Cambridge after 5 p.m. on Friday would be taken.
"We don't want it to be an empty threat," Joe Barr, Cambridge's transportation director, told Boston.com in an interview Tuesday.
What exactly is the problem with the scooter-sharing company?
Nothing inherently, according to Barr, who says the city agrees with Bird on a lot issues, such as promoting sustainable transportation, and is very open to having the company operate in Cambridge. He even praised Bird's efforts to address concerns regarding equity and safety (the company has also committed to an effort to avoid cluttering sidewalks). Similarly, Somerville says it's "committed to mobility strategies that reduce dependence" on cars and believes electric-scooter companies "can be a part of the solution."
However, there are currently two big problems facing Bird in Massachusetts, at both the local and state level.
First, both Cambridge and Somerville have specific ordinances requiring permits for such a dockless-scooter service to operate within their city limits. But, as they are wont to do, Bird deployed their scooters virtually overnight and without any prior notice. According to Barr, the company dropped around 100 scooters total in the two cities.
Cambridge says that, in order to legally operate in the city, Bird needs to get a "display of merchandise" permit from the City Council. The permit is required to set up "any apparatus or structure for the purpose of selling merchandise." And because users pay to the ride the scooters, they're "functionally the equivalent of selling something on the sidewalk," according to Barr.
However, the council doesn't meet again until Sept. 17, which means Bird wouldn't be able to get the permit for more than a month and a half. The city also still needs to figure out whether the annual $75 fee for the permit would be levied for each individual scooter or for the entire fleet.
Somerville also has licensing regulations for public vendors, but the ordinance the city specifically cited in its cease-and-desist letter to Bird was the section requiring a permit from the city clerk for vehicles or "any other obstacle or article" left on the sidewalk and other public ways. City spokeswoman Jackie Rossetti says officials are setting up a process through which companies like Bird can apply "in the coming months."
"The City will be working on a policy and procurement framework in the coming months to invite formal proposals from potential scooter companies wishing to operate in Somerville," Rossetti said in a statement.
The second — and perhaps bigger — issue for Bird is that their scooters appear to be technically illegal in Massachusetts.
State law requires that all motorized scooters — whether they be sitting or standing, electric or gas powered — "shall be equipped with operational stop and turn signals so that the operator can keep both hands on the handlebars at all times." Bird's scooters neither have blinkers, nor brake lights.
Barr says that, even if Cambridge does go ahead and permit the scooters, that provision puts them in "a difficult position."
"We need to get some clarity around the issue," he said.
Barr says that Cambridge's current interpretation is that Bird's scooters violate state law and, unless they hear otherwise or the law is changed, the city wouldn't be able to allow them.
Of Bird, the Massachusetts Department of Transportation says it is "reviewing this new mobility option," but declined to definitively rule either way on its legality Wednesday. The Massachusetts legislature also finished its formal session Tuesday night, so it's unclear whether lawmakers would be inclined to change the state's scooter regulations before the next session begins in January (only measures with unanimous approval can pass during the legislature's informal session).
Simply put, it seems unlikely the issue will be resolved particularly soon.
Bird has declined to say whether it will comply with the requests to pull their scooters from the streets, but a spokesperson for the company told Boston.com in a statement Wednesday that they remain "in contact" with officials in Cambridge and Somerville.
"We look forward to continuing our productive conversations with them so that Bird's service can continue in each of the cities," the Bird spokesperson said.
According to the company's smartphone app, their scooters remained available Wednesday afternoon across Cambridge and Somerville.
This would hardly be the first time Bird has clashed with local officials. Across the country, the growing company has been hit with cease-and-desist letters, lawsuits, and had hundred of scooters impounded for launching without approval. Bird also paid $300,000 to Santa Monica, where the company first launched last September, to settle allegations that it placed its scooters around the California city before securing proper licensing.
And yet, city leaders have been generally supportive of allowing Bird, as well as similar scooter-sharing companies like Lime and Spin — but only once they have the proper agreements and regulations in place. Barr says that Cambridge's meeting with the company's representatives on Monday was genuinely "congenial" and that there was a lot of agreement on the policy side.
Still, Barr said he got the indication that the company didn't believe they had to comply with removal requests. While he understands that it's not ideal for the company to sit out the final months of summer, he says the ask-for-forgiveness-rather-than-permission strategy isn't productive from a partnership standpoint, especially in a city like Cambridge where he could see them operating "in the not so distance future."
"We're not against this and we're not trying to tell them get out and stay out," Barr said. "We're just trying to tell them that we have to go about this in a more organized way."