Local
A woman allegedly hit a car in Hyannis because she didn't like its Trump bumper sticker
"She called me a racist and several other names," the man whose car was struck told police.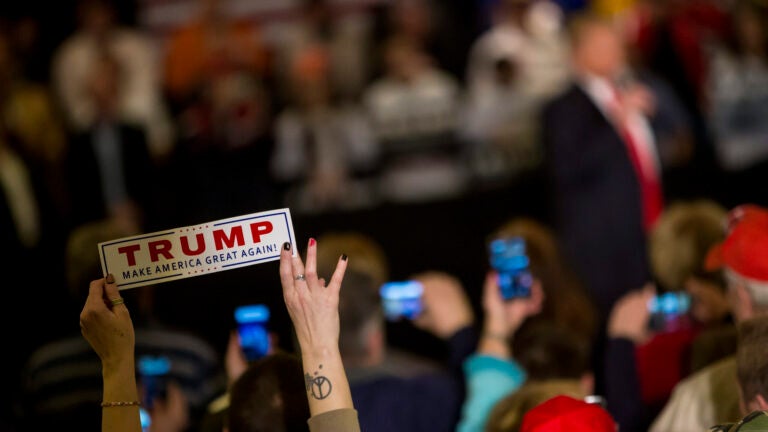 A Taunton woman is facing charges after she allegedly drove into a car in Hyannis in June because she was angry about its Donald Trump bumper sticker.
Chloe Wright, 25, who pleaded not guilty Monday in Barnstable District Court, faces charges of assault and battery with a dangerous weapon, vandalizing property, and leaving the scene of property damage, The Cape Cod Times reports.
She posted a $1,250 bail and was ordered to stay away from the driver of the other car.
A police report indicates a man called Barnstable police on June 30 and reported a hit-and-run crash, the Times reports.
He said a gray Honda Civic — whose driver was later identified as Wright — honked at him on Bearses Way in Hyannis and continued to follow him and honk until the next red light at North Street, where the driver began to yell at him, the newspaper wrote.
The man reportedly stepped out of his car in case something was wrong with it and that's when he heard the driver yelling about his Trump bumper sticker.
"She said, 'You voted for Trump?'" the man told police. "I said yes. She called me a racist and several other names."
Wright allegedly then drove around his car, so the man got back in it before she drove toward him and struck his car's open door, the Times reports.
The man told police Wright bent his door and hit the side of his car. He had to lean away so he wasn't hit by her car before she drove away down North Street, according to the Times.
Authorities traced the car to Wright through its license plate number, as seen in a video the man recorded of the incident, the newspaper reports. Wright was arrested by Massachusetts State Police on Monday while she was driving in Bourne.
Wright is scheduled to appear in court on Aug. 28 for a pretrial hearing, the Times reports.