Local
What we know about the skyscraper going up next to the Pru in Boston's skyline
One Dalton, the new tower in Back Bay, is nearly complete.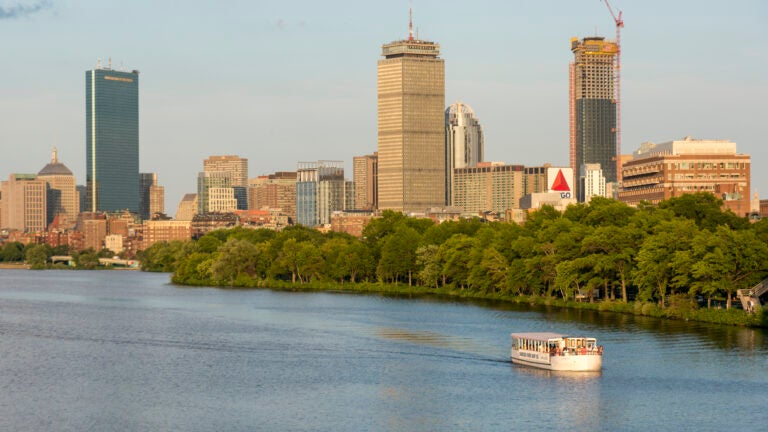 If you hadn't noticed — the Prudential in Back Bay has a new, tall neighbor.
The tower, One Dalton, will contain a hotel and luxury condos. And once upwards construction is completed this week, the new skyscraper will become the third-tallest building in Boston, standing at 61 stories or 742 feet.
Here's a refresher on what we know about the skyscraper at 1 Dalton St., located between the Prudential Center and the Christian Science Plaza.
What's the timeline for the building's completion?
The all-glass tower, shaped in an equilateral triangle, was designed by architect Henry N. Cobb and Gary Johnson of Cambridge Seven.
Dianna Walsh, a spokeswoman for the building's developer, Carpenter & Co., told Boston.com that construction is "nearly complete."
A "topping-off" ceremony will be held on Tuesday, but the building is not expected to open to the public or be ready for new residents until the spring of 2019.
Right now you can take the lift up to the 57 floor of One Dalton … it was all stairs and ladders after that to the 63 floor pic.twitter.com/PZgY1ePsWP

— Mike LaCrosse (@MikeLaCrosseWBZ) August 1, 2018
In addition to being one of city's highest towers, once it is finished One Dalton will be the tallest residential building in New England.
What's in the building?
"One Dalton is unlike any other residential building — it is the highest level of luxury Boston has ever seen," Walsh said.
The Four Seasons will occupy the lower part of the tower with 215 hotel rooms and a restaurant, Zuma, on one of the lower floors.
Luxury condos, 160 of them, will fill the floors above.
According to the website for One Dalton, the condos on the upper floors will be broken into four categories: town residences (floors 26 to 43), sky residences (floors 45 to 54), penthouse flats (floors 55 to 59), and penthouse duplex estates (floors 60 to 61). Those living in those residences will have access to a private residential lobby and club lounge on the 50th floor, according to Walsh.
But that's not all.
According to Walsh, residents of the tower will get access to:
– Four Seasons services and amenities, including a 65-foot indoor lap pool, fitness center, yoga and Pilates studio, and spa and salon.
– A golf simulator room complete with a top-shelf wet bar.
– A private movie theater, family activity center, and party kitchen designed for hosting private events.
– A private business center and conference space.
– Preferred seating and priority reservations at all hotel restaurants and bars.
– Special privileges at Zuma.
– A designated Four Seasons residents' concierge.
How much are the condos?
Developer Richard Friedman said earlier this year that he had a $40 million deal in place to sell a unit in the new building, a price tag that set a new record price for a condo in Boston, according to The Boston Globe. Friedman also reportedly said that the units at One Dalton started at about $2.5 million.
Walsh said she could not share information on pricing for the units.
"We have mostly local buyers who will actually live in the condos, rather than renting them out like you see at other projects in the city," she said.
What will it look like inside?