Local News
These are a Boston archivist's 10 favorite old photos of the city
Marta Crilly, the archivist who runs the social media accounts for the Boston City Archives, talked with us about Boston history and shared her 10 favorite old photos of the city.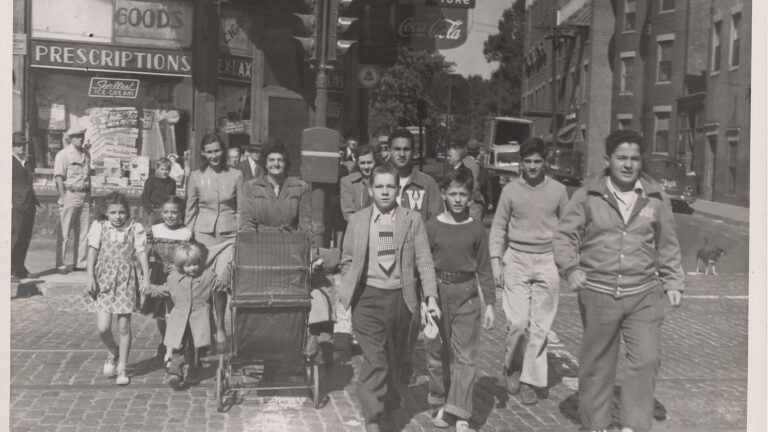 Ever wonder what the commute at Sullivan Square Station looked like in 1901?
The Boston City Archives can tell you.
If you follow the social media accounts for the department, you may have seen the blue-tinted photo of the station — the blurred image of commuters disembarking and boarding the trains, accompanied by the hashtag #onthisday.
Who commuted through Sullivan Square Station this morning? Here's the station #onthisday in 1901. https://t.co/k4w3wScZAL pic.twitter.com/0mr96dLLmZ

— Boston City Archives (@ArchivesBoston) July 26, 2018
On another day, the archives asked followers to try to identify the date and location of a street corner, sharing a black-and-white photo of a row of buildings on a cobbled street, this time using the hashtag #mysteryphoto.
We've got a new #mysteryphoto for you! Can you identify the date and location of this image? @universalhub pic.twitter.com/qp39OrJfq5

— Boston City Archives (@ArchivesBoston) July 24, 2018
A few people were able to guess the spot correctly — Beach Street at Oxford. The archives chimed in to reveal the year: 1901.
To learn more about the photos and information that gets shared by the Boston City Archives on their social media accounts, we spoke with Marta Crilly, the archivist for reference and outreach at the archives. She runs the department's Twitter, Facebook, and Tumblr accounts and also manages the archives' reference services, helping researchers combing through the city's historic collections.
A native of Knoxville, Tennessee, Crilly joined the Boston City Archives in 2011 after working at the J.F.K. Presidential Library as a graduate student and volunteering at the City of Somerville archives. Below, the 32-year-old East Boston resident shares her 10 favorite old photos of Boston and what makes the city's archives different from other historic libraries or databases.
This interview has been edited for clarity and length.
Boston.com: What's the best part about working in the archives for you?
Crilly: There are so many good things. Just personally, I really enjoy working with young people. So I really enjoy when we have groups and tours of young people come through — or researchers who are younger, either high school students or undergraduates. Because that's how I got my start in archives, when I was in late high school, early college. I really fell in love with historical documents and primary sources. So I really enjoy having people come into the archives and getting to watch them look at something from the 1800s or the 1700s for the first time.
I also really love when I'm able to find — when I'm helping a researcher — find something that's really important to them. Maybe their ancestor's voting record or their ancestor's tax record or a photograph of the house where their grandparents grew up. Something like that. Those moments are really, really rewarding.
What are some of the goals you have for putting information out about the city's history to the public? Why do you think it's important for the public to have access to this historical information?
We really want to underscore the public ownership of the city records. The city archives has the records of Boston's municipal government, so those records belong to the people of Boston. We want everyone to be aware of the records we have. But we especially want Bostonians to be aware that these are the records of their city and that they have the ability to access and look at the records.
I think that's something we're really trying to do with social media. We want to underscore the public's ownership of our records and also elevate the importance of public participation with the city archives.
One of the things I really like about social media is that it gives us the opportunity to talk to our constituents. With a blog post, people see the records you have and that's great. But with social media, people can ask us questions. We can answer them. Sometimes our constituents have memories that they want to share about some of the records we put out, sometimes our constituents have information that, actually, we don't have about the records. We've posted things before and we say, 'Oh, we're not really sure what this photo shows. Can somebody that remembers it let us know?' And sometimes people give us really interesting information. So we really want to engage with the public when we do our social media.
What's it like working on and sharing the 'mystery' and 'on this day' photos?
The mystery photo, I think we started that in late 2012. I had been at a professional conference and I saw a presentation by a Maine historical society. They were posting mystery artifacts, where they would post an artifact from the past and have people try and guess what it was and what it was used for. So I was trying to figure out at the time how to get more people engaged in our social media and how to talk to our constituents. And I thought, well, we don't have artifacts, but we do have photographs. So that was how we started posting the mystery photos.
At first just a couple people would comment, but it kind of snowballed and we've gotten more and more followers now. And it's gotten to the point where it's actually really hard to stump people because we have a couple of constituents that just know Boston really well. So I always feel quite proud when I find a photo and nobody can figure it out.
Do you have a favorite little known fact about Boston or something that you've learned because of working at the archives?
My favorite thing at the archives is a petition that we have from the early 1800s and it's signed by Paul Revere. The sewers in his neighborhood didn't work very well, and they were complaining about it.
I really love that petition because it just shows that Paul Revere was kind of a famous founding father — but he was also a normal Bostonian who got really mad at the city sometimes when his sewer didn't work properly.
The city archaeologist's office is above us and I mentioned this to him one time — and he's dug in that area — and he was like, 'Oh yeah, the drainage problems there are so bad, I understand why Paul Revere was complaining about it.'
One of the things I really like about the city archives is that unlike a lot of other Boston-area archives we don't really have the records of rich and famous people. We don't have Mark Twain's papers, we don't have Emily Dickinson's papers, but we have the papers of normal, everyday Bostonians.
Is there anything else you want people to know about the archives?
The archive is open to everyone. Sometimes people think that archives are just for students or professors or academics. But the city archives is really a place where anyone can come and look something up. We really want to engage with our constituents and talk to them and have our public records be a resource for them. So that's what we're trying to do, especially with social media.