Local
Meet Officer Kim Tavares, one member of the Boston Police Department's singing duo
The Duxbury native, who is a self-taught singer and songwriter, joined the force in 2001.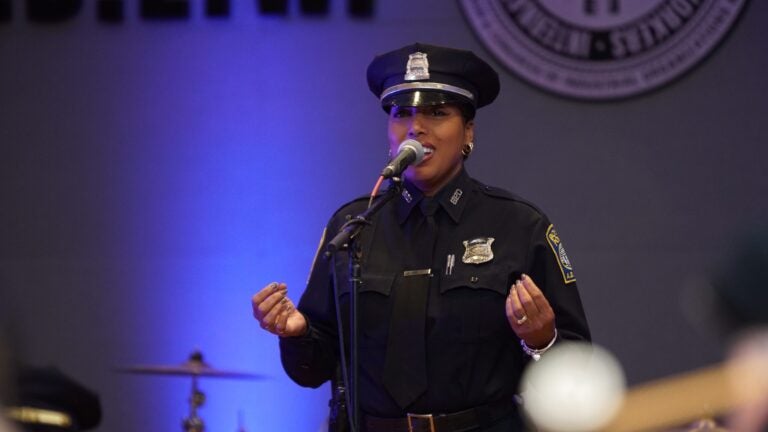 You've probably seen it by now.
Ahead of the Fourth of July, the Boston Police Department released a video of two of its officers singing "God Bless America" as they drove around the city.
Kim Tavares said she and her colleague, Stephen McNulty, spent a few hours in June making the video, intended to just be something fun to spotlight the holiday and bring together the two officers who are known in the department for their singing ability. But the three-minute "Cop Pool Karaoke" segment went viral, capturing national attention and garnering the two officers a chance to sing on the Today show.
Two of Boston's finest helped @alroker toss to weather in the most beautiful way! pic.twitter.com/zTD9TEdlg4

— TODAY (@TODAYshow) July 23, 2018
This week, Tavares and McNulty, both assigned to Media Relations in the commissioner's office, have been invited by Brad Paisley to sing "God Bless America" at his Aug. 11 show at the Xfinity Center in Mansfield.
Tavares, who grew up in Duxbury and joined the department in 2001 after working two jobs as a single mom, said she can't believe the attention the video has gotten. The 51-year-old has been singing for years around New England, first when she was in a band and then for the department at official events. She said she believes her love of music helps her be a better police officer, whether she's singing in her cruiser or writing her own songs.
Boston.com spoke with Tavares to learn more about her passion for singing and what she hopes people take away from her music.
This interview has been edited for clarity and length.
Boston.com: When did you decide you wanted to be a police officer?
Tavares: I never thought about it because I was a single mom. I had my son when I was 19, and I always worked. I was in a band; I started singing when I was in eighth grade. But you know, I worked a regular job. My parents were around to help out with my son whenever I had a gig with the band. We went all over New England.
[When] I moved to Boston and was working up here, I started hanging out with family and friends and started being around police officers. The age maximum was 32 to take the exam, and I started looking into it. I said, 'You know, let me just take this exam.' I thought you had to have a doctorate or a degree for this, a degree for that, and I went to college, but I never finished because I believed 'family first.' I was taking care of my children.
I took the exam, and I passed. I said, 'OK that's exciting.' I still kept my job. I said, 'Let's see what's next.' The next phase came through — I passed that.
[I] started the academy, and I was pretty much the oldest. I think there were 54 students in our class — recruits. There were only four women. I was the oldest woman, and I was probably one of the oldest there.
With my discipline, I made it through. I still sang in the band while I was in the academy. The police academy staff halfway through knew that I sung in a band,  and as everyone got closer they would come out and watch me sing in different places.
At our graduation from the academy they asked me — did I want to sing at my class graduation? And that's how that all began with me singing for the Boston Police Department. From there they would just use me at different events.
For me it was not that I never wanted to be a police officer — I didn't really think I could because I was so busy raising my sons and working two jobs, that I never looked into it.
❤️our boss @DeputyGross asked us to sing the #NationalAnthem ??at his swearing in ceremony 8/6/18 ?1st #AfricanAmerican @bostonpolice Commissioner in History. You better bring your "A" game! Stevie?‍♂️and I ??‍♀️practicing??#aintnobodygottimeforlipsyncing ? pic.twitter.com/D7eEonlm6B

— Kim Tavares (@kimtavaresbpd) August 5, 2018
Where does your love of music come from?
Growing up, I had older brothers and sisters. In our household we had all types of music playing. We had the eight-track tapes in the car, we had the record player at home. I was the youngest. I would sit in the living room or the bedroom, and I would listen to the radio. We had the dial that would go up and down — this was age 6, 7, 8 years old — so I would go up and down the dial. Whatever station there was, when there was a song, I would sing that song, learn it, and emulate that person, pretty much, sing like them.
Then the next station I would go to, I would sing that song. It didn't matter what kind of song it was. I love classic rock. I love the Eagles, Earth, Wind and Fire, Aretha Franklin. I listened to everything. It didn't matter what music it was, I would go up and down the dial and then start again all the way back down the dial and start singing.
Where do you sing these days? Are you still in a band?
I was in band for 12 years. Once I graduated the academy, we found a replacement because I didn't know what shift I'd be working. I then started writing my own songs.
I've sung at thousands of events. I've done the Susan B. Komen Race for the Cure, hundreds and hundreds of Boston police banquets. I'm singing at Foxboro Stadium at the Patriots game Aug. 16 against the Philadelphia Eagles. I've sung so many places.
I'm not trained in music, I don't know how to read music. If you tell me to sing, I just sing. And I really do believe that it's a gift from God.
I've always suppressed me singing — I've always downplayed it because I don't think I'm the greatest singer. I believe there are people in the world who sing rings around me. But I believe everything comes within your heart — who you are as a person. I feel like I have a story to tell.
There have been so many viral videos now with the Lip Sync Challenge of cops putting little videos on social media. Do you feel like your video, and videos like it, are important to show cops in a different environment, in a different light?
Yes. First of all we are human beings. It's great. It's such a stress relief. Stephen and I say music is universal. It takes you back to good times, it takes you back to times when you don't want to remember.
I think it's awesome. And police officers especially don't want to show anyone, 'Oh, I have this talent.' And when you keep stuff bottled up inside of you that you want to get out, that you want to share with the world, it can eat away at you. That's stressful.
So I think it is so important. I love the Lip Sync Challenges — to watch the smiles on those faces. I mean, wouldn't you want one of those officers to show up at a call where you are and you know that they don't have much stress on them because they're a happy person? I think it makes for better policing, I really do.
You shared a photo on your Twitter account with this caption: "Can the world love me for the content of my character and not hate me for the uniform I wear!"  Can you talk about that message and why you think it's important to pose that question?
This is where it gets really hard for me. I am a loving person. I'm a great cop. When I have to be stern, I am. But I treat people as if they're my family. And I love my family. I know there's hate in the world, I know there's racism in the world, and I know people are trying to do the best they can. But if we change ourselves — if any person woke up and said, 'You know what, I'm going to give that person a chance. I have to have a reason not to like you — not for your appearance, I have to give you a chance.'
We call ourselves brothers and sisters — and in uniform. Brothers and sisters in blue. And just like a family, when you grow up in your family with parents — whether its a one-parent household, a two-parent household — and you have siblings, you don't all turn out the same.
So the way that people say — even on my friends' pages or my page, family members or friends or the public — they hate all cops for what one police officer does. And they think that we all stand by that person. There are times when we come to work where we're shaking our heads, like, 'Wow. We don't agree with everything.'
But to look at me — right now there are people in the world who don't like women because they're women. They just don't like black women because they're black women or black.
For me, being a black, female police officer, I have so much to give. I can tell you that I watch the scenarios that play out — people want somebody to judge. You, by the color of your skin, your religion, whatever it is. But don't judge me by the uniform that I wear. You judge me for the content of my character. If you're going to look at me for who I am — by the outer appearance of me and not even get to know the inside, then you're not better than that person who's not liking you for the reason you're upset they're not liking you.
I put my uniform on proudly. I really do.
Do you think your interest in music has helped you or influences the way you approach your police work or working in uniform?
It definitely does. And again, I came on when I was 32. So I was an adult. I wasn't as young. You have to have something outside of your place of employment, no matter what you do. For me, I don't overplan my schedule. I travel. I love food. I love to cook. And I can sit by myself.
The thing is that people have to like themselves. I like myself, I like being around myself. A lot of people try to run from problems and the problem sometimes is themselves. So when I'm at work, because I sing and I write, I can sit at work and just sing if I'm in a cruiser by myself. It's just like talking on the phone or your partner next to you. I can have lyrics come to mind about a situation and I can write about that. So you're in the moment. But you're not. And when I'm off of work, I listen to things and I think it helps me with how I cope.
If there's one thing you would want people to know about you, what would that be?
Underneath the uniform, I'm a human being. I'm loving. I'm compassionate. And want to give God's gift of voice, to be uplifting to others. I just want to be that difference.