Local
What we know about the marijuana dispensaries poised to open in Massachusetts
Six companies have received a total of seven provisional licenses to sell recreational weed in the Bay State. Here's where they are and when they might open.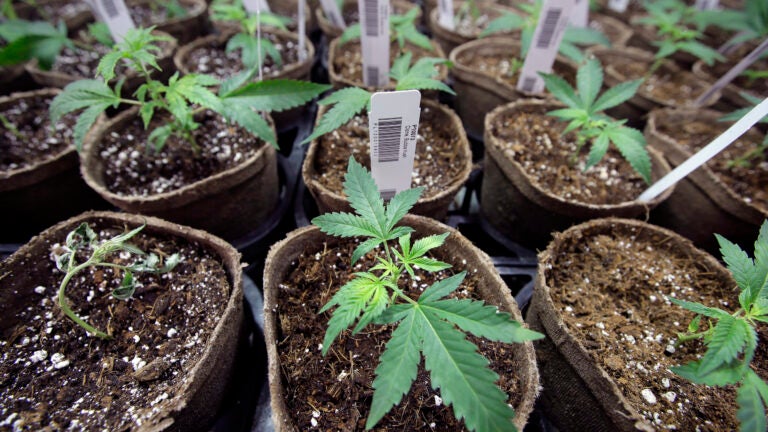 No, they're not open yet.
But more than a half-dozen locations are inching closer toward becoming the first dispensaries in Massachusetts where people can legally buy marijuana for recreational use.
A month-and-a-half since adult-use marijuana sales could legally begin, the Cannabis Control Commission has issued a total of seven provisional retail licenses to six different marijuana companies planning to open pot shops across the state. The prospective dispensaries still must pass final building and health inspections, as well as employee background checks, and the CCC still must license an independent testing lab before any business can proceed with recreational sales (commission officials said last Thursday that the first labs could be licensed at their next meeting on Aug. 23).
However, the provisional retail licenses that the agency has handed out — all to businesses that already have dispensaries in the state's existing medical marijuana program — provide a preview for eager residents of where their first options will be located.
Location: 1764 Main St. in Leicester
Proposed hours: Monday to Thursday, 10 a.m. to 7 p.m.; Friday to Saturday, 10 a.m. to 8 p.m.; and Sunday, 10 a.m. to 5 p.m.
The Leicester medical dispensary received the state's first provisional retail license for recreational marijuana back in early July and says it could begin sales immediately once it passes those final hurdles.
Sam Barber, the company's president, is confident that, as an already operating medical dispensary, Cultivate will pass its final inspections, though he has been reluctant to estimate when that may actually be. After Cultivate's initial licensure, Barber told reporters that it likely wouldn't be until September.
The company has also received cultivation and manufacturing licenses for its 1764 Main St. "seed-to-table" facility, which opened last December, where it already grows, produces, and sells a range of cannabis products to patients through the state's medical marijuana program.
Location: 49 Macy St. in Amesbury
Proposed hours: Monday to Sunday, 9 a.m. to 6:45 p.m.
Alternative Therapies Group became the first dispensary to sell medical marijuana in Massachusetts in 2015. And now, the Salem company is planning to open a separate dispensary in Amesbury. The CCC issued the company a provisional license late last month.
Located at the former home of a Chinese food restaurant, ATG's new dispensary will sell both medical and recreational marijuana, CEO Chris Edwards told the Newburyport Daily News. Renovations to the building are expected to take through mid-September, according to the company's license application.
"We hope that the process will wrap up by the end of October so we can be ready for inspections by the state at that point," Edwards told the Daily News.
He added that the new Amesbury location will "look a lot like" the company's Salem shop, which sells marijuana flower, edibles, topicals, and vape pen concentrates. According to its application, the company is planning to supply its products from a growing facility it has operated in Amesbury for medical marijuana since 2014.
ATG is reportedly also moving toward opening a medical and recreational marijuana dispensary at 107 Elm St. in Salisbury, further expanding their presence on the North Shore. However, the company has not yet received any licenses from the state.
Location: 160 Washington St. in Brookline
Proposed hours: Monday to Saturday, 10 a.m. to 6:45 p.m. and Sunday, noon to 4:45 p.m.
Location: 118 Conz St. in Northampton
Proposed hours: Monday to Sunday, 8 a.m. to 10 p.m.
NETA received provisional retail licenses to sell recreational marijuana at its two existing medical dispensaries in Brookline and Northampton late last month. The company says it has hired 100 new staff members as it looks to increase production capacity in preparation for adult-use sales.
That said, it's hard to tell when that will begin.
Norton Arbelaez, the director of government affairs for NETA, says they've been in touch with the CCC on a near daily basis since the company received their two provisional retail licenses last month, which he described as a "capstone" to a multi-year process. But as the company awaits final inspections and lab licensing, Arbelaez says there's no clear timeline for when either of the locations may open.
"I would hope it's a matter of weeks and not any longer than that," he told Boston.com over the phone Wednesday.
Arbalaez asked for the public's patience so that both sides could get the rollout right, adding that more important than the initial opening date is what the industry as a whole looks like in several years.
"Undoing 80 years of prohibition doesn't happen in a summer," he said.
NETA's Brookline location has been open inside the former Brookline Bank building at the corner of Washington and Boylston streets since February 2016. The Northampton location, Western Massachusetts's first medical dispensary, has been open since September 2015. Both shops are supplied by the company's growing facility in Franklin and sell an extensive variety of flower strains, concentrates, vape pens, edibles, and other marijuana-infused products.
According to the company's license application, it is seeking permission from the Department of Public Health to transfer some excess medical marijuana supply for initial recreational sales, but plans to be a self-sufficient retail operation in the longterm.
Location: 112 Main St. in Wareham
Proposed hours: Monday to Sunday, 10 a.m. to 7 p.m.
PharmaCann, a national, Illinois-based marijuana company, recently opened its first medical-use dispensary in Wareham on May 31 under the name Verilife (though the company is registered with the state as Pharmacannis Massachusetts). Last Thursday, the company received a license to sell recreational marijuana as well inside the historic 19th-century building.
With Cape Cod still lacking any completed recreational marijuana business license applications of any kind, the South Coast dispensary, located on the mouth of the Wareham River, could be the closest option for Cape and Islands residents for the near future.
Still, after receiving their provisional retail license, Verilife Executive Director Shelley Stormo told Wareham Week that she didn't foresee recreational sales beginning until October.
"We're very excited to start serving our community," Stormo said. "But there are still a few more steps we have to take."
Though Verilife doesn't grow its own cannabis, it currently purchases its supply from two other existing medical marijuana companies in the state. According to the company's application to the CCC, it plans to do the same for recreational marijuana. In an email to Boston.com, Stormo said they also must get approval from DPH to transfer 45 percent of their medical inventory for recreational sales before opening
Stormo added that Verlife still has a few inspections by the CCC and DPH, but they plan to work closely with state officials to "set the bar for retail adult use establishments" in Massachusetts.
The medical dispensary's current menu includes flower, vape pen cartridges, concentrates, edibles, and topicals, The company plans to offer a similar range of products to its adult-use customers, according to Stormo.
Location: 122 Pleasant St. in Easthampton
Proposed hours: Monday to Sunday, 10 a.m. to 8 p.m.
Joining NETA as the second company set to sell recreational marijuana in Western Massachusetts, INSA was also issued a provisional retail license last week. The plan is to sell recreational marijuana at the company's Easthampton medical dispensary, which opened in the city's mill district last February after years of planning.
Mark Zatyrka, the COO of INSA, told the Daily Hampshire Gazette that they hope to begin sales "within the next few weeks to a month," provided that they pass the final inspections and that the CCC licenses a testing lab for recreational marijuana.
According to Zatyrka, the company plans to set aside a portion of its medical marijuana inventory from their 22,000-square-foot indoor cultivation facility for recreational sales. Similar to NETA, INSA is seeking DPH permission for a one-time rollover of some medical inventory for recreational sales, but plans to portion off the two supplies going forward.
"We don't foresee any inventory issues for either side of the business," Zatyrka told the Gazette.
Location: 9 Collins Ave. in Plymouth
Proposed hours: Monday to Sunday, 10 a.m. to 8 p.m.
The South Shore is set to see recreational pot sales soon, too.
M3 Ventures, which runs medical dispensaries known as Triple M in Plymouth and Mashpee, received a provisional license last Thursday to sell adult-use marijuana at its Plymouth location. The 46,000-square-foot dispensary opened in February in a local industrial park off Route 3, and, there, the company grows, processes, and sells a range of flower strains, pre-rolled joints, vape cartridges, concentrates, edibles, and other infused products.
In an email to Boston.com, COO Kevin O'Reilly says many of the products sold for recreational use will be similar to their medical products. The company is working on building a separate entryway and area for recreational sales — though both recreational and medical operations will happen in the same facility. They're also hoping to get a DPH waiver to use some of their medical inventory to supply Triple M's initial retail sales, according to their license application.
"It will probably be about two months until we can open," O'Reilly told the Patriot Ledger last week.
Pending the construction and final inspections, he said in his email Wednesday that they hope to be ready for recreational sales in Plymouth "by the end of October."
The future of Triple M's Mashpee location, which opened this spring, when it comes to the adult-use market is less clear.
Mashpee residents voted last year to place a one-year moratorium on recreational marijuana businesses, though businesses growing and selling the substance for medical purposes are still allowed. With the temporary moratorium scheduled to expire at the end of the year, Mashpee residents are set to decide on an outright ban on recreational marijuana sales at their town meeting in October.
As a result, O'Reilly says that Triple M currently has no plans for recreational sales at their Mashpee dispensary.