Local
A man was bitten by a shark off Cape Cod. Here's what we know.
The man was taken by medical helicopter to a Boston hospital.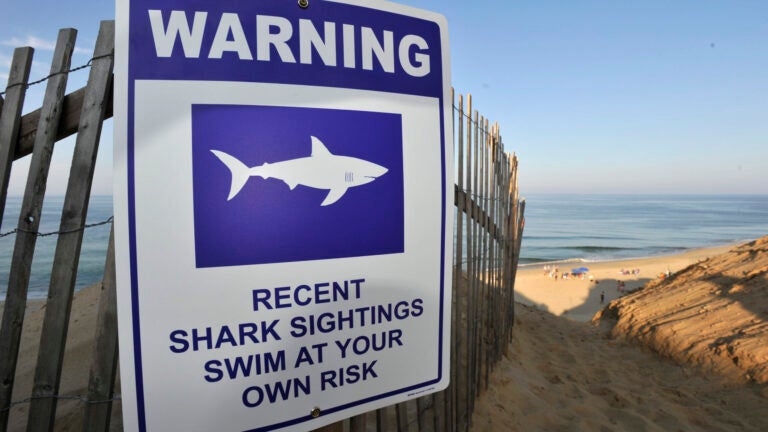 A 61-year-old man was bitten by a shark Wednesday afternoon near Longnook Beach in Truro, according to officials. He was then transported by medical helicopter to a Boston hospital.
Here's what we know about the incident as of Wednesday night.
Who is the victim and how badly was he injured? 
So far, Cape Cod National Seashore officials and the Truro Police Department have only identified the victim as a 61-year-old man.
In similar statements, they said he was treated by local emergency personnel and then taken to Wellfleet, where he was subsequently transported by medical helicopter to Tufts Medical Center in Boston.
The man's condition has not been released, but Truro Fire Chief Tim Collins told reporters he was "conscious and talking" at the scene.
"So we're hoping for the best," Collins said.
In addition, the Cape Cod Times reports, citing Gary Sharpless, Truro's assistant harbormaster, that the man suffered puncture wounds to the torso and leg. Leslie Reynolds, Cape Cod National Seashore's chief ranger, told the newspaper the man's injuries were on his left side and upper leg.
When and where did the incident occur?
Police said they received a 911 call reporting the incident at about 4:11 p.m.
According to officials, the man was about 300 yards south of Truro's Longnook Beach, within the boundary of the Cape Cod National Seashore, when he was bitten. He was standing in the water about 30 yards offshore, they said.
Truro is just below the Cape's wrist, and Longnook Beach is on the Atlantic Ocean side. The beach will be closed to swimming until further notice, according to the town.
What are shark experts saying?
The Atlantic White Shark Conservancy, a Cape Cod-based research, education, and public safety nonprofit, released a statement on the incident Wednesday night.
"Encounters with white sharks in which people suffer injuries are as terrifying as they are rare," the conservancy said. "While we still don't know all of the details of this particular bite, sharks are not known to target people specifically, and when they do bite people, it's usually a case of mistaken identity."
Wednesday's incident marked the first time in six years that a person has been bitten by a shark in Cape Cod waters. In 2012, Chris Meyers, a Boston native living in Colorado, was bitten in the leg off Truro's Ballston Beach. He received 47 stitches for puncture wounds and sustained severed tendons.