Local
Motorcyclist subjected to rant by Dorchester man plans 'Ride for Peace'
"Racism is wrong. And I'm hoping that with this ride it will not be accepted."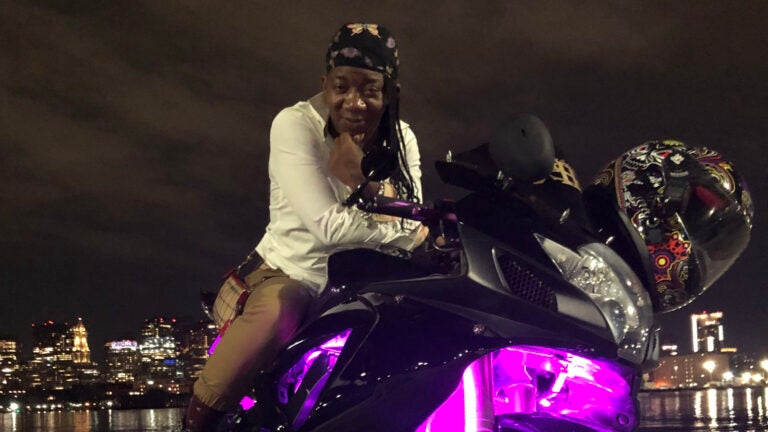 On Sunday, NeNe Judge will ride her motorcycle to Adams Street in Dorchester. Her Ride for Peace will take her back to the spot where, earlier this month, a man unleashed a tirade against her to get out of "his neighborhood."
"Racism is wrong," said Judge, a 38-year-old Roslindale resident. "It is just not right. Racism is wrong, and I'm hoping that with this ride it will not be accepted. Racism is wrong, and bikes are OK."
Judge, who is a union painter studying construction management at Wentworth Institute of Technology, said she decided to organize the ride to "just let people know that motorcycles are OK."
Starting at 2 p.m. Sunday, Judge and other motorcyclists will ride from Fields Corner to Adams Street before continuing on to a community cookout at 96 Radcliffe St. in Dorchester.
"The people who ride motorcycles are OK to be in anybody's neighborhood as long as we're not disturbing your neighborhood or anything," Judge said. "It shouldn't matter your color, your size, your race, or if you don't even live in that neighborhood. As long as you're not disturbing that neighborhood, we should all be able to ride in peace."
Judge launched a GoFundMe page, which has already reached its goal of $2,500, to raise money for the event.
"Some of you may have heard about something that happened to me recently, but you need to know there's more to me than that incident," she wrote on the page. "… I plan to create opportunities for other women and people of color in the construction business when I finish my degree. This is a small glimpse into who I am, there's more to me than the previous and definitely more than what you all saw me experience the other night. I'm dealing with it and one of the ways I relieve stress is riding my baby "All Rise 617", she's a Suzuki 600."
Judge said the outpouring of support in response to the video she shared of a Dorchester man screaming expletives at her and her husband on Aug. 3 is "overwhelming." The man, 54-year-old Paul Sheehan, is facing a disorderly conduct charge and could face civil rights charges for the rant he directed at the couple.
"I would like to say I hope he learned his lesson, because honestly, I did nothing to this man to provoke him in any type of way," Judge said of the incident. "So I just hope he learned his lesson. In real life, there are good people out there. I helped build Boston. I helped paint Boston. I'm one of the good ones, and we can all just live together in peace."
Depending on Sunday's turnout, the Roslindale woman said she hopes the group participating in the ride can stop on Adams Street, turn off their engines, and momentarily "sit there in peace." But if the turnout is too great, the motorcyclists will keep moving to the cookout, which starts at 4 p.m., she said.
If you don't have a motorcycle but want to support the event, Judge said anyone is welcome to see the bikers off at the start or join them at the cookout.
"Just come and support in any way you can," she said.