Local
'This isn't an issue that just fades away': Students from across Mass. plan 50-mile march to gun manufacturer's headquarters
"It's crazy how we can talk about, 'Massachusetts is great with gun laws,' and, 'We have have very strong gun laws here,' but then this massive gun manufacturer is right in our backyard."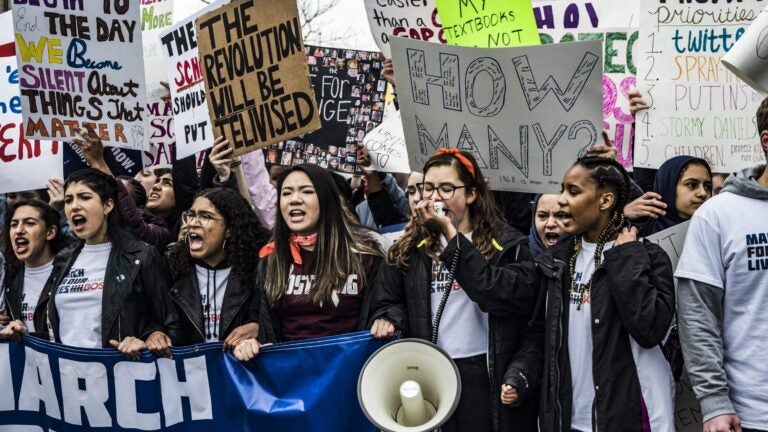 Before she heads back to school in September to complete her high school career, Vikiana Petit-Homme is marching.
The 17-year-old rising senior at Boston Latin Academy is one of dozens of students from across Massachusetts who is planning to walk from Worcester to Springfield this week to protest gun violence as part of the 50 Miles More march.
"This isn't an issue that just fades away," she said of her and other students' continued push for gun reforms. "People are still dying every day. So it's our job to keep fighting and doing whatever we can. And I think as youth we're in a special position to do that because we're just sick and tired."
Petit-Homme, a lead organizer with March for Our Lives Boston, is helping coordinate the 50-mile walk. She said the event is inspired by Wisconsin students who marched the same distance to House Speaker Paul Ryan's house in March to call for action on stricter gun laws and raise awareness about school safety.
"We thought it was really cool," she said of the earlier march.
In order to make their own walk "more impactful and powerful in Massachusetts," the Bay State students decided to have it end in Springfield with a rally at the headquarters of gun manufacturer Smith & Wesson, which is part of American Outdoor Brands Corporation.
"It definitely had to be to Smith & Wesson," Petit-Homme said. "Because it's crazy how we can talk about, 'Massachusetts is great with gun laws,' and, 'We have have very strong gun laws here,' but then this massive gun manufacturer is right in our backyard. And it's producing these guns that are used in atrocious, atrocious massacres."
Smith & Wesson did not respond to requests for comment.
In a press release announcing the 50 Mile March in Massachusetts, the students pointed to the use of Smith & Wesson firearms in mass shootings that took place in Aurora, Colorado, San Bernardino, California, and in Parkland, Florida.
The teens issued two demands from Smith & Wesson:
1. Cease the manufacture and distribution of all weapons outlawed under the 2004 Massachusetts Assault Weapons Ban including Attorney General Maura Healey's copycat weapon enforcement.
2. Donate $5,000,000 to research violence caused by Smith & Wesson weapons and monitor illegal use of Smith & Wesson weapons to offset the lack of federal research funding for the gun violence epidemic.
The march will start at Worcester City Hall at 9 a.m. on Thursday.
Just to clear up some confusion, the Worcester kickoff will be Thursday, 9 am, at Worcester city hall. Student walkers and adult volunteers should be prepared to be in Worcester the day before.

— 50 Miles More Mass (@50MoreMass) August 22, 2018
From there, the students and any participating adults will walk to Springfield, stopping for breaks along the way and each night.
"We're sleeping primarily in churches," Petit-Homme said.
David Hogg, a survivor of the shooting at Marjory Stoneman Douglas High School and co-founder of the March for Our Lives movement, will join the Massachusetts students in the protest. Manuel Oliver, whose son Joaquin was killed in the Parkland massacre, is also marching with the Bay State teens.
"We will walk with these kids as far as they need to in order to reach our common goals," Oliver said in a statement. "My role as father is not over, and I plan to keep playing that role till the last day of my life."
Who's walking with me? @50moremass https://t.co/x18Hge5IgI #50milesmorema

— David Hogg (@davidhogg111) August 9, 2018
Petit-Homme said having Hogg and Oliver there to lend support to the march is a "physical representation" of why she and other students continue to march against gun violence.
"It further shows the reason why we're marching, which is to stand in solidarity with the victims of all these shootings that are being done by Smith & Wesson guns," she said.  
The days-long protest will end with a rally at noon on Sunday outside the gun manufacturer's headquarters, where speakers, including Oliver, will address participants.
Right now, Petit-Homme said the event is in need of donations and volunteers. A GoFundMe page with a goal of $50,000 for the event had raised just $829 as of Friday afternoon.
"We're looking for volunteers to just march with our youth and to look over them," she said.
Help with meal prep and other activities associated with march is also needed, according to Petit-Home. Anyone interested in participating or volunteering is urged to visit the event website.
As of Friday afternoon, 53 people had RSVP'd on a Facebook event page that they would be attending the gathering at the end of the march.
"I know 50 miles sounds like a lot, but I think at the end there's just going to be this feeling of empowerment and this feeling that you've made a change," Petit-Homme said. "And I think that's motivation enough to walk the 50."