Local News
Initial tests of dead seals found in Maine and New Hampshire reveal avian flu and distemper
Researchers say it is "still too soon" to say if the viruses are to blame for the surge in seal deaths and strandings on the New England coast.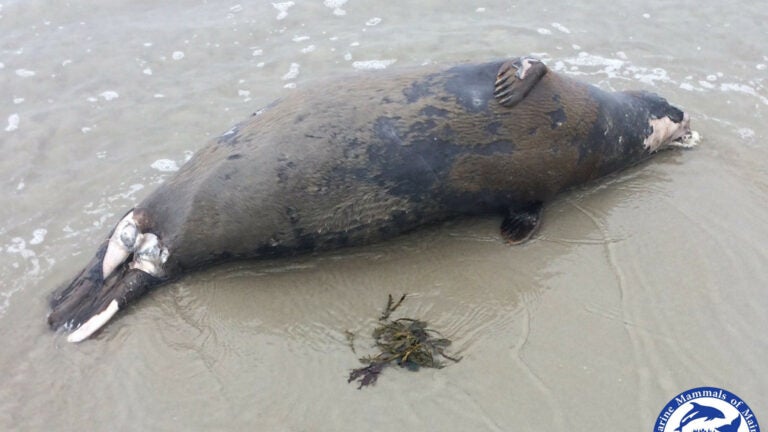 Researchers found avian flu and distemper viruses in the preliminary tests performed on the first batch of samples from seals that have been washing up dead on beaches in Maine, New Hampshire, and Massachusetts in unusually high numbers since July.
The Greater Atlantic Region Fisheries Office for NOAA said in a statement Thursday that the sampled seals, tested by Tufts University and the University of California, Davis laboratories, tested positive for either avian influenza or phocine distemper virus — four animals tested positive for both of the viruses.
"We have many more samples to process and analyze, so it is still too soon to determine if either or both of these viruses are the primary cause of the mortality event," NOAA said.
Jennifer Goebel, a public affairs officer with NOAA, told Boston.com in an email that the initial results represent a "small number of the overall documented stranded seals" and continued testing is needed because co-infections are often found in the marine mammals.
"Both influenza and morbillivirus (distemper) cause rapid illness and acute death in seals," she said. "Our priority is to provide rapid and humane response to live stranded animals in the affected areas and to minimize the spread of disease through existing facilities that are housing healthy animals."
Between July 1 and Aug. 21, the federal agency says 313 dead seals were found on the shores of Maine, New Hampshire, and Massachusetts. An additional 114 seals were found stranded and rescued in that time, and officials have said the numbers are significantly higher than what is typically seen this time of year,
The 10-year-average for responses to stranded or dead seals in Maine for the month of August is around 38.
"Past seal mortality events in northeastern U.S. coast have been linked to avian flu and phocine distemper virus," NOAA said in their statement. "However, avian flu and phocine distemper virus have also been detected at low levels in seals along the northeastern U.S. coast in non-outbreak years."