Local
A brief guide to staying sane during the madness of Allston Christmas—whether you're moving or not
The essential things you need to know about the move-in craziness this Labor Day weekend.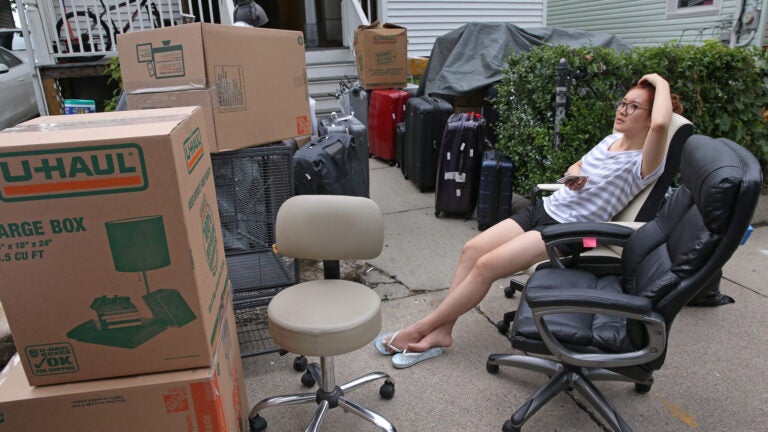 Boston annexed Allston-Brighton in 1874. But if city leaders knew then what they would eventually inherit, they may have reconsidered the decision.
September 1, known locally as Allston Christmas, is anything but a holiday for newcomers and residents alike.
A few free curbside finds notwithstanding, Saturday marks the turnover of countless apartment leases, as many of the Boston area's roughly 250,000 college students return for the new school year. And despite its name, the spectacle is hardly isolated to Allston.
What is Allston Christmas?
We've gone over this in-depth before, but the ritual is due to the number of college students returning to or moving in the Boston area all at once as the fall semester begins.
There are more than 50 institutions of higher education in the Boston metropolitan area, which enroll more than 138,000 undergraduate and graduate students and 16,000 community college students. Boston University, Northeastern University, and Boston College alone have about 75,000 students.
In the city of Boston, there are more than 43,700 graduate and undergraduate students living off campus, according to the Department of Neighborhood Development's most recent report in 2017. The Fenway-Kenmore area had the highest off-campus student population in Boston, at around 5,000. Allston was second with about 4,500 student residents, followed by the Longwood area, Mission Hill, and Brighton.
But those numbers don't include the thousands of students at Harvard, MIT, Tufts, and other local colleges who live outside the city. According to the city, more than 57,500 students lived off campus outside of Boston.
Due to the relatively high ratio of college students to residents, the vast majority of landlords have adopted September 1 to August 31 leases, even in areas not traditionally populated by college students. For example, 80 percent of apartments in Beacon Hill reportedly turn over in September. Officials say the same goes for roughly two-thirds of the total 165,000 apartments leased in Boston, according to The Boston Globe.
That means chaos on September 1 as college students, their parents, and many other residents take to the streets in U-Hauls and leave unwanted furniture up for grabs on the sidewalk.
Where is it 'celebrated'?
The City of Boston's data on moving truck permits show how, in addition to the Allston-Brighton area, Back Bay, Beacon Hill, the North End, South End, and Southie are also places where the streets will be crowded with movers.
Check out this interactive map of where moving permits have already been reserved for a closer look:
The Globe reported last year that the combined number of permits for August 31 and September 1 was over 1,200, compared with the average of about 37 on any other day. According to apartment listing website RentHop, last August saw a record 3,257 permits issued. The Globe reports that this Labor Day weekend could see around 2,000 moving trucks hit the road.
The city is also implementing temporary parking and traffic restrictions on streets in student-heavy neighborhoods surrounding BU and Northeastern, including Allston, Brighton, Fenway, Roxbury, and Mission Hill (explore the map of the restrictions here).
The fact that Labor Day weekend is also expected to bring increased traffic to Boston over the next few days will make escaping the madness no easier.
In Cambridge, city spokesman Lee Gianetti says the areas around Harvard and MIT are particularly busy this time of year, as well as "anywhere else that has a decent amount of apartments." Cambridge also advises residents to apply for moving permits.
The City of Somerville tracks the number of calls for temporary no parking sign postings — the "vast majority" of which, according to officials, are for residents moving in or out of homes — on its website.
According to the city's data, the number of calls increases sharply in late August and cluster near Teele and Davis squares, near Tufts in Medford, as well as Porter and Inman squares. Somerville spokeswoman Jackie Rossetti says she would expect the call pattern to hold through at least this week.
The deadlines to reserve a moving permit for this weekend, which is strongly encouraged, have passed in each of the aforementioned cities.
Will there really be free furniture all over the sidewalks?
Pretty much. Just take a look at some of the scenes in Allston in past years.
Before claiming that free mattress or couch off the street, consider first if it's worth it. Bringing inside furniture — especially items with cushions and upholstery — is a recipe for bed bugs.
"Although it looks good, the problem you're bringing into your apartment is much bigger,'' Indira Alvarez, chief of staff for Boston's Inspectional Services Department, told Boston.com in 2015.
That advice, however, doesn't necessarily preclude individuals from scoring someone else's discarded furniture, as long as they utilize some common sense. Even some of the more rugged looking items can often easily be cleaned up or repurposed.
What do I need to know if I rented a moving truck?
First, unless you intend to become the subject of scorn from local officials and mockery on the internet: Don't take it on Storrow Drive, Memorial Drive, or Soldier's Field Road. A number of overpasses and bridges on those roads will wreak havoc on larger moving trucks. To repeat: They will not fit — a fact which local officials are again proactively warning students and residents about.
Repeat after us: You cannot drive a moving truck on Storrow Drive. You cannot drive a moving truck on Storrow Drive. You cannot drive a moving truck on Storrow Drive. #movingday https://t.co/liBrTQXf8Y pic.twitter.com/96pSfMG5NW

— City of Boston (@CityOfBoston) August 19, 2018
Students moving in…Don't get #Storrowed!

State Officials Remind Students of Roadway Height Restrictions Ahead of "Move-In Day"

Read https://t.co/dSPPxQe95i fore more info. pic.twitter.com/IHS92eu8Lz

— Mass State Police (@MassStatePolice) August 29, 2018
Ignore their advice at your own peril.