Local
Vermont Democrat Christine Hallquist on what it means to be the first transgender nominee for governor
"This is about widening our moral compass and accepting all marginalized communities."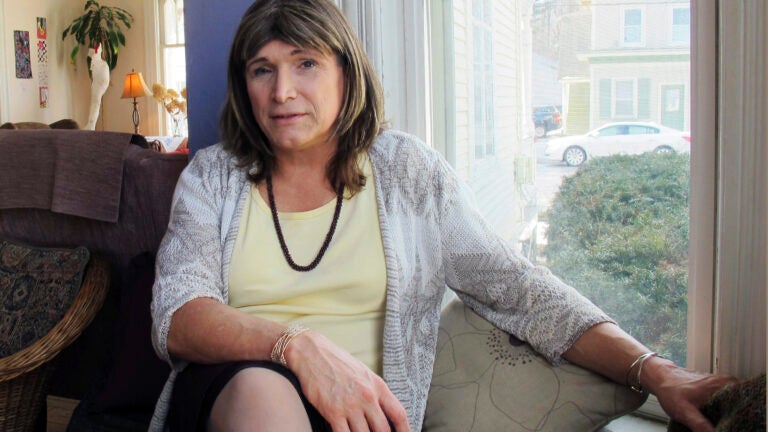 Earlier this month, Christine Hallquist made history when she beat three other candidates in Vermont's Democratic primary, becoming the first transgender person to be nominated for governor by a major party.
Hallquist, who was open about her transition in 2015, left her position as CEO of Vermont Electric Cooperative earlier this year so that she could run for governor. The 62-year-old said she plans to focus on economic justice issues in Vermont and charged her opponent, incumbent Republican Gov. Phil Scott, of focusing on "fear and division."
In an interview with Boston.com, Hallquist reflected on what sparked her run for public office and the attention she's received — positive and negative — from around the world.
(Editor's note: This interview has been lightly edited for length and clarity.)
Boston.com: When did you become interested in politics and why?
Christine Hallquist: Well, I never necessarily saw myself running for statewide office. My interest in politics was much narrower. My goal with life was to solve climate change and to mitigate the effects of climate change. So I became CEO of Vermont's second largest utility — electric utility — with about 20 percent of the state. When I left in March, we were 96 percent carbon free. We were offering incentives for people to move away from fossil fuel heating, cooling, and transportation. We did that for five years without a rate increase, essentially proving you could solve climate change and it does not need to cost more money.
So for about 10 years, I've been working aggressively on the national level to increase people's awareness about the electric grid and how it can help with climate change.
That was a good life goal. But if I look at what's happened the past two years, nationally and here in Vermont, of course, that's caused me to answer a higher-level calling.
In 2017, nationally, I could see that we were headed in the wrong direction. But I thought we would be insulated in Vermont. Vermont's a loving state, we've always been very forward thinkers. But we started to see white supremacist activity in Vermont. … Then in 2018, on January 20, I went down to Montpelier and listened to the youth. And I listened to four young women, they called themselves Muslim Girls Making Change. They were seniors in high school, and they talked about what it was like to go to school every day as Muslims in Vermont. And I cried.
I cried because they were harassed every day in this state. That was when I decided I would run for governor, because I realized that we aren't insulated from what's happening in Washington. It's happening nationally. It's causing some of the hate groups to be empowered in Vermont.
What do you see as the single biggest issue facing Vermonters today, and how do you plan to address it?
It really gets down to economic justice issues.
Vermont is one of the country's most rural states, and we're suffering from the same problems as rural America. We're seeing increasing rates of poverty, flight to the city, an aging demographic. So I focus on rural economic development as a top priority.
Included in that priority would be to connect every home and business with fiber optic cable, so Vermonters could be connected to the internet at the same speed as large cities. Of course rebuilding our rural communities is part of that as well, because we can change this demographic. We saw the same thing happen in the 1930s when rural America did not have electricity and the cities did. We ran electricity to every home and business in America, and we changed that demographic.
Now today it's the digital divide, which we'll cross by connecting every home and business with fiber optic cable.
How have you been feeling since the primary win with all of the national attention you've captured in recent weeks?
Well, first of all, we're feeling very good about the win. We got into the race late; we didn't necessarily have good name recognition in the beginning. But to come in and start really full time in March running for the office and then seeing the win by such a wide margin, we were all very, very pleasantly surprised.
We did not expect the level of press coverage, of course. But certainly, I'll say that I'm humbled and I'm honored. I hadn't really thought too much about the historic nature at the national level. I was really focused at the state level and focused on state-level issues.
I understand that you've been hearing from people from around the world. What has that meant to you, being able to connect with people far beyond Vermont's borders because of the, as you said, historic nature of your primary win?
Well, I guess that's the humbling part. We get letters from people every day. Through email, through regular mail, and through all the different social media platforms. We get a large number of very positive messages, some that move me to tears.
We're also getting a lot of hate mail. We're getting a lot of vitriol, and even some death threats. But those positive messages just make all of it worth it. There's no way the haters and the bigots could possibly slow us down now.
How are you handling that? What would you say in the face of those threats?
Well, first of all, this is the underbelly of America right now. This has certainly been enabled by our current administration in Washington. The dialogue of white supremacy has been enabled. I see this as a direct result of what's happening in Washington. And we are taking precautions. We made some changes, and we're definitely being more careful.
But I should also tell you that when I started this campaign, I told the campaign team that we should expect this. The more successful we get, the more threats and the more vitriol we're going to receive. That's just part of American politics today.
How do you feel about the attention you've been getting for being the first openly transgender person to win a major party nomination for governor? How does that feel personally to have achieved that?
Well, I didn't expect that level of attention.
But I will say that may be what happens with the first candidate, and it may make sense. But hopefully someday, after the second or third transgender person gets elected, it won't be an issue anymore.
I call that a natural part of widening our moral compass as a country. This is about widening our moral compass and accepting all marginalized communities. And we will move forward, despite what's happening today.
What do you think it means for the LGBT community? What do you hope, in particular, the young members of the community take away from what you're doing and what you've achieved?
We have got a lot notes and even some interviews from very young people. People are very inspired. What I keep saying to the community is the most important thing I can do is be successful.
It is about responding and answering the needs of the state of Vermont. That will always be the priority of my campaign. But as a governor, being successful is the most important thing I can do for the LGBT community.
What would you say to any person — young or old — who might be struggling with coming out as transgender? Who might be afraid?
I would say certainly in retrospect it's the most important thing you can do for yourself: to live your true identity.
Become confident with your identity because that confidence is what will make you successful in your endeavors. No matter how hard it may seem — which, of course, it's hard. I look back and recognize this is more painful than anything you can do, transitioning. But when you get to the other side of it, you're in a much better place.
What do you see as your biggest challenge to win the governorship?
I think the biggest challenge is to get through all this divisiveness. I tell people, when you talk about a living wage and Medicare for all and ending homelessness, that's not a political issue. That's not Republican or Democrat. That's not progressive. That's called being a civilized society.
We're all part of the working class, and we need to get those values back. So cutting through all this political division, the anger, the resentment, the emotional wounds from the past that have occured in politics, we all have to let that go so we can create a civilized state and a civilized country.
Is there anything else you want to say or that you want people to take away from what you're doing?
The most important takeaway is to recognize that nothing is impossible when you're on the side of justice.