Local
Here's what authorities say happened in the crash that killed 2 Needham High School students
Talia Newfield and Adrienne Garrido were walking near the high school in February when they were struck and killed.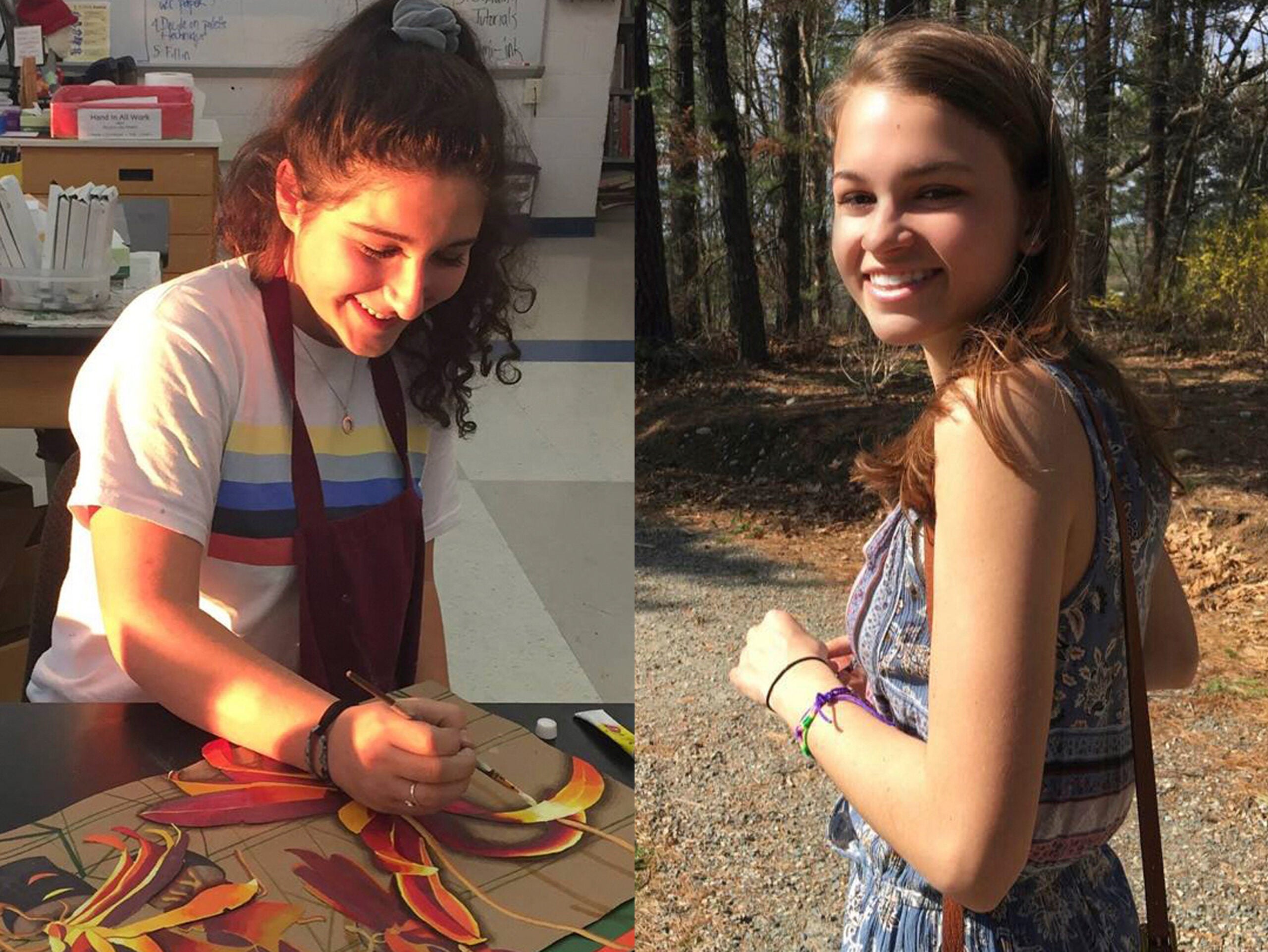 He said he didn't see the teens before he struck them with his car.
She said she wasn't wearing her glasses at the time and thought the 16-year-old she ran over was a bag of trash in the road.
Prosecutors say that's what two drivers — charged with negligent motor vehicle homicide in the February crash that killed Needham High School students Talia Newfield, 16, and Adrienne Garrido, 17 — told investigators. The Needham man and Wellesley woman were arraigned in Norfolk Superior Court on Wednesday afternoon.
Robert Berry, 65, was charged with negligent motor vehicle homicide and two counts of aggravated assault and battery with a dangerous weapon. Dania Antoine-Guiteau, 52, was indicted for manslaughter and negligent motor vehicle homicide. They both pleaded not guilty to the charges.
Here's what we know about the case so far.
What authorities say happened
Prosecutors say on Feb. 10 Newfield and Garrido were crossing the street around 6:20 p.m.  in a "well defined crosswalk" near their high school when the crash occurred. Berry is alleged to have struck both teens with his Cadillac as they crossed Webster Street.
He told investigators he lived nearby and left his home to go pick up a sandwich. He said he was driving no more than 32 mph and that he didn't see either of the students before he hit them. He claimed they must have been running or walking fast across the street, but prosecutors say site analysis and evidence contradicted his account.
Prosecutors allege Berry was driving at least 38 mph in a posted 30 mph zone and that the girls were walking in the crosswalk — their phones tucked into their respective jacket pockets.
"Mr. Berry could have preserved, reacted, stopped, and avoided this collision," prosecutors said.
Berry said he pulled over after striking the teens and got out of his car.
Antoine-Guiteau allegedly swerved around Berry's stopped car and drove over Newfield's body.
"Antoine-Guiteau identified an object in the roadway that she stated she thought was a bag of trash, while not wearing her corrective lenses as required to do, and drove over Ms. Newfield without stopping and while revving her engine as she drove over Ms. Newfield's body as she lay incapacitated in the roadway," prosecutors said.
The 52-year-old allegedly told authorities later that at the time she was confused when she "felt something underneath her car." Prosecutors say she initially told police she wasn't wearing her glasses and was on her way to work but then said she was on her way to church in Hyde Park. She allegedly told police she had no license restrictions, but prosecutors say she is required to wear "corrective lenses at all times while driving."
Prosecutors say Antoine-Guiteau told investigators that she did not see Berry's car until after she pulled over and got out of her vehicle. Authorities say she had continued down Webster Street after the crash for "several hundred feet" until she was flagged down by teenagers who had witnessed the crash.
Newfield was transported to Beth Israel Deaconess Medical Center in Needham where she was pronounced dead. Garrido was eventually taken to Beth Israel Deaconess Medical Center in Boston where she died a day later from her injuries.
What we know about the suspects
Both Berry and Antoine-Guiteau pleaded not guilty to the charges against them. They are both due back in court for a pre-trial conference on Dec. 11.
"Every day I pray for all those affected by this tragic accident," Berry told reporters following the arraignment.
Kevin Reddington, his attorney, described the 65-year-old as "a wonderful man who is suffering horribly over this tragedy," according to The Boston Globe.
According to the Globe, friends and family surrounded Antoine-Guiteau as she left court on Wednesday and declined to speak to reporters.
"She's a Christian. She's a mother. A single mother of two … That was an accident," a man who identified himself as a friend from her church said outside court, according to CBS Boston.
Neither of the defendants have prior criminal records, according to the Globe.
They were both released on their own personal recognizance, according to the DA's office.
What the families are saying
Newfield and Garrido were best friends, their families have said. Both were active in their school's athletics departments.   
Newfield's family released a statement, obtained by the Globe, after Berry and Antoine-Guiteau were indicted in July.
"Talia and Adrienne were heading to dinner shortly after 6:00 pm on a Saturday night, walking in a crosswalk on Webster Street behind Needham High School — the second crosswalk that Mr. Berry and Ms. Antoine-Guiteau sped through on their way to wherever they were going — when our daughters were run down in criminal acts," the Newfield family said.
On Wednesday, Newfield's father, Craig, told the Globe he and his wife are happy authorities are "pursuing justice for our daughter."