Local
'I didn't like bullies': Commissioner William Gross shares his priorities for BPD and what made him decide to become a police officer
The city's first black police commissioner says the department can't rest "on [its] laurels"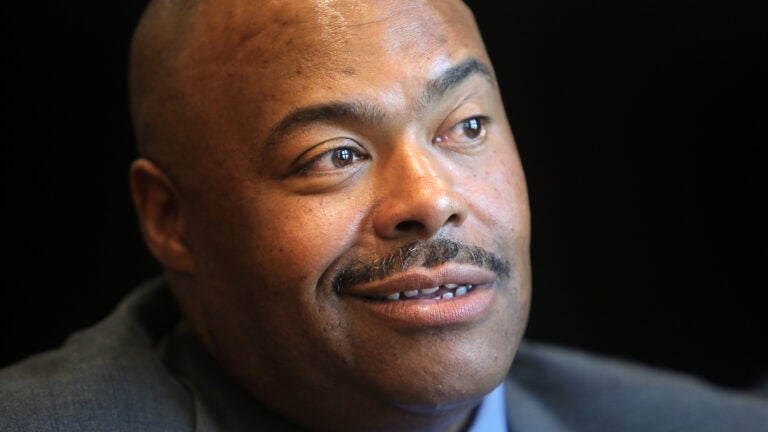 Boston Police Commissioner William Gross said what he's been most surprised by a month into being the city's top cop is the positive "overwhelming response" from Boston residents — particularly its senior citizens.
"I love them," the city's first black commissioner said of the older Bostonians. "Seniors have no filter, so when they tell you that, 'Hey, you're doing a good job,' and, 'BPD is doing a good job,' I really appreciate that."
Gross, 54, was sworn in as the department's 42nd police commissioner on Aug. 6, and, speaking with Boston.com a month later, he said is thankful for the opportunity and appointment from Mayor Marty Walsh.
"I think his decision was based on feedback from the community and where we want to be in the future," he said. "We want to move forward."
Gross became a patrol officer with Boston police in 1985, working in the drug and gang units before he was named the department's first black superintendent in chief in 2014.
"He's the right person at the right time for this job," Walsh said when Gross was announced as the successor to the retiring commissioner William Evans.
Boston.com spoke with Gross to learn more about his priorities for the department, what he sees as the greatest challenge facing Boston communities today, and how his previous experiences with the department are informing his approach.  
[Note: This interview has been edited for length and clarity.]
Boston.com: How do you think your childhood, and your experience moving to Dorchester during the busing crisis, shaped your relationship to Boston early on?
Commissioner Gross: It was my first education really of living in a big city, because I came from a farming community, agrarian culture. When I arrived in the big city, the city was in the throes of racially tumultuous times because of forced busing. And each neighborhood pretty much was in its own individual silo. I had a lot of people from our neighborhood in Dorchester that showed me the way. My mother — single parent — my older sister, younger sister — the rest of my family was definitely the community. And I definitely needed lessons because I was 'green,' as they say. Country mouse to city mouse at a time of forced busing, [and] the community helped raise me and teach me the ropes.
When did you know you wanted to be a police officer?
That's one of my favorite questions to answer. When I was on the farm being raised by my grandmother — guess who the remote control was? It was me. I changed the channels. With that being said, I watched her shows and her shows were some of our westerns and our earliest TV — shows that you of course would have to Google. Like 'Bonanza,' 'Ponderosa,' 'The Rifleman,' and then at night we had the Alfred Hitchcock theater, Charlie Chan theater, 'The Untouchables,' 'Dragnet,' so forth and so on. It was all cop shows and westerns.
But what was great about that is the discussions that we had about the plot and the dialogue in those shows [about justice]. I didn't like bullies — kinda loved the good guys in those shows. Except for westerns. I didn't believe that the Native Americans were the bad guys at all.
How old were you at that time when you realized you were interested in law enforcement?
From 5 to 12. That carried on when I came to Boston. There were still great television shows like 'Hill Street Blues' and 'Barney Miller.' I always just loved law enforcement. But it was pretty tough being a black kid in a tough community where historically the relationship between the police department and that community was not favorable.
You've worked up through the BPD ranks. How are you approaching this new role in your first year based on your previous experience?
Number one, to strengthen any models that we have that make us one of the most successful community policing models in the country. Continue to educate the community about what we do and how we do it so that there's no disconnect, so we can go forward and work together to solve problems and create a better quality of life for everyone. Everyone. Any programs and initiatives to the positive, we're going to strengthen.
I'm very keen on transparency. It shouldn't be a mystery as to how we do our jobs. We're serving you, the public. You should know what we're doing and how we're doing things.
With that being said, the officers of the Boston Police Department work very hard, so officer wellness is key for me too. When officers are of sound body and sound mind then we can best serve you. And unfortunately, the number one killer of police officers is suicide. Everyone thinks we're stereotypes — we're robotic and desensitized to any types of emotions. But we're not. We're human too. … It's not like the movies where we're robotic and there's all this machismo. We talk about things and things do bother us. And if you don't address them then it'll [turn] into something else, if not addressed.
What are three immediate goals you have for Boston Police Department in the next year?
First and foremost is to stop the senseless violence, especially with the youth in Boston. One homicide is too many. One act of violence is too many, and we're seeing too many of the young men and women in Boston involved in crime. So that's number one. So how do we combat that? We'd like to work together with the community to strengthen those families that have the challenges where a kid may go outside of that family unit to join gangs or take part in selling drugs or committing violent acts. … If you strengthen the family unit and show folks that they're not isolated, they're not alone, and they don't have to do anything that you need to do to survive — taking part in criminal enterprises to do so — then that definitely reduces crime.
Transparency with the community. Again it shouldn't be a mystery as to how we do things.
And I'd love for the Boston Police Department to reflect every neighborhood in the city, so we want to work on diversity in our police department. So, recruiting efforts and educating and mentoring folks to the point where hopefully they'll join the Boston Police Department as a sworn officer or a civilian.
The fourth is officer wellness, so I gave you an extra one.
What do you see as the biggest problem or challenge facing Boston communities today?
The biggest challenge is the senseless acts of gun violence. … It's just horrendous when a young life is taken too young. If you look at Mayor [Marty] Walsh, he's a survivor of being shot as a young child. Imagine if he had been killed? He wouldn't be here as mayor. And that's indicative of a lot of us growing up that came from some tough backgrounds and challenging backgrounds. Where would we be if we were taken by a senseless act of violence? We have to protect our future, especially our children and our teens, our young men and women. There's just no way to describe the pain and suffering that families go through when a young life is taken.
What do you see as the one thing the department most needs to improve?
We are one of the top models of community policing. But you can't rest on your laurels. So I would like to see an improvement in community policing where we're still educating the community about what we do and how we do it and getting more input from the community because you can never rest on your laurels. When I say we're 'number one' in community policing, not everyone feels that way. We're not going to be truly successful until everybody in the city feels that way.
How do you plan as police commissioner to get the community to cooperate more with the department to help solve crimes, especially when it comes to homicides?
What I alluded to earlier — to work in partnership with community. First you're not going to want to work with anybody that you don't trust, so to break the negative perceptions and stereotypical views about our department, teach people about who we are, that we are in the game of life together.
We do have people step forward and help out. We have to ensure that we have have their backs as well. [If] someone comes forward we have to make sure that we have the means to protect them. So programs, initiatives, funding for witness protection or to help a family and especially help mend the ways of young men and women who aren't doing the right thing, that's something we can do together.
When it comes to battling the opioid epidemic, what do you see the role of the police being, given they are in some ways on the front line of the crisis being first responders?
First a little history. What we did in the past when it was the crack epidemic if you want to be quite honest, back then it was the part of law enforcement culture, even on the national level, to just lock the problem away.
You cannot lock away an addiction or dependency. So what we've learned from that is everybody is going to have to help out to address this opioid crisis. Our role is to protect the victims. How do you do that? There are people bringing in the drugs and the guns. We have to identify those folks so that they don't keep making more and more addicts out on the street. Whether they're selling the pills or heroin, our job is to identify those individuals that are selling that.
But our new role with community policing — since we wear many different hats — is also to help the victims who are dependant. To help identify them as well as identity any programs [for social services].
Is there a particular case or moment in your career that you feel has influenced your approach to policing?
I have good stories and bad stories. I think to summarize what's been instrumental in how I think and feel about policing is — some people say it's corny — is when you actually get to help someone out that really, really needs your help. … We do what we do for the people. So again, not to sound too corny, that's why I do what I do. To help out folks. It really does feel good when you do good things for people. It feels good when you do something nice. That's what keeps me going — kids and seniors.
What's the one thing you'd want Bostonians to know about you that you think isn't well known?
I love physics. I love flight simulators — I fly almost every week. I'm a big history fan, and I think everyone knows I'm a student of history. As a matter of fact my chief's office, before I made it to this great position, was set up like a museum to teach all-inclusive American history, biblical history, and world history. In that office I just had many historical references that kids could relate to, so for four-and-a-half years we had approximately 520 young men and women from the inner cities through my office and we talked about history, everything from revolutionary times to Selma, to Black Lives Matter. We talked about it all, discussing points in history. Comparing and contrasting. … Because if you know your history, you know your self worth. I strongly believe in that.
Is there anything else you want to say or anything else you would want readers to know about you?
One big thank you — I believe in mentorship, so remember I mentioned flight simulators? I always loved the Tuskegee Airmen, the African American squadron that fought for the Army Air Corps in World War II. This is why I love them — they proved their self worth, broke negative stereotypes, views, and perceptions about African Americans and their ability to serve in any capacity. But when they returned from World War II, they returned to a still-segregated America. So because of their new network of friends that they won over out of respect for their diligence and love for their country, they were the forefathers and sisters of the Civil Rights movement. They helped in that advocacy for truth and justice. And one of my biggest mentors is Willis D. Saunders, a Tuskegee Airman who was a police officer that rose through the ranks to deputy in the '80s. He taught me one thing that is very prevalent in my everyday walk in life — people don't work for you, they work with you. So that's how I want it to be with BPD and the department, us working together.