Local News
The City of Somerville will observe 'Indigenous Peoples' Day' on 'Columbus Day' this year, mayor says
"If you want talk about a name Italian-Americans speak with reverence, try Frank Sinatra," Mayor Joseph Curtatone said.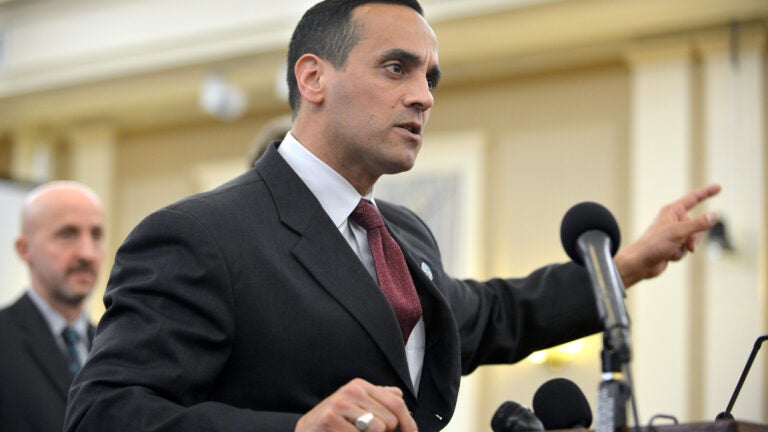 The City of Somerville will observe "Indigenous Peoples' Day" this year on what is traditionally Columbus Day, Mayor Joseph Curtatone announced Thursday.
In a lengthy Facebook post, Curtatone said the city will join other states and cities across the country that, on the second Monday in October, have recognized the native people who died following the European settlement of North America led by explorers like Christopher Columbus.
Columbus Day, established as a federal holiday in 1937 "with the best of intentions," Curtatone notes, is an outdated and oversimplified view of history, he wrote.
"It's been an issue we've given careful consideration, and many inside and outside our city have made compelling arguments for this change," he wrote about the decision. "In fact, during the past year I received letters from East Somerville Community School students urging the change. One asked, 'Why would we want to commemorate someone who slaughtered innocent people?' Fair question, inescapable answer: we shouldn't."
#Somerville will be celebrating Indigenous Peoples' Day this year – https://t.co/cstLdNjmOt #mapoli

— Joseph A. Curtatone (@JoeCurtatone) September 13, 2018
Somerville's discussion around the holiday extends back at least a few years.
An email sent by a local school principal to staff in 2011 about how to address multi-cultural perspectives surrounding fall holidays like Columbus Day given "the atrocities that Christopher Columbus committed" sparked controversy and made national news.
(The whole incident prompted Curtatone to dress up as Columbus in a city Halloween celebration that year.)
In Thursday's Facebook post, Curtatone said that Columbus's history should not be swept aside.
"Columbus participated in the early stages of what became a genocide," he wrote. "On the island of Hispaniola (modern day Haiti and the Dominican Republic) where Columbus established his first colony, chroniclers of that era detail enslavement, torture and dismemberment. Some natives had their hands chopped off when they didn't produce enough gold. The cruelty he inflicted touched off mass suicides. Sadly, far greater numbers would die after that in the scouring of two continents lasting hundreds of years in which millions lost their lives."
The change to "Indigenous Peoples' Day" is not an act of erasing history, but rather one that takes into account the whole picture with more respect "toward those to whom (history) was unkind," he said.
"Observance of that loss and respect for the people who suffered it is not a lot to ask from those of us whose families migrated here in its wake," Curtatone wrote. "By changing our customs around the holiday, we're still saying we remember Columbus. We just don't see that as cause to celebrate."
Curtatone, whose parents were born in Italy, also touched on how fellow Italian-Americans view the Italian explorer with great pride.
But the decision to observe "Indigenous Peoples' Day" instead of a holiday honoring Columbus was not a difficult one for him to make, he said.
"The only time Christopher Columbus' name came up in our household was that my father sailed to the U.S. from Italy on a boat named Cristoforo Colombo, and I've never been in an Italian-American home (and I've been in a lot of them) where they had a crushed velvet or watercolor painting of Columbus hanging on the wall," he wrote. "If you want talk about a name Italian-Americans speak with reverence, try Frank Sinatra."
Read Curtatone's full post:
https://www.facebook.com/jcurtatone/posts/1779972792128948?__tn__=K-R