Local
18-year-old killed in Lawrence gas explosion was 'an amazing young man'
Authorities say Leonel Rondon died after a chimney, propelled by an explosion, toppled onto his car.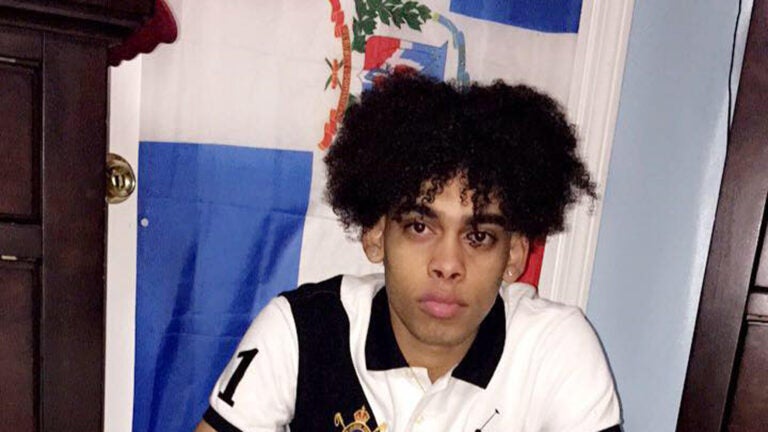 Friends and relatives are mourning the death of an 18-year-old from Lawrence who was killed by one of the many gas explosions that rocked three communities in the Merrimack Valley late Thursday afternoon and sparked fires in dozens of homes.
Authorities say Leonel Rondon was sitting in a car near 35 Chickering Road in Lawrence when a chimney from an exploding house fell on the vehicle. The Essex District Attorney's office said the 18-year-old was pronounced dead at Massachusetts General Hospital around 8:30 p.m.
As of late Thursday night, Lawrence General Hospital said it was treating 13 patients with injuries ranging from "minor to smoke inhalation and blast trauma" sustained in the gas fires and explosions that dotted Lawrence, Andover, and North Andover. Another 10 people were being treated at Holy Family Hospital.
At this hour, Lawrence General has received 13 patients as a result of the gas fires. One critical patient was transported to a Boston trauma center, the rest have been treated at Lawrence General. Injuries range from minor to smoke inhalation and blast trauma.

— Lawrence General (@LawrenceGenHosp) September 14, 2018
At this hour, Holy Family Hospital has seen a total of 10 patients presenting through the emergency department as a result of the fires. All are currently either stable or being actively discharged.

— Holy Family Hospital (@HolyFamilyHosp) September 14, 2018
"This has been an incredibly difficult day for everyone," Governor Charlie Baker wrote on Twitter overnight. "I ask everyone to think of the family of Leonel Rondon who lost a loved one today, and to pray for everyone who has been injured."
This has been an incredibly difficult day for everyone. I ask everyone to think of the family of Leonel Rondon who lost a loved one today, and to pray for everyone who has been injured.

— Charlie Baker (@MassGovernor) September 14, 2018
In a statement Friday morning, the gas company for the area, Columbia Gas, called the fires and explosions a "tragic incident."
"We are saddened to learn of the death of a young man as a result of these events," the statement read, in part. "Our thoughts and continued support are with those who have been injured and affected."
Rondon's family told WHDH the teen had just gotten his license and was celebrating with two friends, who were also badly injured, when the explosion occurred on Chickering Road. The 18-year-old was due to graduate from high school this year, and his relative said he was "an amazing young man," according to the station.
His cousin, Altabeira Ventura, told The Boston Globe the teen was a "good boy."
"He had a job interview on Sunday," Ventura told Globe reporters in Spanish. "And his mom was going to buy him a car. He was a really good kid, really humble. He liked to play video games."
On Friday morning, friends, family, and neighbors gathered around the 18-year-old's home on Chestnut Street, according to the newspaper.
One neighbor, Miriam Taveras, told the Globe it felt like the entire neighborhood was mourning the boy's death together.
A classmate, Cassandra Carrion, told the reporters "everyone" knew Rondon.
"It's crazy how this happened," she said.
The 18-year-old was a student at Phoenix Charter Academy who "excelled in biology and math," according to a statement released by the school district:
The Lawrence schools community is deeply saddened by the loss of one of its members, 18-year-old Leonel Rondon, in the series of gas-related accidents that struck multiple Merrimack Valley communities yesterday.

A Lawrence Public Schools student throughout his life, Leo attended the Oliver School, UP Oliver Academy, Lawrence High School and most recently Phoenix, remaining enrolled at Phoenix Charter Lawrence Academy when it converted from a district to charter school for 2018-19.

Staff and students knew him as an outgoing, light-hearted, hands-on learner who particularly loved science and excelled in biology and math. He had just begun his junior year at Phoenix after a successful 2017-18, and teachers recall his drive to graduate as a model to classmates.

He will be greatly missed both in school and at home, and his family, friends and loved ones are in the thoughts of everyone throughout the Phoenix network and Lawrence Public Schools. Grief counseling, coordinated by Phoenix and Lawrence High School staff, is being provided at Phoenix and will remain available in the coming days.
Grief from those who knew the teen poured out on social media.
"Heaven has gained an amazing angel," Jenniifer Hernandezz wrote on Facebook. "So heartbreaking and still in disbelief. Saw you yesterday morning and as always with a huge smile on your face. Such an amazing kid my deepest and sincere condolences to his family."
https://www.facebook.com/XbocachulaX/posts/10156645782701591?__xts__%5B0%5D=68.ARDU88f1VOkaERHI-bZ9Nj–vTMT2ZPR5AkcAs0fHiEgKikARrR_I4_kPDY0Pk_wqe8fOd0WKIQ3Zw4e0c2SI401eMVmnYMNaAxNUNz5eBIW1H2RCC_pu0gsmdfKPNPDcht-W_C0HnuNVfStxsf5ExCDo2zTSUEU43vgvcJOi8buUpR5_TxkYmM&__tn__=-R
Shantel Polanco Baez wrote Friday that she still couldn't believe the news.
"Went to sleep in tears now I'm waking up in tears it's crazy," she said.
https://www.facebook.com/permalink.php?story_fbid=684977558554985&id=100011282418716&__xts__%5B0%5D=68.ARA0XYpDGtD69xeBpotkCwQIytvKBfdoL-ODggXyi_U8-yNKkLosIytxnDIzCJ1iHKIbJMH-0wPaNvCQ5kRPlWCrFLXUQRocTCQHChgFakyBCXf4pjhOZQ2DCJjn5OPdhXGaFcTMlwAXF6aud_-lwQS5YwOHQHP5EbUQr2eP853tMRScw_Vl&__tn__=-R