Local
'Absolute chaos': Residents describe the outbreak of gas explosions, fires in Lawrence, Andover, and North Andover
"It's pretty frightening to see your house explode."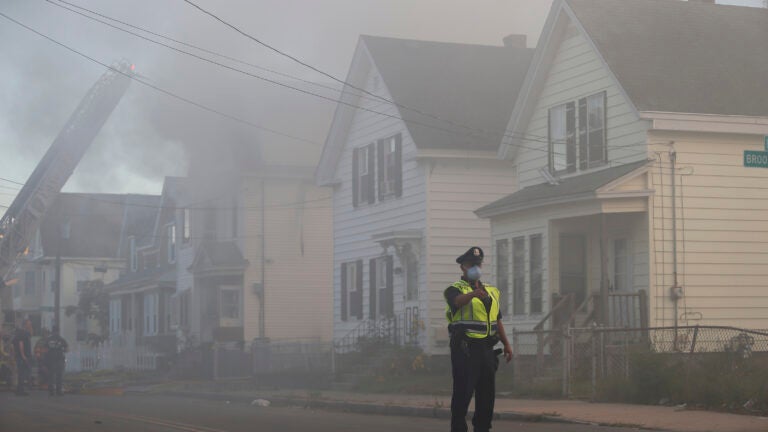 An 18-year-old was killed and at least 10 others injured when a series of gas explosions and fires broke out in three Merrimack Valley communities on Thursday afternoon, forcing the evacuation of neighborhoods in Lawrence, Andover, and North Andover.
Residents in the region described a scene of havoc and confusion as the ground shook in some places from the sudden blasts and the smell of gas permeated neighboring homes.
"It's a nightmare. Absolute chaos," Lawrence resident Matt Van Dyke told the Boston Herald.
The electrician, home sick on Thursday, was letting his dogs outside when a house three doors down from him exploded, he told the newspaper.
It sounded like a "bomb went off," the 33-year-old said.
"I ran down the street and saw the house," he told the Herald. "I could not believe it. It was crazy. It was leveled. I saw a couple people coming out of there — I believe. They were all hobbling. They were messed up."
Nearby another house was on fire. The electrician went back to his home, fearing it was next, and picked up his father, who is in a wheelchair, to evacuate.
Late Thursday afternoon, officials urged all residents in the three communities serviced by Columbia Gas to evacuate their homes as power was cut to the area.
Manuel Cabrera told The Boston Globe he was on his lunch break around 4:15 p.m. from his job at a Taco Bell near Winthrop Avenue in Lawrence when the ground rumbled beneath him. A fire erupted behind him near Chickering Road and smoke quickly engulfed the shopping plaza where he was standing.
"It was like a movie," he said. "I've never felt anything like it."  
"It's pretty frightening to see your house explode," a woman on Chickering Road in Lawrence told the Lawrence Eagle-Tribune.
News of the destruction was reported by officials shortly before 5 p.m.
MSP Troopers on scene, more responding, to Lawrence/Andover/North Andover to assist with scene security and traffic control after multiple suspected gas explosions and structure fires. Developing.

— Mass State Police (@MassStatePolice) September 13, 2018
Van Dyke told the Herald that as he saw fires across the city, he feared a terrorist attack was underway.
"What is going on?" he said of his thoughts. "Why are we under attack? Why would Lawrence be under attack?"
Christine Cohne told the Globe her 11-year-old son, James, was on his way home with a friend when he saw smoke coming from the house next to theirs on Green Street in Lawrence. She said the 911 dispatcher told her, "There's fires all around you. If you smell gas, get out.'"
"I had no idea that all this was happening," she said.
Kristiana Fabiano told the Eagle-Tribune she walked into an apartment building on High Street in Andover around 4 p.m. and smelled gas. As she opened the back door, a fire alarm went off in the basement.
She told the newspaper she called 911 and the fire was soon visible through the front doors and windows.
"This is so terrible," she said as firefighters worked to extinguish the blaze.
Andover resident Mark Chisholm told the Globe he got an emergency alert from the town around 3:30 p.m. telling him to shut off the gas to his home and evacuate.
"No one knows how to do that,'' he told the newspaper. "That's something that firefighters do."
He said his first attempt to shut off the main was unsuccessful, but, after trying with a monkey wrench, the rusty valve closed. He and a few neighbors, also armed with tools, rushed to close mains at nearby homes.
According to the Globe, as Chisholm and his three children were evacuating, he pulled over when he saw a father and son trying to figure out how to shut off the gas.
"Once you do it, you are an expert,'' he said.
Kimberly Nicollosi told the Herald she was in her North Andover home around 5 p.m. when a block away a house exploded. She said it sounded as if the neighborhood was "being bombed."
"The whole house just shook. I grabbed my kid, my dogs and I just left. It's really scary," she said. "It sounded like TNT or a really big firework."
Another North Andover resident, 51-year-old Garry Frizzell, told the Globe he smelled gas in his home around 4:45 p.m. He said at first he thought he had left his stove on — then he realized he hadn't used it for three days.
Two fires broke out nearby in his neighborhood.
"This is like Armageddon," Frizzell said.