Local
Most Lawrence residents can return home Sunday morning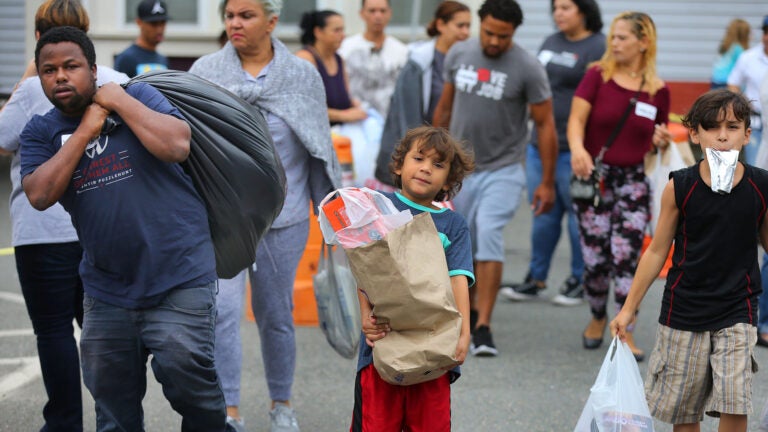 LAWRENCE — Governor Charlie Baker announced Saturday night that most people driven from their homes Thursday by gas explosions and fires that tore through the Merrimack Valley should be able to return by Sunday morning as crews finish shutting off gas meters and restoring electricity.
Residents still under evacuation orders will be allowed back in their homes at 7 a.m. Sunday, when most properties will be deemed safe from gas threats and have their lights back on, Baker said at an evening news conference.
"None of that work will be easy, and it will require massive amounts of personnel,'' Baker said at an evening press conference.
He urged residents to check gas appliances and heating systems for damage, and to call 911 if they smell gas.
Hours earlier, National Transportation Safety Board chairman Robert Sumwalt disclosed that a Columbia Gas pipeline controller in Columbus, Ohio, detected a pressure surge in the area of Lawrence, North Andover, and Andover on Thursday when the gas explosions and fires occurred.
The search for the cause of the disaster that killed an 18-year-old man and drove thousands from their homes could take up to two years, he said.
"We're not here on scene to determine the probable cause. That will occur at a later date,'' Sumwalt told reporters at a press conference in Lawrence. "We're never going to speculate on the accident. Our mission is to find out what happened so we can keep it from happening again.''
If investigators find issues requiring immediate attention, Sumwalt said the board could issue "urgent safety recommendations'' before releasing a final report on the incident.
Senator Edward Markey demanded answers Saturday night in a tweet asking whether Columbia Gas personnel might have missed or ignored notifications about the pressure surge.
"We need a minute-by-minute accounting of what happened before and during the #MVGasFire,'' he wrote.
About 8,600 homes and businesses in Andover, Lawrence, and North Andover were evacuated late Thursday afternoon after scores of fires broke out. As many as 80 buildings burned, and Lawrence General Hospital reported treating 13 victims with injuries ranging from smoke inhalation to blast trauma.
Lawrence Mayor Daniel Rivera said about a dozen city families have been permanently displaced from their homes.
"This is really a human disaster,'' he said at the press conference with Baker. "There are people behind every meter and families behind every fire.''
Sumwalt said Columbia Gas reported the pressure surge to the NTSB, but investigators still need to pinpoint when it happened and how much gas flooded into the system.
They plan to interview the pipeline controller and review Columbia Gas's response to the pressure increase, including the company's procedures for handling such events, Sumwalt said.
Investigators so far have found no evidence that the disaster was the result of criminal conduct, he said. NTSB representatives are gathering physical evidence from the area, a process that could last seven to 10 days and includes excavating sensor lines associated with gas pressure regulators used by Columbia Gas.
A press release published on the utility's website Thursday, before the explosions, announced ongoing and upcoming work to upgrade natural gas lines and improve service, including projects in Andover, Lawrence, and North Andover.
Sumwalt said 14 underground pressure regulators control the flow of gas through cast iron and plastic pipes serving the Merrimack Valley. He said that number of regulators is "about normal,'' but noted that part of the investigation will determine whether the 14 regulators were adequate for the distribution system.
All the regulators will be tested for functionality, Sumwalt said.
Investigators plan to construct a timeline beginning three weeks before the blast that will note details like consumer complaints about natural gas odors and Columbia Gas's response to those complaints, he said.
They will examine pipeline records pertaining to any testing, repairs, inspections, or problems, Sumwalt said. The investigation will also look at Columbia Gas more broadly, examining its safety procedures and emergency planning, as well as its track record with regulators and training protocols.
On Friday, Baker declared a state of emergency and called in Eversource to lead recovery efforts in the Merrimack Valley after he said Columbia Gas failed to respond adequately to the explosions and fires.
Residents of South Lawrence, parts of Andover, and North Andover remained under orders Saturday to stay away from their homes as utility crews sought to shut off about 8,600 gas meters and check all homes and businesses for traces of natural gas.
As of 1 p.m., Columbia Gas said crews had cleared 5,202 meters. The utility also opened a claims center at the Lawrence Public Library, drawing hundreds of residents.
The claims center is expected to reopen Sunday at the former Lawrence High School, Rivera said. A resource center for residents whose homes were destroyed is scheduled to open Sunday at 1 p.m. at the Arlington Middle School in Lawrence, officials said.
At the Lawrence Senior Center, people waited in line Saturday afternoon for diapers, towels, food, and other products.
Among those seeking help at the senior center was Zulema Dejesus, 47, who lives in South Lawrence. She said she escaped her home Thursday night with her husband, teenage son, daughter, infant grandson, and the family's three dogs and parrot.
"It was hard; it was scary,'' she said. "It was such a shock. It felt like everything was going to explode.''
At a shelter at the Arlington Middle School in Lawrence, charter buses shuttled people to their homes on the south side of the city, where they had about 10 minutes to retrieve medicine and clothing.
Kayla Bernardini, 29, said she'd been at the shelter since Friday night.
"I just want to go home,'' Bernardini said. "I don't like to stay in places with a lot of people. I just want to go home.''
Yancarlo Guvman, 21, said he has been staying with family friends since Thursday.
"We are scared; we don't know which homes will explode,'' he said.
On Chickering Road, where 18-year-old Leonel Rondon died after a brick chimney crushed the SUV he was sitting in, neighbors stopped by to reflect on his death.
"I haven't been back to my house since Thursday afternoon,'' said Bonnie Fields, who lives nearby. "It's just awful — I knew them because we were neighbors. I'm just here getting some clothes and some medication.''
Another neighborhood resident, José Rodriguez, 49, said he evacuated his tenants Thursday but doesn't plan to leave his home.
"I've got a lot of stuff there and I'm just worried about looters,'' he said. "This looks like a battle zone.''
On Saturday morning, anxiety spiked in South Lawrence after firefighters were summoned to the site of a gas leak near St. Patrick Church, said Jennifer Mieth, spokeswoman for the state fire marshal's office. The leaks were unrelated to the gas explosion, and crews expected to complete all necessary repairs by Saturday night, Rivera said.
On the steps of the Parker Street Rooming House in South Lawrence, residents recalled the chaos as they sat on the porch smoking cigarettes and talking.
"Things just started exploding around us, and we were in the middle of it,'' said Josie Theriault, 68. "We've got no food now, and we've got to buy something every day.''
Melanie Queenan, 40, unwrapped a yogurt she said she got from a soup kitchen.
"A lot of us don't even have enough money to go buy food. I'm about to be eating ravioli out of a can right now,'' she said.
There were some signs of life getting back to normal. At St. Patrick's, the Rev. Paul O'Brien presided at Mass for the first time since the explosions, sharing the service with four parishioners who gathered in a lower church.
"There are a lot of things that we can't do right now in Lawrence, but we can feed one another and we can worship God together and pray for one another, so I'm very happy to be able to do that,'' he said.