Local
MGM Springfield pulls in $9.5 million from gambling in first week
The haul translated to about $2.4 million in tax revenues for the state.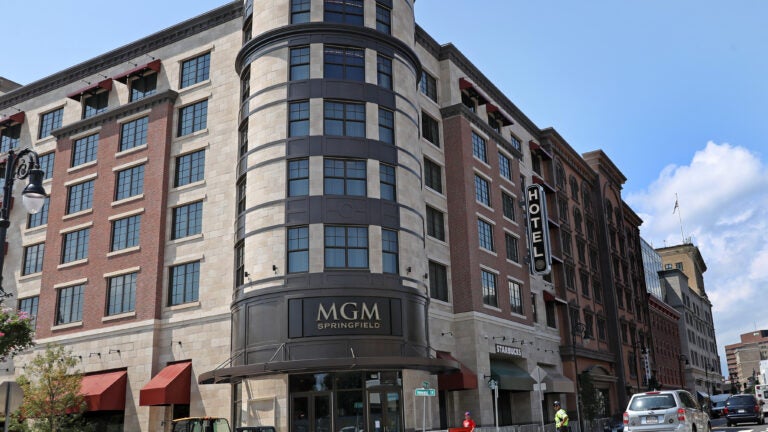 BOSTON (AP) — MGM's Massachusetts casino generated $9.5 million from gambling operations in its first week open, state regulators reported Monday.

The state Gaming Commission said in its monthly casino revenue report that MGM Springfield earned $2.1 million in gross revenues from table games like blackjack and roulette and $7.3 million from slot machines during the eight-day span from its Aug. 24 opening to Aug. 31.

The haul translated to about $2.4 million in tax revenues for the state. Massachusetts assesses a 25 percent tax on the hotel, casino and entertainment complex's gambling revenues.

MGM Springfield President Michael Mathis said in a statement that the figures reflect the casino's "tremendously successful" opening, where more than 150,000 people visited in the first weekend alone.

But the haul was comparatively less than what the state's other, more modest casino pulled in when it opened three years ago, said Paul DeBole, a political science professor at Lasell College in Newton, Massachusetts.

Plainridge Park, a slots parlor near the Rhode Island state line, averaged around $700 in daily revenue per slot machine during its first week run in June 2015.

MGM Springfield, by contrast, generated about half that amount — about $367 a day per slot machine, according to DeBole's calculations.

By way of comparison, Connecticut's longstanding resort casinos — Foxwoods and Mohegan Sun — average about $318 and $343 in daily revenues per slot machine, respectively, he said.

Revenues generated per day per slot machine is a standard metric in the casino industry.

"I expected higher," DeBole said of MGM's revenue numbers. "Three hundred dollars is a good target, which MGM hit. I just thought with the hype and grand opening it would be higher."

A spokesman for MGM didn't immediately respond, but Mathis last week cautioned against reading too deeply into early revenue figures.

The company estimated it could generate $500 million annually from its Massachusetts casino by its third year of operation.

Plainridge Park, meanwhile, generated $15.4 million in gambling revenues in August, with about half going to the state because of a 49 percent tax on the Plainville facility's gambling operations, according to Monday's gambling commission report.

And Wynn Resorts, which is planning to open a $2 billion casino across from Boston next June, opened a training school for prospective casino workers at Cambridge College in Boston on Monday.

The Las Vegas company also announced it was donating $100,000 to benefit victims of the natural gas explosions that rocked communities north of Boston last week.