Hurricanes
How a local couple's lives have changed since two hurricanes hit their St. Thomas home
"Whatever I went through, there are so many people that went through so much worse," KJ Neilson said, reflecting on Hurricanes Irma and Maria.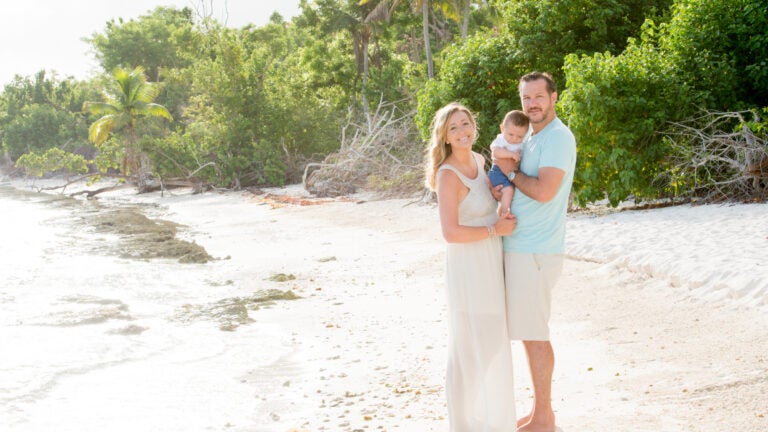 KJ Neilson did his best to sound collected and calm on the phone with his wife, Kate. He didn't want her to worry, even as the increasing winds from Hurricane Irma tossed debris through the air outside their home on St. Thomas in the U.S. Virgin Islands.
Hunkered down with their two dogs, he texted his friends and asked them to watch out for his wife, who was 12 weeks pregnant and half a world away in Greece.
Then the Category 5 hurricane began its assault on the island. Irma tore apart structures on St. Thomas, decimating its communication and power grids, leaving thousands homeless, and stranding vacationers. More than 30 people were killed across islands in the Caribbean as the storm swept toward the coast of Florida, where it knocked out power to millions and killed more than 20 people. 
Fourteen days later, St. Thomas was again ravaged by a storm — Hurricane Maria.
That was a year ago.
"It's been a real struggle, the last year," KJ said in an interview with Boston.com. He and Kate, who is a Cape Cod native, are now living in Plymouth with their six-month-old son, James.
Damage from the hurricane forced the couple to shutter their hydroponic farm on the island. And after pouring thousands of dollars into repairs, they've decided to sell their home there, too.
"It's certainly bittersweet to have to sell the house," Kate said. "That is not exactly what we wanted to do, but I think it's the right step for us with this next chapter."
A year later, KJ said he felt compelled to write down what he remembered of the days leading up to and during the storm and reflect on that period.
"In retrospect, there was really only two and a half days, maybe three days notice," KJ said of Irma. "So not a lot of time, and it flew by pretty quickly. I didn't really have a chance to think things through and really understand it all — and the impact of it all — until afterwards. And of course afterwards, you're a little in shock, and you're a bit in survival mode where you're trying to pick up the pieces and figure out your priorities and also help others."
On the day the storm made landfall, he wrote about doing his "last check" of their property around 1:30 p.m.:
It was dumb. As soon as I stepped outside, I could feel the force of the wind. It nearly picked me up. I ducked into a corner of the outside walls to the house. I had to time when I would make a dash to the next spot. There was so much debris flying around. The rain was pelting me like little needles. It stung my skin and eyes. As I made my final dash to the door of the studio a blast of wind hit and I fell down. I think that's the moment I realized I was in trouble. That's the moment I thought I could die. It didn't hit as an overwhelming rush of emotion. It was just a simple thought. I could die. I thought of my pregnant wife. My family. My friends. I thought about when I'd last spoken to each of them and wished I'd said just a little more.        

I shut the door behind me to the studio and sat on the bed. The dogs were pressed against me.  The looks on their faces was intense. Wide eyes. Ears perked up. Scared out of their minds. I started talking to them. Trying to be calm. I realized I was shouting. The sound of the wind was now deafening. It was as if someone was yelling into both my ears non-stop.
The next day, when he walked outside to assess the damage wrought on their home and the island, he wrote that he knew "everything was about to change."
A day or two after Irma, aid arrived in the form of the Navy, Coast Guard, and National Guard. A mobile hospital was set up, supplies delivered, and people rescued. The couple said some of their friends evacuated to Puerto Rico, as boats went back and forth between the U.S. Virgin Islands and the nearby, larger island.
"It was really great, right after Irma," KJ said of the response. "There were boots on the ground."  
KJ, like the rest of the small island community, began to work on recovery. He took down the plywood from the windows of his home and gave it to friends who lost their roof.
Kate said she'll never forget the moment she got the call from KJ telling her he was OK.
"I just collapsed on the ground," the 33-year-old said. "I was just so relieved to hear his voice. In that moment, I didn't care if the roof was still on the house, I just wanted to know that he was OK. I remember my hormones were raging because I was 12 weeks pregnant at the time, so it was very intense."
Two weeks after Irma struck the island, Hurricane Maria — another Category 5 storm — arrived, trapping St. Thomas in its inner bands.
"Where Irma blew things down, Maria washed them away," KJ said. "The amount of rain that fell on St. Thomas was just incredible. I saw, literally — it seemed like rivers appearing down the hillsides, into our property, through our home. I was very unprepared for it because it was such a different storm."
After Maria, the level of aid wasn't the same on the St. Thomas, KJ said. The Navy withdrew to Puerto Rico, which was devastated by a direct hit from the hurricane. A recent report estimates nearly 3,000 people died in connection to the storm on that island. 
"It was really disheartening because suddenly you felt like, OK we've been left," KJ said. "All this flooding and water damage has hurt the infrastructure so much. Roads were blocked before; now they're washed out. And now the Navy's gone, the Army's pulled out. The Coast Guard is focusing on Puerto Rico. We were really, truly cut off. Puerto Rico was our lifeline, and now Puerto Rico was down."
Those weeks after Maria were the hardest, he said, with no electricity and the rationing of fuel, food, and water.
For her, Kate said September 2017 was a "lost month" filled with worry and panic as the storms cut off communications for days at a time. She added it was "very emotional" to read her husband's reflection of those days.
"I can't help but be upset because part of me wishes that I was there, that I could have gone through it with him," she said. "But then I know that it was for the best, and it was a blessing that I wasn't there. But it's hard to know that he went through that alone. I'm extremely proud of him for all that he did to protect our home and our dogs and helped friends and helped the community."
Maria's impact delayed Kate from being able to get to St. Thomas until early October. Once there, she collected the couple's two dogs, Ripley and Roo, and returned to Massachusetts to stay with her parents.
"Honestly it was like a dream, I don't even really remember that trip," she said. "It was so emotionally intense."
KJ remained on St. Thomas until December, flying back and forth to deal with repairs and the insurance company.
"Everything on the island has become a lot more difficult," KJ said. "It's hard to get contractors, to get labor, to get materials, to really get anything done in general is just a slow difficult process."
The couple estimates they spent about $100,000 — almost all of their savings — trying to get their house repaired and ready for the next hurricane season, which started in May. It took until June for them to reach a settlement with their insurance company, but they said the funds haven't been released yet.
Nothing has gone smoothly, but the couple considers themselves lucky. They have a healthy baby boy, James, who was born in Plymouth on the heels of three nor'easters that battered the New England coast in March, and a community of friends and family that has helped them get through the last year.
In July, they took James to St. Thomas to see the home where they once hoped to raise him.
"It was a really wonderful experience to have that closure and see all the hard work KJ had done and bring our baby boy back to our home," Kate said. "We wanted to have him on the island. We love St. Thomas, and we miss it so, so much."
They're hopeful that someday they'll be able to call St. Thomas home again, to return to the place they'd lived since 2013.  
But flying in to the island in July, the evidence of the slow recovery was visible in the blue tarps still dotting the landscape, covering missing roofs and walls.
"Whatever I went through, there are so many people that went through so much worse," KJ said. "And I am a tiny, tiny piece of that story."  
Despite everything, the island community remains upbeat, they said, and while many businesses, like their own, were forced to fold or leave, new enterprises are popping up as rebuilding continues. 
Their advice for anyone facing warnings of a major storm: Heed them. Don't take anything for granted or assume it will be any less than the absolute worst, KJ said.
"It's just stuff. Your home, your car, the things inside, that's stuff. That's stuff that can be bought again, that's stuff that can be rebuilt," he said. "Even things that are really important in terms of their family value, heirlooms, things like that — still stuff. It's your memories that will carry you forward. So take care of yourself, take care of your loved ones, do what you have to do for them. Don't worry about so much about your stuff. As hard as that is to think about before the storm, after the storm, you realize that. You get that."