Local
'I got a great look at him and it was terrifying': New York man describes the moment he was bitten by a great white off a Truro beach
"The most scary part was when I recognized the shark and realized this is real life, this is not a movie."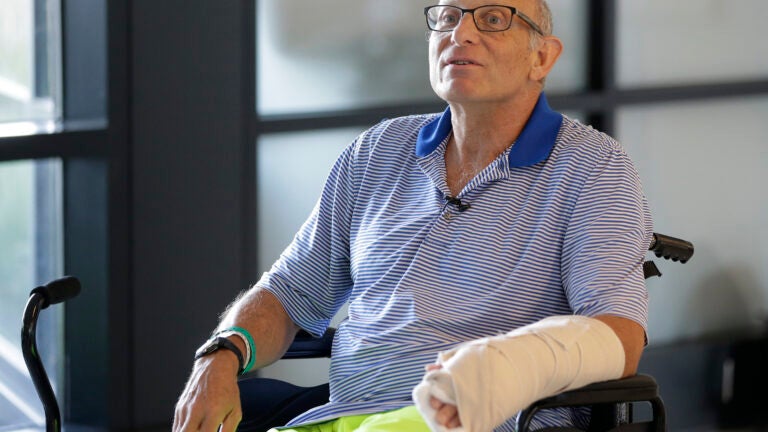 He'd missed his daily workout the previous few days. So on Aug. 15, while visiting Longnook Beach in Truro with his wife and two daughters, William Lytton decided it was his "chance" to get one in — a 30-minute swim.
It was only weeks later that the 61-year-old neurologist from Scarsdale, New York, realized that when he headed into the water that day, kicking through the ocean about 10 feet off the shore, he was taking a chance of another kind.
Lytton had 10 more minutes left to go in his workout, swimming in water that was about eight or 10 feet deep, when he felt an "enormous pain" in his left thigh.
"The only thing I could think of at first was a jellyfish," the doctor told Boston.com. "I've encountered jellyfish before and they're a bit painful, but not that painful."
It was not a jellyfish.
What Lytton saw instead was a shark, its teeth sunk in the upper part of his left leg, appearing to try and bring his limb up and around, as if to turn him around.
"I got a great look at him and it was terrifying," Lytton said. "Immediately the first thought was, 'This is ridiculous. This kind of thing doesn't happen except in movies.' The second thought is, 'It is happening.' So then I just kind of realized, 'This is it. I'm going to die if I don't do something.'"
The 61-year-old spoke to Boston.com about the attack he survived two days before another man, 26-year-old Arthur Medici of Revere, died after being bitten by a shark off Wellfleet.
"When this happened to me I had hoped it was an isolated incident," Lytton said on Wednesday.
Offering his condolences to Medici's family, the neurologist said public officials have to "deal with the problem."
When he was attacked, Lytton recalled — from viewing nature documentaries — that there are three vulnerable points for a shark — the gills, eyes, and snout.
"The gill was very visible," Lytton said. "It was right there in front of me. And I smashed it with my hand. And as a result, I got an enormous laceration in my hand and broke two tendons because apparently the gill is not a soft place, which is what I imagined it to be."
At the time, he didn't even notice the injury.
He estimated that he was in the jaws of the shark — later identified by experts as a great white — for about 20 seconds.
"It felt like a wrestling match," Lytton recalled. "The animal was trying to turn me over, having this great grip on my leg. And I guess it went from wrestling to mixed martial arts because I punched it, and it let go and left. So I feel like that was the key thing."
He was "bleeding out" in the water, he said, and couldn't really use his legs to kick. But he was able to make it back to shore in about six strokes of his arms, letting the waves help wash him in.
He yelled for help.
"Two guys came over, pulled me up the beach, so I was at least out of the water," Lytton said. "I was bleeding a lot. And they ran and got some more help. And luckily — I think it probably saved me — there was an EMT there, a doc, two nurses, and they really all pulled together and saved me."
He recalled being conscious as a group of 12 to 15 people helped carry him up a steep dune to a waiting ambulance. From there he was driven to a waiting helicopter that rushed him to Tufts Medical Center in Boston.
"They immediately intubated me and sedated me, and I was sedated for three days," the neurologist said. "So that was the last I heard about me for a while. Then woke up and was just like, 'What's going on?' And it started to come back."
Lytton underwent eight surgeries at the hospital as doctors worked to repair the damage done by the shark — it scratched his bone — and remove teeth the animal left behind.
The teeth were sent off to shark scientists for examination, which led to the discovery that it was a male shark that bit him. Lytton said he expects the teeth will be sent back to him when study of them is complete.
"The most scary part was when I recognized the shark and realized this is real life, this is not a movie," he said. "It was just like, 'I am going to die here if I'm not lucky and smart.' So it was very terrifying.
"The other very terrifying moments I was absent for. I think my wife suffered more terror than I did. They were worried about whether I was going to die, I'd lost so much blood."
Lytton's now at Spaulding Rehabilitation Hospital where he said last week he is feeling "much better" and views his progress as "remarkable."
"I can walk a few steps, walk many steps, walk half a mile, walk a mile," he said of the physical therapy. "It's been going great so far. But there's a lot left to do."
Lytton, who works at the Marine Biological Laboratory in Woods Hole each summer, said he'd been aware that sharks were in the water off the Cape, but, before he was attacked, he didn't have the sense that this year was any "worse" than past years.
Days before Medici was killed, the 61-year-old said he'd like to see actions taken by local officials, like better surveillance, to prevent other people from being attacked.
On Wednesday, he repeated the need for change on the coast.
"It's become serious," he said. "It's scary."