Local News
What to know before visiting the new recreational marijuana dispensaries in Massachusetts
"It's going to be more like a jewelry store."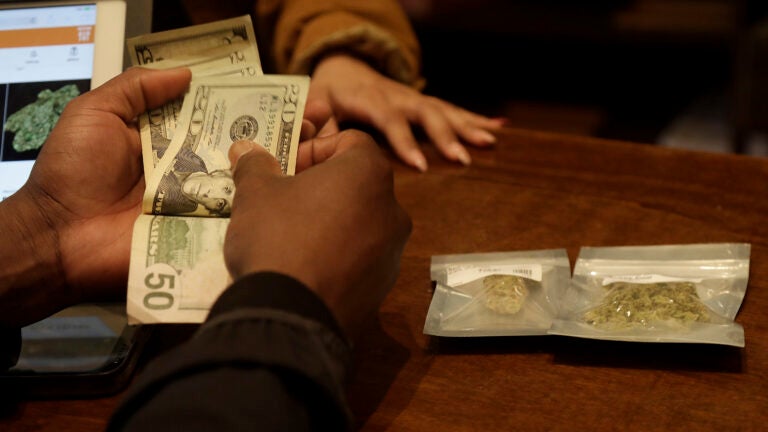 Update: The Cannabis Control Commission has authorized two Massachusetts dispensaries to begin recreational marijuana sales.
Cultivate in Leicester and NETA in Northampton plan to begin selling marijuana and marijuana-infused products to adults over the age of 21 on Tuesday, Nov. 20.
Original post below:
The backdrop may be colorful fall foliage rather than warm summer days, but Massachusetts really is nearing the opening of the state's first recreational marijuana dispensaries. Never mind that it will occur close to the two-year anniversary of the state's vote to legalize weed for adults.
"We're getting closer and closer, and we're doing it the right way," Steve Hoffman, the chairman of the Cannabis Control Commission, said Thursday.
With 15 provisional retail licenses already issued, Hoffman said it's a "distinct possibility" that the CCC will give final approval for the first adult-use dispensary at the agency's next meeting in October. And when it does open, it's expected to be a frenzy.
But whether you're a curious novice or an experienced user, visiting the state's retail marijuana dispensaries will be a very unfamiliar experience for most. Here's everything you need to know before heading off to one.
Who is allowed to buy it
Simply, if you're not old enough to legally drink a beer, you won't be able to legally buy recreational weed. Even though Massachusetts residents as young as 18 (or even younger, under special permissions) are eligible to register as patients in the state's medical marijuana program, the substance is still otherwise illegal for anyone under 21.
Upon entry, dispensaries are legally required to check the identification of customers for proof of their age, so bring a driver's license, passport, or other valid form of ID. Medical patients who are under 21 will also have to bring their medical marijuana card to be allowed inside at dispensaries that sell both adult-use and medical marijuana. You won't be able to get in the door without showing proof of age.
There's nothing that says out-of-staters can't buy recreational marijuana in Massachusetts. However, federal law prohibits people from taking the drug across state lines — even over the border to Vermont, where adult marijuana possession is also legal (this quirk with federal law has made things somewhat tricky out west).
Public consumption of weed is illegal, and it will be some time until Massachusetts has any sort of cannabis cafes. So people coming into the state for work or tourism or simply to buy marijuana have few options for legally consuming their purchase. Better find a local friend's house or a pot-friendly Airbnb.
What you can buy
There are not only limits on who can buy, but also on how much you can buy.
Retail shops cannot sell more than one ounce of marijuana flower or five grams of concentrate to a person in a single purchase. One ounce is also the maximum amount of flower individuals are legally allowed to have on them in public, though you can possess up to 10 ounces at home. The five-gram limit on sales also stands for edibles and other cannabis-infused products (eight grams of concentrate is the rough equivalent of one ounce of flower).
There are also dosage limitations on the sales of edibles. A single serving cannot have more than 5 milligrams of tetrahydrocannabinol, or THC, the primary psychoactive in marijuana that gets you high. Packages of edibles can have up to 20 individual servings or a total of 100 milligrams of THC. Shaleen Title, a CCC commissioner, notes that beginners should begin with a single 5 milligram serving, since it can take up to two hours to feel the effects (the effects of edibles last longer as well).
"It's better to start low and avoid potentially unpleasant side effects until you are more familiar with how edibles make you feel," said Title, who notes that there's a difference between serving size and potency.
"While you're reading labels, also pay attention to potency, which is reported as part of the cannabinoid profile that is tested by a lab before the product is sold," she said. "For example, if you're buying cannabis, you can compare the percentage of potency for THC across different strains."
Jim Borghesani, the former spokesman for the 2016 legalization campaign and a cannabis industry consultant, notes that the benefits of a legitimate market include both much higher safety standards and increased choice in what consumers can buy.
"There'll be a much higher variety of products than what you'd find on the streets," he said.
How crazy will things be when they open
Unlike alcohol retailers, marijuana dispensaries in Massachusetts aren't allowed to have outside product displays, neon lights, or even names or logos that refer to marijuana.
"Essentially, if you don't know what this place is, you could walk by without ever knowing," Borghesani said.
But you shouldn't have too much trouble finding them — particularly in the early days.
From Colorado in 2014 to California in 2018, the first retail dispensaries to open in the state saw long lines of customers waiting outside. Expect more of the same in Massachusetts, especially due to the industry's slow rollout and all the pent-up demand in the state. Borghesani says he anticipates "a lot of customer traffic."
"As with any new industry, people are excited to come in and experience a cannabis dispensary for the first time," says Shelley Stormo, the executive director of Verilife, a dispensary with plans to sell adult-use marijuana in Wareham.
"It is likely that there will be considerable wait times for the first few weeks after opening," she said.
Many dispensaries say they're looking at ways to minimize the wait time, or at least make it manageable and fun. New England Treatment Access, which plans to sell recreational marijuana at its Northampton and Brookline dispensaries, says on its website that they will offer chairs, refreshments, and umbrellas to waiting customers  (though, at this point, apple cider and blankets might be more appropriate). Stormo says she hopes the experience inside "will be worth the wait."
In the opening days, dispensaries may place further limits on purchases in order to serve the expected surge in demand, says Ian Kelly, the director of operations at INSA, an Easthampton dispensary with a provisional license to sell recreational marijuana.
"Patrons should expect that certain products may be limited in the first few weeks of launch," he said.
Despite the new recreational market, dispensaries are required to prioritize their patients. According to state law, marijuana retailers have to set aside at least 35 percent of their supply for medical patients. NETA says the initial limits, if implemented, may be more strict for recreational customers.
"We will evaluate limits on a daily basis and remove limits when we can," says the company's website.
Dispensaries that sell both adult-use and medical marijuana — which, at least initially, will be almost all of them — are also required to provide distinct areas for recreational and medical sales, separated by at least a temporary physical barrier, such as a stanchion. There must also be separate lines for adult-use and medical sales (though medical marijuana card holders are still allowed to use either line).
"Our goal is to provide patients priority for their medicinal needs," Kelly said. "And recreational patrons should expect some wait times, especially in the first few weeks of launch."
What will it be like inside
Once inside, customers should expect an experience that's a far cry from the liquor store on the corner.
"There's not going to be products on the shelves," Borghesani said. "It's going to be more like a jewelry store, where the product is behind glass or a display case, or on a shelf behind the counter."
Products have to be kept in secured display cases or cabinets, and customers generally won't be allowed to touch or sample them before buying. State law requires all marijuana products to be sold in opaque, resealable, child-resistant packaging.
Some have drawn comparisons to Apple stores, inspired by dispensaries' brightly lit, sleek interior designs and knowledgeable, trained staff. Kelly says that INSA's employees provide a "concierge-level" experience for customers, from beginners to "craft cannabis" enthusiasts. Stormo says to expect individual attention to help match customers with the best product to fit their needs or lifestyle.
"You're gonna have an informed and trained sales staff that can answer every question about the product and guide the consumer about what product is best for them," Borghesani said.
CCC regulations also require dispensaries to have consumer educational materials available, including information about the possible health risks of marijuana use, the differing effects of different strains, dosage, dependence, substance abuse, and the laws against re-selling marijuana products and driving while high.
Another big, less convenient difference from other familiar shopping experiences: Many dispensaries in the state will — at least initially — be cash-only. Due to the federal prohibition on marijuana, many banks are hesitant to get into the industry (though a local credit union did recently announce they would serve recreational pot shops). Borghesani says he expects more banks to get into the industry.
Some medical dispensaries currently accept debit cards — and hope to do so the same for recreational sales — but for now the safest advice might be to bring cash.
Speaking of which, you might need more than just a few $20 bills. Based off what other states have experienced and perhaps only augmented by the current situation in Massachusetts, industry experts say customers should expect relatively high prices — in the range of up to $60 for an eighth-ounce of flower or a 100-milligram package of edibles — in the market's early days (and months).
Borghesani acknowledges that the  initial market will be on the expensive side, but not so much that it is undercut by the illicit market. Recreational sales are also subject to a sales tax of up to 20 percent (17 percent to the state and 3 percent to the host town); medical sales are tax-free.
After you make your purchase
Whatever you buy, it's worth noting that there are certain restrictions on where you can store marijuana in your car.
Like alcohol, it's illegal to have an "open container" of marijuana in the passenger area of your car while it's on the road or otherwise in public. Any unsealed packages have to be stored in the trunk, a locked glove compartment, or a part of the car "not normally occupied by the driver or passenger." Violators can be fined up to $500.
And it should go without mentioning that driving under the influence of marijuana is just as illegal as driving under the influence of alcohol. Don't do it.
At home, it's recommended that you store weed out of reach from children or pets, who could mistake marijuana products — particularly edibles — for regular food or candy. Officials also suggest using child-resistant packaging and clear labeling.
"The way you store marijuana should change as children get older," reads the state's website. "Safe storage around young children may not stop a curious teenager who might want to try it."
If you have more than one ounce in your home, it's required by law for it to be secured. If it isn't, you can be fined up to $100 and (gasp) be forced to forfeit said marijuana.
For more about responsible use and legal marijuana in general, visit the Department of Health's designated webpage on the subject.