Local
Merrimack Valley residents to receive hot plates, heaters as gas crisis recovery plan takes flight
Thousands of the devices will be handed out as crews work to fully restore service in the coming months, officials said Friday.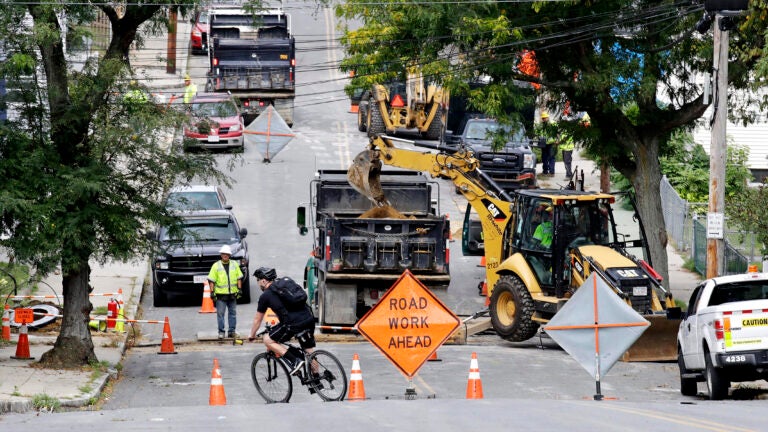 With the anticipation that gas service will not be fully restored until mid-November in Merrimack Valley communities impacted by last week's fiery gas emergency, state, local, and Columbia Gas company leaders announced Friday that thousands of residents will be equipped with hot plates and space heaters in coming days as a recovery plan moves forward.
At a press conference in Lawrence, Gov. Charlie Baker told reporters he has called on the state's National Guard to assist, from delivering cooking and heating gadgets door-to-door in Lawrence this weekend to aiding with the assessments and repairs needed to safely bring back gas service to approximately 8,600 customers.
"While the road to recovery is long, the team has made progress over the last seven days to build a recovery framework, devise next steps, and to begin rebuilding our communities," Baker said.
A week after Columbia Gas pipelines ignited over 60 fires and numerous explosions, killing 18-year-old Lawrence resident Leonel Rondon and leaving approximately 25 people injured, officials Friday detailed how they aim to mitigate the challenges the crisis unfurled on the daily lives of residents in Lawrence, Andover, and North Andover.
On Saturday, the National Guard will hit the streets of Lawrence to dish out 7,000 electric cooking devices and hot plates, with the appliances available for pick up in Andover and North Andover in Columbia Gas claims centers, according to officials.
"Starting Monday, 24,000 space heaters will arrive in Merrimack Valley and installed in homes that have been rendered safe by certified electricians and local fire departments," Baker said, adding that other options will be pursued for places where the heaters are deemed dangerous.
Under executive authority, Baker also instructed the state's Department of Utilities to require that Columbia Gas hire an outside contractor to lead the next two stages of the recovery process, which involves repairing 48 miles of gas pipeline.
Joe Albanese, a retired U.S. Navy captain in its Civil Engineer Corps and the founder and CEO of the construction management firm Commodore Builders, will serve as chief recovery officer and will oversee communications and operations moving forward, Baker said.
Albanese, who carries over 25 years of military service and who formerly led over 2,000 Navy Seabees in the Middle East in 2007, has "deep ties and strong roots" in Massachusetts, where he started his business in 2002, Baker said.
Officials believe they can bring service back to 2,000 gas meters within the next few weeks, although Albanese said full restoration to all those impacted could take until Nov. 19.
"We all share the same goal which is to get people back to their normal daily life," Baker said.
Albanese told reporters thousands of workers across dozens of construction firms have been tapped for the project, which includes reviewing every mile of pipeline and ultimately restoring gas service.
The number of crews on the streets will multiply by the day. Twenty crews were working Friday, with 60 crews scheduled for Monday, he said. Those numbers will swell to 195 crews by Oct. 8.
"I'm really confident with this team," Albanese said. "We can't underestimate the demand that we have ahead of us and the capability that we're building for that will be enough to meet that and exceed all the expectations of the community."
According to a press release from Columbia Gas, starting Wednesday, Sept. 26, crews will delve into the weeks-long process to assess homes and businesses for needed repairs.
Residents should note that when teams arrive at your homes, they will have an ID card – a white badge stating that they are an "Authorized Visitor for Columbia Gas of Massachusetts." If you have questions or concerns about teams arriving at your home, please call 866-388-3239.

— Charlie Baker (@MassGovernor) September 21, 2018
The company said it will replace and upgrade appliances and gas equipment that was damaged last week.
"Many people are still hurting and we owe it to this community to make sure everyone's needs are fully addressed," said Joe Hamrock, CEO of NiSource, the parent company of Columbia Gas.
Thousands of residents who were displaced by the explosions and fires returned to their homes earlier this week. On Monday, Baker and other officials announced the launch of the Greater Lawrence Disaster Relief Fund. Columbia Gas has said it will contribute a $10 million donation.
While the specific cause of what sparked the dangerous eruptions from the region's gas pipelines is still under investigation, preliminary reports show the amount of pressure in the system was 12 times higher than what it was meant to hold.
U.S. Sens. Ed Markey and Elizabeth Warren continued to call for information from Columbia Gas Friday, as the two wrote a letter seeking details about its gas system elsewhere in Massachusetts.
"The electricity is back on, but residents of Merrimack Valley are still in the dark about what happened on September 13," Markey said in a statement. "As Columbia Gas starts work to replace 48 miles of pipeline, we need to know they have learned from this disaster."