Local News
The Red Sox want to build a theater behind Fenway Park
The proposed 5,000-seat venue is part of a plan to make the area a year-round entertainment district.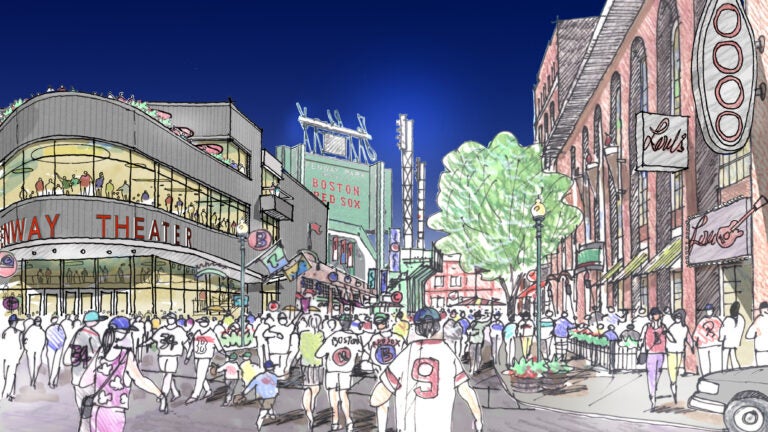 Dinner and a show — and a game? The "Fenway Theater" could be a reality in the not-so-distant future.
Fenway Sports Group, the parent company of the Boston Red Sox, announced Friday that it is looking to build a "state-of-the-art performing arts center" in the shadow of Fenway Park.
Directly behind the right-field bleachers, the 5,000-person theater would be located on the triangular patch of property on the corner of Lansdowne and Ipswich streets. Zineb Curran, a spokeswoman for the Red Sox, said the space is currently empty and "primarily used as a lot for satellite trucks during games."
In a press release, FSG said the venue would "have a variety of uses" and would potentially partner with local schools, colleges, and other neighborhood organizations to host events for the performing arts community. With Fenway Park already hosting a wide range of sporting events — including soccer, college football, hurling, ice hockey, ski jumping, and whatever this is — and concerts, the new complex is part of the owners' hope of making the baseball stadium a four-season destination. (Red Sox owner John Henry also owns Boston.com.)
But the theater also provides a smaller, indoor alternative to the 37,000-seat ballpark.
"The success of Fenway Park as a year-round venue has paved the way for this project, which will ensure the Lansdowne Street area remains a true entertainment district in Boston," FSG Chairman Tom Werner said in a statement. "To have an intimate, indoor performing arts space for smaller-scale events will allow for a wider array of uses throughout the year."
FSG says the group is partnering with Live Nation, an event management company, on the project and that they have already opened discussions with the City of Boston.
"We look forward to working with Mayor Walsh, the Boston Planning & Development Agency, other city agencies, and our neighbors on the design concepts and operational plans as we embark on the formal approval process for this exciting project," Werner said.
According to the plans, the theater will be owned by FSG and run by Fenway Music Company, a new joint venture formed between two affiliates of FSG and Live Nation. According to the press release, Fenway Music Company will book, manage, and operate the Fenway Theater, as well as the nearby House of Blues Boston on Lansdowne Street.