Local
4 questions — and answers — about Michelle Carter's appeal in the texting suicide case
Carter is appealing her conviction of involuntary manslaughter to the Supreme Judicial Court.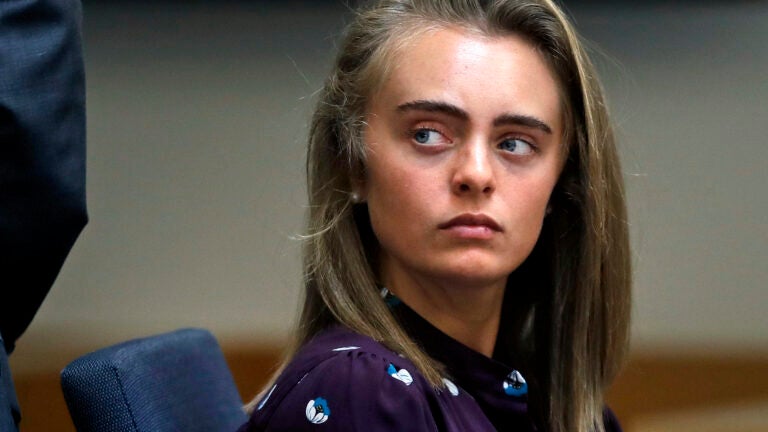 The Michelle Carter texting suicide case returns to court on Thursday when the highest judicial body in Massachusetts hears arguments appealing her conviction for involuntary manslaughter last year for persuading her boyfriend to take his own life in 2014 when the two were teenagers.
The 21-year-old from Plainville was sentenced to 15 months in jail following her conviction in the death of Conrad Roy III. She has remained free while her appeal of her conviction is pending.
In June 2017, Juvenile Court Judge Lawrence Moniz found Carter caused the teen's death when he got out of the truck he'd intentionally started filling with carbon monoxide in a Fairhaven parking lot and she told him to "get back in."  Moniz said those words, uttered over the phone by Carter from 30 miles away, constituted "wanton and reckless conduct" and that Carter, at the time 17, had a duty to call for help when she knew her 18-year-old boyfriend was attempting suicide, which she did not do.
Central to the trial and case were the disturbing texts and electronic messages between the two teens, who both struggled with depression. Carter and Roy met in 2012 while both were on vacation with their families in Florida, but they only met in person a handful of times.
"You just have to do it," Carter wrote to Roy in one exchange discussing his suicidal thoughts. "You said you were gonna do it. Like I don't get why you aren't."
The Supreme Judicial Court granted Carter a direct appellate review of her case, and one of the arguments from the young woman's lawyers is that her conviction based on her words "alone" violates her free speech and sets a dangerous precedent.
"Carter is the first person ever convicted, anywhere, in such unusual circumstances," her lawyers argue in the brief submitted to the SJC. "If this Court affirms, Massachusetts would be the only state to uphold an involuntary manslaughter conviction where an absent defendant, with words alone, encourages another person to commit suicide."
Here are four questions and answers about the appeal.
What will happen at the hearing?
On Thursday, the seven justices on the SJC will hear oral arguments from both Carter's lawyers and the prosecutors defending the conviction, based on briefs already submitted to the court.
"The idea is that on appeal, the defendant is challenging decisions and evidence and findings that were presented at trial," Daniel Medwed, professor of law and criminal justice at Northeastern University, said. "Some of [the arguments] are ones that were made at trial, others will be ones based on what happened at trial. And basically they're arguing that the judge was wrong or that the prosecutor did something wrong. That's what happens on appeal. You claim that there were errors made at your trial that deprived you of a fair process."
Then the justices will have the opportunity to ask questions of both sides before taking the case under advisement.
What are some of the issues being raised in the case?
David Siegel, professor of law at New England Law, told Boston.com the SJC will basically be considering two sets of questions as they hear the arguments on Thursday. The first set addresses the "sufficiency of the evidence" presented in the case — whether there was enough evidence for the judge to find her guilty of involuntary manslaughter, he said.
"I think it's really important to understand that this is a case that is made based almost entirely on these electronic messages," Siegel said. "And it was based on electronic messages that were both prior to and during the time when the young man was in the car and died and then afterwards. That was used as evidence to conclude the degree of risk that she was aware of and whether she acted or didn't act appropriately under the circumstances, so those are the sufficiency of the evidence questions."
Siegel said the second set of questions is "really constitutional questions," such as whether Carter being convicted based on her words "rather than anything she did directly" violates the First Amendment.
"The case is interesting for a couple of reasons," he said. "I think probably most significantly because it involved actions of a person who's remote whose actions are only to communicate. And whose actions are only to communicate to someone else who then has to make an independent decision on their own. That kind of setting is exactly why many other states have passed laws involving assisting suicides."
Massachusetts doesn't have a law that criminalizes assisting a suicide.
"Part of the defendant's argument is that because there isn't such a crime in Massachusetts, no one in Ms. Carter's situation could have reasonably known that this conduct could be interpreted as manslaughter," Siegel said. "So it's unconstitutional, it violates due process to, after the fact, make it fit that kind of crime."  
In 2016, the SJC ruled that Carter could stand trial for involuntary manslaughter, concluding her "verbal conduct at issue was sufficient" for indictment on the charge.
"Legally it always struck me as a reach, a stretch by the prosecution to charge this manslaughter," Medwed said. "And I think maybe a possible consequence of this whole case and the notoriety surrounding it is that perhaps Massachusetts could pass a law criminalizing coerced suicide."
What happens after the hearing?
Medwed said the oral arguments on Thursday will last about an hour. At the conclusion of the hearing, the justices will take the case under advisement and eventually issue an opinion. Under SJC rules, the written opinions are issued within 130 days of the oral arguments.
"We can expect we won't get it until early 2019, probably," Medwed said of the decision on the appeal.
What are the possible outcomes?
If the SJC affirms Carter's conviction, she could proceed to federal court on appeal, Medwed said.
Otherwise, Siegel said the court could reverse Carter's conviction based on either the sufficiency of evidence or constitutional issues.
Medwed said if the conviction is reversed, the issues identified by the SJC in the actual ruling will determine what happens next.
"Some issues result in a new trial," Medwed said. "If it's reversed on other grounds, it could be an outright dismissal and the conviction is vacated, it's reversed."
Siegel said if the court rules that there wasn't sufficient evidence to convict her of involuntary manslaughter, her conviction would be reversed and vacated, ending the case.
"If the court says there was sufficient evidence but then reaches the constitutional questions and finds that it's unconstitutional to interpret this set of facts to reach involuntary manslaughter, then it would also reverse the conviction," he said. "Because there's no assisting a suicide crime, it would also end the case."