Local
Brookline friend of Deborah Ramirez says claim against Kavanaugh wasn't fully investigated
Jennifer Klaus and Ramirez met at Yale through mutual friends.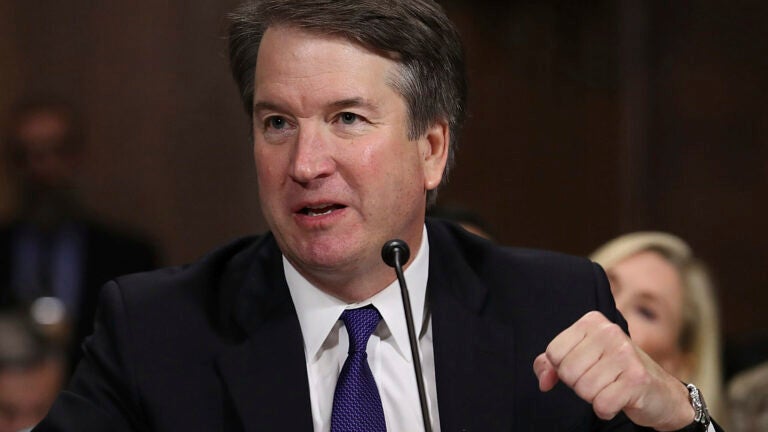 The friend of a woman who alleges Supreme Court Justice Brett Kavanaugh exposed himself to her during their time at Yale University said Sunday that she doesn't feel the claim was investigated as best as it could have been.
Jennifer Klaus, an emergency veterinarian who lives in Brookline, is a friend of Deborah Ramirez, who alleged Kavanaugh exposed his genitals to her at a Yale party in the early 1980s. The two women met at Yale through mutual friends.
"I don't think this was investigated to the full extent,'' Klaus said in a phone interview Sunday evening, adding she was not present when the alleged incident occurred, but that she believed Ramirez.
A supplemental FBI investigation was instigated by wavering GOP senators after Christine Blasey Ford accused Kavanaugh of sexually assaulting her at a party when the two were in high school. However, once the FBI report was completed, Democrats complained that the investigation was shoddy, omitting interviews with numerous potential witnesses, and accused the White House of limiting the FBI's leeway.
On Saturday, the Senate confirmed Kavanaugh to the high court with a contentious 50-48 vote.
Ramirez's claim was published in a Sept. 23New Yorker story, which quoted Klaus vouching for her friend's integrity.
"Debbie's always been a very truthful, kind — almost to the point of being selfless — individual,'' she told The New Yorker.
Klaus, who graduated from Yale in 1988, said she was not friends with Kavanaugh but did see him at parties.
"He was a sloppy drunk,'' she said.
Kavanaugh never did anything to her, Klaus said, but she believed Ramirez's account.
"One hundred percent — she would never lie,'' she said she told New Yorker reporter Ronan Farrow.
Klaus said Iowa Senator Chuck Grassley, a Republican and chairman of the Senate Judiciary Committee, contacted her on Thursday and asked if Ramirez drank a lot and if other people had exposed themselves at parties.
"I don't know what was the point of asking me if other boys exposed themselves unless to suggest that Debbie's recollection was wrong,'' she said.
Representatives in Grassley's office could not immediately be reached for comment Sunday night.
Klaus said she believes there are other classmates who could corroborate Ramirez's story. She said she has not spoken with Ramirez recently, save for an e-mail after the New Yorker story was published.
"I will stand by Debbie as long as she needs me to,'' Klaus said.