Local
3 things to know about the plans to bring electric scooters to Boston
City officials are working on a policy to allow the popular micro-mobility trend as early as next spring.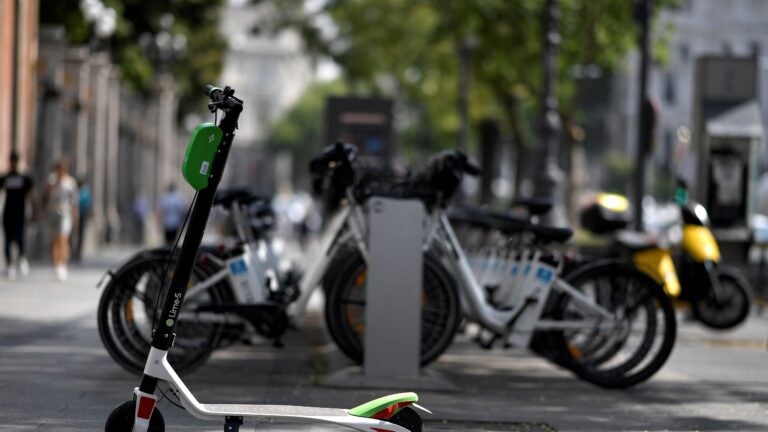 In a number of months, Boston may no longer be a "no ride zone."
The City Council held a hearing Monday on bringing dockless electric scooters to Boston, and City Councilor Matt O'Malley says he's "fairly confident" the city will have a pilot program in place next spring.
"Not only will it help with greenhouse gas emissions with removing cars from our streets and having something that's a lot more environmentally friendly, it also helps with easing traffic congestion and gridlock," O'Malley, who called for the hearing, told Boston.com in an interview Wednesday.
The West Roxbury councilor said he's been impressed with the success, however fraught, of scooters in other cities, even if their rollout ran into some "initial riffs" locally. This past summer, Bird, one of the largest scooter-sharing startups, deployed their vehicles in Cambridge and Somerville without warning, but then was forced to remove them after the two cities sent the company cease-and-desist letters for illegally operating without a permit (local officials say they're open to allowing scooters under certain guidelines). Boston Mayor Marty Walsh also warned at the time that companies would have their scooters seized by the city if they showed up without permission.
But now, Boston transportation officials said they're aiming to draft a framework to allow electric scooters.
"We are putting together what is essentially a regional framework that would allow for a piloting of e-scooters on our streets as soon as the spring of 2019," Chris Osgood, the city's chief of streets, said during the hearing Monday.
1. The program would be similar to Blue Bikes, but not quite
Like Blue Bikes, the local bike-share program operated by Boston, Brookline, Cambridge, and Somerville, city officials are looking to partner with their three neighboring municipalities for the scooter pilot program. Cambridge also recently held a hearing on the issue, and officials there agreed that a regional approach was the best option, since riders would naturally cross borders on their commutes and trips.
But unlike Blue Bikes, the program wouldn't be limited to one company. Representatives from Bird, Lime, and Lyft all attended Monday's hearing and have expressed interest in operating in the Boston area. Osgood indicated Monday that the program could include multiple companies, but impose a cap on the number of scooters each of them would be allowed to deploy, as other cities have done.
Another big difference is that electric scooters wouldn't only be available at docking stations like Blue Bikes.
"We do have a fair number of transportation deserts in the city of Boston," O'Malley said, noting that Blue Bikes is still in the process of expanding to southwestern neighborhoods of Boston, such as West Roxbury, Hyde Park, and Mattapan.
"While Blue Bikes has been enormously successful — and I say that as a member and a user of Blue Bikes — I wish I could use it more, but I live in West Roxbury and unfortunately West Roxbury won't be getting its first station until hopefully next month," he said.
Since electric scooters are charged and re-deployed each night, O'Malley says the program could ensure that those underserved communities have options.
2. Lawmakers first need to change the state law
One thing that could delay the pilot program is a current state law.
Osgood said Monday that the "one significant statewide hurdle" is that electric scooters fall under the umbrella of "motorized scooter" under a Massachusetts state law, which currently dictates such vehicles must have brake lights and turn signals, that they can only operate between sunrise and sunset, and that riders must wear helmets.
Bird, Lime, and Lyft encourage riders to follow local helmet rules and other laws, but none of their scooters have brake lights or turn signals. And even though the state law was written to apply to gas-powered, Vespa-style scooters, Osgood said that the city is unwilling to permit electric scooters that don't comply with the state law.
That said, O'Malley said Wednesday that Cambridge state Sen. Mike Barrett and Winthrop state Sen. Joe Boncore have been discussing a bill to exempt electric scooters from the law when the legislative session begins early next year.
3. The program would include oversight to make sure sidewalks are clear
As City Councilor Josh Zakim noted during Monday's hearing, there are streets and sidewalks in parts of Boston — such as Zakim's district, which includes Beacon Hill — that are difficult to navigate as is.
Kristen McCosh, the city's disabilities commissioner, testified Monday that the program should include clear parameters about where scooters could be docked so that they don't present hazards or obstructions for people with wheelchairs or vision impairments. Additionally, since the scooter pilot program would be partnering with private companies, McCosh said the city needs to be proactive in figuring out who would enforce those rules and who would take care of improperly parked scooters.
Boston has clashed with some dockless bike-sharing companies over bikes left without permission in the city, which has an exclusive contract with Blue Bikes. However, O'Malley thinks there should be room for scooters, which he says are smaller and less cumbersome, on Boston's sidewalks, as long as they're parked correctly.
"We'll just have to make sure that we set up guidelines that they're propped against a wall or in a place where they're as unobtrusive as possible," he said. "This isn't an either-or in, that we can have electric scooters and really new micro-mobility options or maintain ADA compliant sidewalks. We can absolutely do both, and we will do both."