Local
Police chief shares why he wrote about the viral obituary for Vermont woman who struggled with opioid addiction
"Maddie's gone, but that little boy on her back in that photo is the one that we should be doing this for."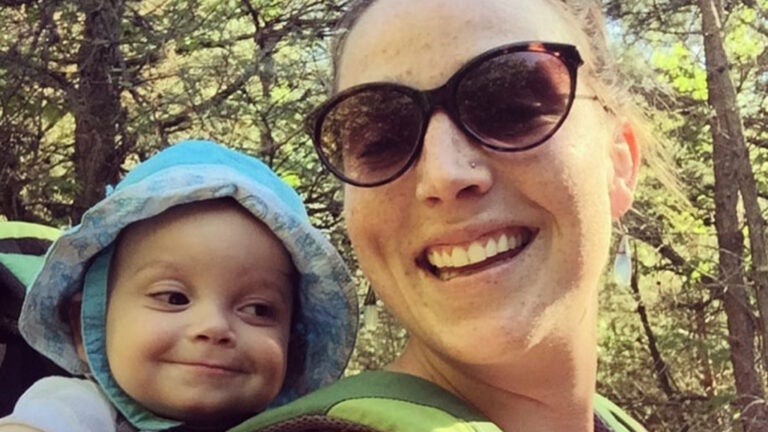 It was People magazine that did it for Burlington, Vermont, Police Chief Brandon del Pozo.
He'd watched Tuesday as the moving obituary for Madelyn Linsenmeir by her family, which spoke honestly of the 30-year-old Vermont native's struggle with opioid addiction, went viral. First local and regional publications took note, then national outlets drew attention to the heartbreaking personal account of the epidemic that on average leaves 119 Americans dead every day.
When del Pozo saw that the magazine, known for its coverage of celebrity and entertainment news, wrote about Linsenmeir's obituary, he took to Facebook with a post starting with the words, "I have a problem with this obituary."
"Why did it take a grieving relative with a good literary sense to get people to pay attention for a moment and shed a tear when nearly a quarter of a million people have already died in the same way as Maddie as this epidemic grew?" he asked.
His post, too, went viral.
"When it got picked up by People magazine it struck me that now, all these years later, this is what it took for a magazine like People to really devote a lot of time and space to a woman who died from the opioid crisis," del Pozo told Boston.com of why he felt compelled to share his thoughts on the obituary. "If you're the chief of police for any American city you know for a fact that this has been going on for years and has killed hundreds of thousands of people. And what I saw in the obituary was very beautiful, but I thought it was a shame that that was what it took, this late in the game, for so many people to speak out about it and to cover it."
Del Pozo said the obituary was "beautifully written" and struck a chord on its own.  He just hoped to use his position as a public official to amplify the message from Linsenmeir's family, who he said he has spoken with.
"Maddie's death was a really poignant reminder that there is no moral deficit to the family that has an addicted member in it," he said. "Even families that by the American dream have done everything right — prosperous, independent, well-educated — they lose their loved ones to opioids, too. You can't just hold it at arm's length and say that this happens because of some sort of deficiency in a family or in a community. You can't rationalize it like that."
The law enforcement official said since writing the post, he's also heard from many people echoing his message of frustration, saying they too know someone who struggled with opioid addiction and don't understand why more hasn't been done to address the epidemic.
"We have the good fortune, we have the ironic good fortune of facing a crisis for which scientifically-proven medicine exists to save lives today," he said. "We won't have that benefit when meth or cocaine or stimulants rear their head more vehemently again. But the fact that we haven't followed the science and followed the medicine in a way that will save lives and reduce deaths is something that we have to reckon with."
Just this week, he said supervisors within his department were given a 30-minute presentation from a psychologist and researcher about addiction science and medicines used to treat opioid addiction.
"If we're in the throes of this and people are crying and wondering what they can do and in denial about what needs to be done, they could stand to spend 30 minutes reading up on addiction science," del Pozo said. "Understanding evidence and science points us in such a clear direction about medication-assisted therapy."
Insisting only abstinence doesn't work, he said.
"When this many people die every year from addiction-related outcomes like overdose or infection you can't just say anymore that this is someone else's problem or it couldn't happen to me or all these people were wanting or deficient in some way," del Pozo said. "It happens to very, very good, everyday people. It happens to every type of person."
"If you think that this isn't happening to people you care about or love, then you're in denial," he added later.
Del Pozo said he wants communities and officials across the country to take advantage of the what is known to work with addressing opioid addiction, such as medication-assisted treatment, and continue to spread the knowledge of what works.
"Maddie's gone, but that little boy on her back in that photo is the one that we should be doing this for," he said.