Local
2 injured after restaurant facade collapses in Allston
One of the two was critically injured, fire officials said.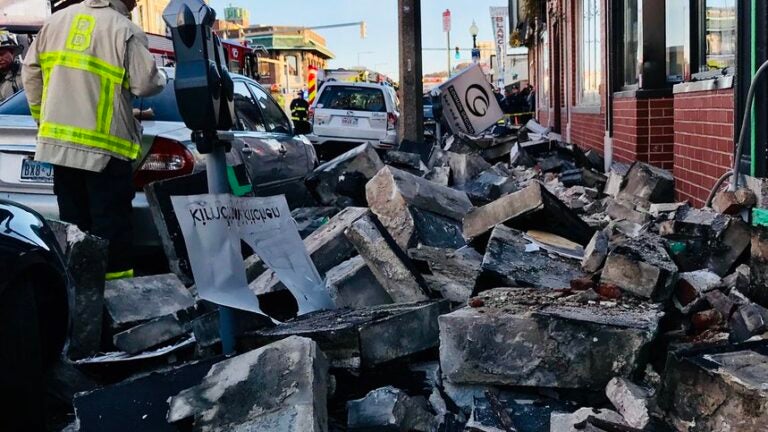 BOSTON (AP) — A restaurant facade has collapsed and injured two people in Boston.
The Boston Fire Department tweeted Sunday that the facade of the single-story commercial building that houses the Common Ground Allston in the city's Allston neighborhood collapsed shortly before 3 p.m. Photos of the scene tweeted out by the department showed large chunks of the restaurant's roof and facade had crashed onto the sidewalk in front of the brick building.
The department said two people were injured, one of them critically. It said everyone in the restaurant was safely evacuated.
Fire officials also reported on Sunday that a dozen residents in the nearby Brighton neighborhood were placed in temporary housing after a tree toppled by Saturday's high winds partially collapsed of a four-story building's fire escape. No injuries were reported in that incident.
Tech Rescue response to 85 Harvard Ave. Brighton at approx. 2:56 PM for a building collapse. This is a 1 story commercial building that the front facade has collapsed on to the sidewalk. 2 injuries confirmed by @BOSTON_EMS . All occupants safely evacuated. @bostonpolice on scene. pic.twitter.com/RmH8Y8QHnW

— Boston Fire Dept. (@BostonFire) November 4, 2018
Address for this incident has been updated to 75-85 Harvard Ave. Brighton. Heavy traffic in the area. @ISDBoston notified. pic.twitter.com/ur6BuwFgvZ

— Boston Fire Dept. (@BostonFire) November 4, 2018
Technical Rescue Companies assessing the damage at 75-85 Harvard Ave. @EversourceMA @nationalgridus on scene. Harvard Ave. closed between Brighton Ave. & Cambridge St. by @bostonpolice . Avoid this area. pic.twitter.com/UGq2sNZ0C2

— Boston Fire Dept. (@BostonFire) November 4, 2018
Deputy McNeil briefs the media at 75-85 Harvard Ave. 2 civilians injured & transported by @BOSTON_EMS . Approx. $500,000 in damages. BFD & @bostonpolice will remain on scene while @ISDBoston determines the structural integrity of the buildings. pic.twitter.com/7yUEOWZjiO

— Boston Fire Dept. (@BostonFire) November 4, 2018
Response to 6 Lothian Rd. Brighton at approx. 10:11 AM for a report of a tree into a 4-story occupied residential building that has caused a partial collapse of the fire escape. Tree fell during yesterday's high winds. No injuries reported. @ISDBoston @bostonpolice on scene. pic.twitter.com/Vr3VR2VMus

— Boston Fire Dept. (@BostonFire) November 4, 2018
https://twitter.com/BostonFire/status/1059130987928530944