Local
Bicyclist killed after being hit by dump truck near the Museum of Science, police say
The victim was a 24-year-old Cambridge man, according to officials.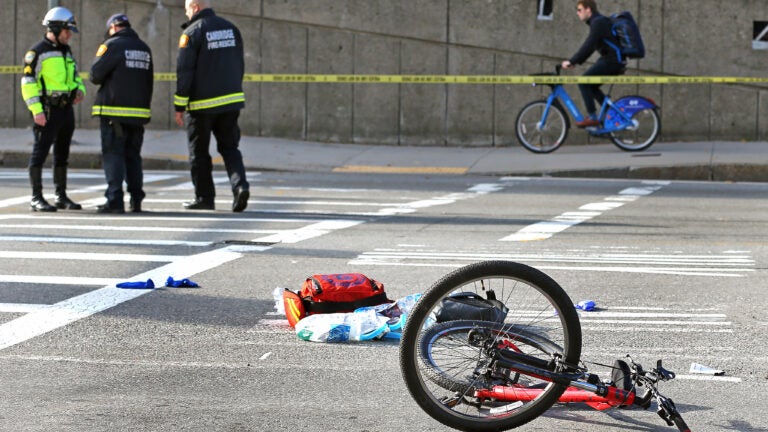 A bicyclist was killed Friday morning after he was struck by a Leicester man driving a dump truck in Cambridge, according to Massachusetts State Police.
The victim, 24-year-old Meng Jin, was a Boston University graduate student from Shanghai, China. He was living in Cambridge.
"We are extremely sad about this most unfortunate accident," Kenneth Elmore, associate provost and dean of students, told BU Today. "The University's thoughts and prayers are with the student's family."
The victim was hit by a 2016 Western Star truck before 8:12 a.m. at the intersection of Museum Way and Monsignor O'Brien Highway, near the Museum of Science, police said.
At the scene, troopers found the man suffering from life-threatening injuries, police said in a statement. He was brought to Massachusetts General Hospital where he was pronounced dead.
"Preliminary investigation has revealed that the truck was stopped at the intersection of Museum Way and O'Brien Highway, waiting to take a right turn onto Museum Way from O'Brien Highway," police said. "The bicyclist was also stopped, on the right side of the truck, waiting to take the same turn. When both the truck and bicyclist began to make their right turn, the bicyclist was struck by a tire of the truck."
The identity of the 50-year-old driver "will not be released until the investigation determines if charges will be filed," the statement said.
Details released earlier Friday said the bicyclist was struck by a pickup truck, but police later clarified a dump truck was involved in the crash.
Authorities reduced northbound and southbound traffic to a single lane in each direction on Monsignor O'Brien Highway while on scene. All lanes reopened to traffic at 10:58 a.m. when the crash reconstruction concluded.
State police are continuing to investigate the crash. The Cambridge police and fire departments, the Massachusetts Department of Conservation and Recreation, and the Massachusetts Department of Transportation assisted officials Friday at the scene.