Local
A bald eagle found on Cape Cod died, and rat poison could've contributed
The eagle also had an injured eye and a puncture wound, officials said.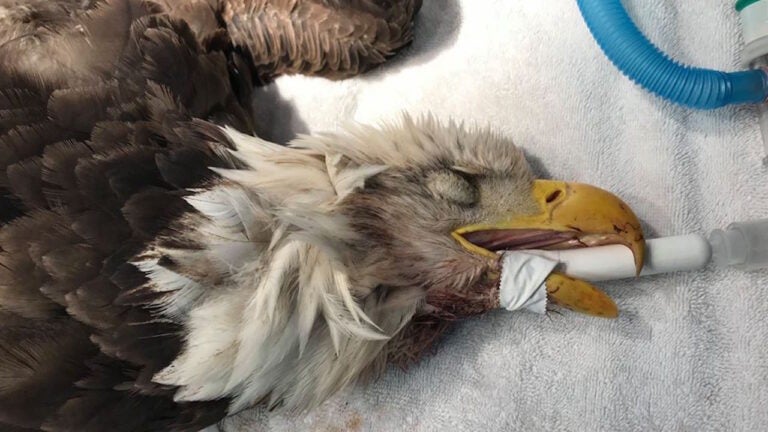 A female bald eagle was found "seriously injured" in a Cape Cod backyard in late October, and the bird had to be euthanized because of the severity of the injuries, according to the Cape Wildlife Center, where it was brought.
Now officials are testing it to see if rat poison was a contributing factor.
While the eagle had a "ruptured eye" and a "puncture wound," a test found that its blood took longer than normal to clot, "raising concern about possible anticoagulant rodenticide exposure," Katie Gronendyke, a spokeswoman for the state's Executive Office of Energy and Environmental Affairs, said in an email to Boston.com.
A sample of the eagle's liver tissue was sent away to a lab to see if rat poison contributed to its death, she said. The results haven't come in yet.
Exposure to rat poison "has become a very common problem" for wildlife, according to the center.
"The poison works by inhibiting the normal clotting process, which leads to uncontrollable blood loss from even minor wounds," the center said on Facebook. "The extreme blood loss can make the animal weak and susceptible to further injury and if left untreated ultimately death."
The center called on residents to find a different way of dealing with a rat problem that won't harm other animals.
Bald eagles are listed as "threatened" on the state's endangered species list, but that could change.
There are currently 68 pairs of bald eagles in the state, according to Marion Larson of the state Division of Fisheries and Wildlife in an email to Boston.com. The population has steadily increased since the late 1980s. Because of this, the division may request the bald eagles' status be changed from "threatened" to "special concern" on the state's endangered species list.
"As the state's wildlife agency, we are obligated to perform our due diligence and assess the circumstances, especially when a listed species is involved," Dr. Tom French, MassWildlife's assistant director of Natural Heritage and Endangered Species said in a statement. "It's imperative that all the facts are gathered before drawing any conclusions about the health and condition of this bird."