Local
Schuyler Bailar made history as the first openly transgender NCAA Division 1 swimmer. Now, he's in his last year at Harvard.
"It makes me so happy to see these younger kids doing what they love at such a young age and finding support."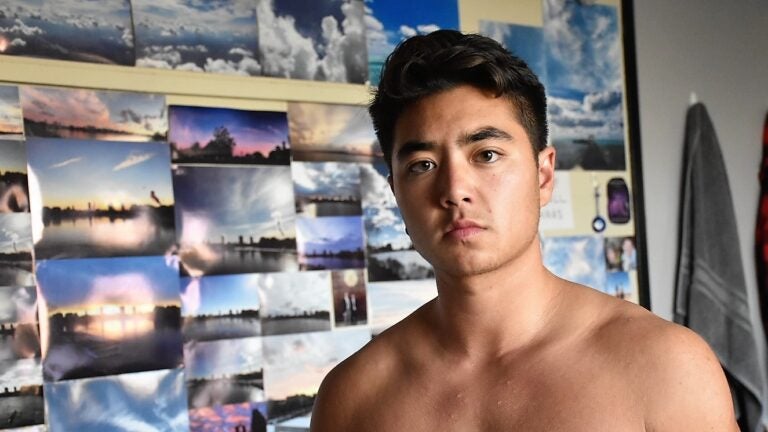 A sign with the words "We will not be erased" is taped to Schuyler Bailar's window at Harvard.
It's a message that the 22-year-old, who became the first openly transgender NCAA Division 1 swimmer when he started at the university four years ago, said he's exhausted by having to send constantly into the world.
"I think it's really an important thought," he told Boston.com. "It is also depressing though that we are saying, 'We cannot be erased,' as if people can be erased. I think it's really important to think about that we are standing here, saying, 'We deserve to exist and we deserve to not be erased,' which in my head is such a charged statement to even consider. Because of course you can't erase people. But people are trying to do that."
Over the last four years, Bailar has balanced the demands of being a student-athlete at Harvard with serving as an outspoken advocate for transgender rights, body positivity, and mental health.
With more than 69,000 followers on Instagram alone, the psychology major said the main thing he tries to accomplish with his online presence is "be real."
"I really try to show exactly how I'm doing," he said. "So if I have a bad day, I post about it. And I'm really careful with that too because I don't want to pull anyone down ever, but I do want to provide a sort of permission that you can have a bad day, [that] even people who other people look up to have a bad day, and that kind of stuff."
In fact, he said, he doesn't even like to call what he does "advocacy."
"All I really am [doing] is living my life, just with a lot of people watching," Bailar said. "But I think that it has moved from just being trans and open about specific trans things [to] just being myself online. There's a lot of body positivity work that I try to do, and a lot of just inclusivity stuff. So it's not just about being trans."
He's open about his own mental health, his past struggle with an eating disorder, swim practice, and how current events, including the Trump administration's reported discussions to redefine gender, affect him.
"Today I feel sad and tired of this fighting for existence," Bailar wrote the day news of the administration's discussions was reported. "Today I cannot seem to find the right words. I've written all day, angry at the world. I've decided this feeling is allowed. I am allowed to be angry. I do not have to be strong all the time. I am allowed to feel discouraged. To feel sad. To feel exhausted. Because I do. And that is okay. I keep breathing. Tomorrow I will wake up and put my swimsuit on and I will continue this. This living. Because the very act of living is refuting his every word. I live. I exist. We exist."
The Harvard student told Boston.com he didn't expect to be so impacted by the report. The signal from the Trump administration serves as an "enormous public statement" that again asks trans people to validate their own existence as people, he said.
And that's something he said they are already "constantly" asked to do.
"I'm sick of doing that, so that's what I've been talking about," he said. "And I think part of doing that is not always explaining all of the intricacies of what it means to be trans, but just sort of saying, 'I am here and I'm proud of my existence and I'm proud of what I'm doing.' So that's what I've been telling myself and my followers."
Last year, Bailar and former Harvard student David Pfeifer formed the support group Queer Undergraduate Athletes That Do Sports, or QUADS, on campus. The goal, he said, is to provide a safe space for queer athletes and their allies.
But his record of being open about his own experience stretched back to when he first stepped foot on campus.
The 22-year-old said that when he was offered a spot on the Harvard men's swim team, after initially being recruited for the women's team, the head coach gave him an option.
"He was like, 'Hey if we do this you don't have to tell everybody, we can keep it as small and as non a big deal as possible. We don't have to be in the media,'" Bailar recalled. "I don't know how realistic that proposition was, but it was an offer from him. I said, 'No, if I do this, if I decide to be on the men's team, I will be very open about it, I will talk about it.'"
The reason for being vocal and transparent goes back to Bailar's experience growing up in Virginia outside Washington, D.C. He was in a pool around the same age he learned to walk, joined a swim team at age 4, and started competing at 6.
As a 9-year-old he was swimming year round.
Swimming was, and remains, a place comfort and peace for Bailar.
But growing up, he didn't see anyone "like [him]" in the media or in sports.
"I want little kids, specifically younger athletes, to see me and say, 'Hey, he exists, he's doing this, I can do it too,'" the 22-year-old said. "Just because that lack of representation was so crucial to me when I was a kid. I didn't see any queer athletes, and I figured, 'OK, well I know that I'm queer, and I don't see any queer athletes, so I can't be an athlete and be queer. Or at least, be open about being queer.' So that's 100 percent the main reason why I share my story — to show that possibility."
Now, heading into the last swim season of his college career, Bailar said he's excited and nervous. He doesn't want to take any moment for granted.
"I know I'm going to miss it a lot, and I want to remember that as I go through this," he said. "I know there are going to be days where I don't want to go to practice or days when it's really tough, and I want to remember that next year I'm going to miss the hell out of it."
After graduation, Bailar plans to head out to Seattle next October where he's accepted a job teaching emotional intelligence skills to employees at a private finance company.
But before that, he is planning to tour the country to talk at schools and organizations about diversity and inclusion.
The swimmer said he feels "incredibly honored" to be in a position of being a role model for young athletes and others.
"I feel so much love for the community that I've been able to be a part of, and I get messages pretty much on a daily basis that say things like, 'I started swimming again because of you,' or 'I'm doing my sport because of you and I'm on the men's team,'" Bailar said. "Little things like that — especially from the younger kids — I cry reading the emails I get and the comments that I get. And I always send them to my parents. It's just incredible. It makes me so happy to see these younger kids doing what they love at such a young age and finding support."
With the huge following, comes a responsibility that Bailar said at times can feel overwhelming. He feels guilty when he isn't able to respond to the messages he receives and has to remind himself that he has to take care of himself, too.  
But knowing that kids are getting the support they need to compete with the gender they identify with is important for his own wellbeing, he said. It gives him hope.
"In every permutation of me sharing my story, I'm trying to share the possibility of happiness, the possibility of change," he said. "I think the possibility of support from other people is really important. So knowing that other people could support you the way that I've been supported is really big."