Local
Here's what researchers are focusing on next in their study of great white sharks off Cape Cod
The season for sharks off the coast of Cape Cod may have come to a close, but the work will continue for researchers studying the great whites in Massachusetts waters.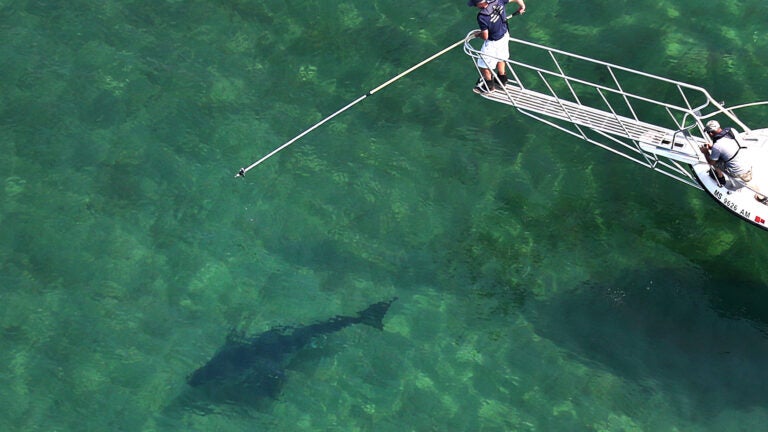 October 31 marked a milestone for shark researchers on Cape Cod for more than one reason.
Greg Skomal, the senior fisheries scientist for the state Department of Fish and Game who leads the Massachusetts Shark Research program, and his colleagues tagged a 14-foot female white shark in the waters off Provincetown.
She was the 150th great white Skomal has tagged since undertaking a tagging study in 2009 to examine the movement, ecology, and behavior of the ocean predators in Cape Cod waters.
Shark tagged! @MassDMF's Dr. @GregSkomal, working with the Atlantic White Shark Conservancy, just tagged a 14' white shark off Provincetown. That's the 17th of the season, and now 150 individual white sharks tagged since 2009! pic.twitter.com/3rngMamqP8

— Atlantic White Shark Conservancy (@A_WhiteShark) October 31, 2018
Skomal says he's "ecstatic" about the accomplishment.
"I think it's fantastic," he told Boston.com. "I think if you told me 10 years ago we'd tag 150 white sharks, I'd say you were making it up. I'd say you were crazy. Because I never anticipated it. It's the most white sharks tagged in the Atlantic, and we're learning quite a bit from those tags. So I think it's a great achievement by the research team."
The last day of October marked the conclusion of the team's work on the water for the 2018 shark season, which was shadowed by tragedy when a New York man was bitten by a great white in Truro and, weeks later, a man died after being attacked by a shark in Wellfleet.
The completion of the season also marks the end of field work for the researchers' five-year study that aims to estimate the population of white sharks off Massachusetts. As part of the study, spotter pilot Wayne Davis searched from the air, while Skomal and his colleagues went out on the water twice a week to find, tag, and document great whites.
Next, Megan Winton, a UMass graduate student working with Skomal, will comb through the data they've gathered.  
"Over the course of five years, we have collected thousands of data points," Skomal said. "That doesn't mean thousands of individuals, but thousands of data points. So right now we have a whole bunch of sightings data that is being boiled down to individual [sharks]."
The hope is that next year Skomal and his colleagues will be able to estimate how many sharks were off the Cape in 2014, 2015, 2016, 2017, and 2018.
From there, they may be able to project what the trend of sharks in Massachusetts looks like over time, and where it might be heading next, he said.
"On top of that, we'll also have a sense of where the most important areas are," Skomal said. "So we're interested in the space-use question. Where are the hotspots for white sharks within Massachusetts, and what's the seasonality or the use of those hotspots, and what's driving the use of those hotspots? What's driving the use of this nearshore habitat?"
Researchers know that seals play a major role in the presence of sharks in the region since the creatures are their prey of choice. Skomal said he and his colleagues also already know that there's a "distinct" seasonality for white sharks — once it gets too cold, they leave.
Skomal said he and his colleagues plan to examine different parameters related to the sharks' habitat — everything from water temperature, tides, time of day — to attempt to determine any patterns for what may be driving the sharks to be in certain areas, or why particular spots might be commonly used.
"It's safe to say that just knowing the numbers of white sharks is going to be of interest to beach managers," Skomal said. "If there's 20 out there, that's one thing. If there's 200 any given day, that's another thing to think about. So just having a sense of those numbers is important. But I think even more important is going to be what we can say with regard to what's driving the behavior of these sharks."
If, for example, a particular time of day, tide, or water temperature increases the probability of white sharks in a specific area, beach managers could use that information, he said.
"This is completely hypothetical, but let's say that a certain tide that happens at a certain time of day brings the white sharks closer to shore in a particular area. If you're managing that beach, and you know about that particular pattern and we can forecast the presence of sharks in an area, then you might manage your beach a little differently during that tide or during that time of day," Skomal said. "So that's what we're hoping to be able to do. To be able to produce forecasting models that will be helpful for beach managers."
This doesn't mean that Skomal and his team won't be back on the water next year, though. The 2009 tagging study is ongoing, but the shark expert said he and his colleagues will go out sporadically in the future.
"This was a particularly challenging summer for beach managers," Skomal said. "We had horrible incidents that occurred [with] the fatality. Obviously there's a heightened awareness and concern regarding public safety and justifiably so. So we're very much interested in continuing our tagging work and looking more intensively at the behavior of white sharks relative to their natural prey, which is the seals. We're very much going to be focused on looking at those interactions: white sharks and seals. One thing you'll see is that typically science builds on science. So what we've done over the last 10 years, and specifically five years, is providing the foundation for us to keep moving forward."