Local News
'Our grief is unique in that it's shared by so many people': Why Madelyn Linsenmeir's sister wrote candidly about opiate addiction in her obituary
"It didn't define who she was as a person, but it did define a lot of the decisions she made."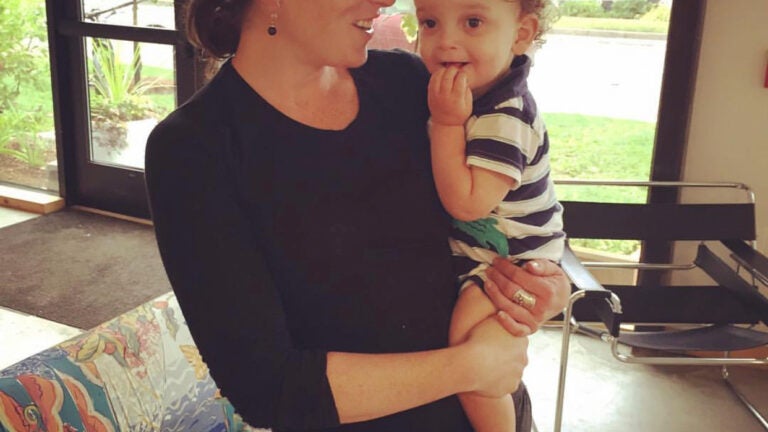 Madelyn Linsenmeir closes her eyes, and her voice — soft but clear — pours forth.
As she sings, the slightest hint of a smile tugs the corner of her mouth upward, "Turn down the lights, turn down the bed, turn down these voices inside my head."
Kate O'Neill shared the video of her 30-year-old sister singing Bonnie Raitt's "I Can't Make You Love Me" in October, on the same day that the obituary she wrote for Linsenmeir, which gained national attention for its candid writing about opiate addiction, was published in Vermont.
"This is what the opioid epidemic looks like," O'Neill wrote with the Instagram post. "It has freckles and a dimple on its right cheek. It is 30 years old and has a singing voice so beautiful people stop in the street to listen. It has a son, two sisters, a mother and a father. Its name is Madelyn Ellen Linsenmeir. This is what the opioid epidemic looks like."
The video was played a few weeks later at the memorial service honoring Linsenmeir's life, where attendees were given the opportunity to get up and tell stories about the 30-year-old.
O'Neill said she and her family weren't expecting the obituary to be shared at all when it was posted on social media.
"We posted it on Facebook really only to alert people in the recovery community in Burlington where Maddie lived that she had died," O'Neill said. "We didn't know how else to let people know. It was really shocking — and it's been bittersweet. We have received just an outpouring of love. And that's been so meaningful. Her death has been extremely hard and was absolutely unnecessary. But the fact that it's impacted people the way it has gives her death some meaning.
"The other part is that our grief is unique in that it's shared by so many people," she added. "So many people are affected by this disease."
Linsenmeir struggled with addiction for her entire adult life, her sister said. She was first introduced to OxyContin at the age 16 during a high school party.
"When Maddie was well and sober she was just such a joy to be around," O'Neill said of her younger sister. "My ex-husband actually officiated Maddie's memorial service, and he said at one point that at family gatherings Maddie was always the center of attention. Not because she demanded that but because it's where she belonged. And it's true. She just was so lively and fun. And it was sort of where she belonged in our family. But the other side of it was she was often the center of attention because of the difficulty she was having. Because of her addiction and struggles."
O'Neill said she never considered writing the obituary for her sister in a way that would have omitted the narrative of Linsenmeir's addiction.
"That just wouldn't do justice to her life and who she was," she said. "It didn't define who she was as a person, but it did define a lot of the decisions she made."
After O'Neill wrote the obituary, she shared it with the rest of her family and they agreed that it spoke to who the 30-year-old was.
It captured both the light and love she carried with her and the darkness.
O'Neill, who lives in Philadelphia, said she hopes that her family being frank about the stigma and shame that can surround addiction will help others — those who don't understand that it is a disease and those struggling with it.   
It's a discussion that's long overdue with the opioid crisis, she said.
"Openly addressing it will hopefully help people who don't know a lot about addiction understand what it is and that it can happen to anybody and that hopefully it will also help people like Maddie who are struggling," she said.
Exactly how many lives are touched by the disease is clear in the sheer number of people who have reached out to O'Neill and her family, from posting comments on the obituary to contacting them directly.
One woman reached out to O'Neill's sister, Maura, on Facebook recently with her own story of how she overdosed in early October and went to rehab.
"[She wrote that] she has two kids, one of whom is actually named Maddie, and how the obituary has been a reminder of what's at stake for her," O'Neill recounted. "And how she really for the first time in her many attempts of trying to stay sober is focusing on her recovery because of what she read about Maddie."
By mid-October, more than $12,000 was donated in Linsenmeir's name to an addiction recovery center where she went for help.
O'Neill said her family wants to use this opportunity, the attention that the obituary brought to the plight of thousands of families across the country dealing with the impacts of opioid addiction, to stay involved and push for change. So much of their focus over the last 12 years has been on Linsenmeir and they hope to now "turn that energy outward," letting their personal experiences inform the advocacy they pursue.
She said she and her family have spoken with Chief Brandon del Pozo of the Burlington Police Department who wrote that he hoped the national attention garnered by Linsenmeir's obituary would translate into changes in approach to the epidemic.
"I agree with everything he wrote," O'Neill said. "I think it's easy to empathize with Maddie, with somebody who looks like Maddie, with a freckle-faced white woman with a baby in a backpack. I think it's harder for people to empathize with people who aren't photogenic — I think it would have been harder for people to empathize with Maddie when she was in the throes of her disease."
The photo of Linsenmeir that accompanied the obituary and that was widely shared shows the 30-year-old with her son, Ayden, who she eventually lost custody of due to her addiction.
He is now being raised by Maura O'Neill.
"That photo of her is when she's at her best," O'Neill said. "I don't think Maddie experienced a lot of empathy when she was panhandling in the grocery store parking lot. And I think it's important that we extend that sympathy to everyone suffering from this disease. Stigma is a big barrier for people getting treatment. The stigma that they experience within the system that should be helping. It's a public health crisis that's unfortunately playing out in the courts and prisons."
The system is outdated, O'Neill argued. There were so many times when her sister was ready to get help and had to wait days or even weeks for a bed in a rehabilitation facility, often across the state from where she lived, she said.  
Linsenmeir "would have loved" to see the impact her story has had, O'Neill said.
"When Maddie talked about getting clean and going to college she often talked about wanting to be a nurse because she wanted to help people like her," she said. "And I think she [has] helped people like her."
Linsenmeir's warmth — her habit of giving "huge" hugs to friends and acquaintances she ran into on the street — is what O'Neill finds herself thinking of most lately.
"That was constant," she said. "No matter where she was in her addiction. She just greeted you with such love and a huge hug. And I miss that so much."