Local News
Massachusetts's first recreational marijuana sales will begin Tuesday
It's happening.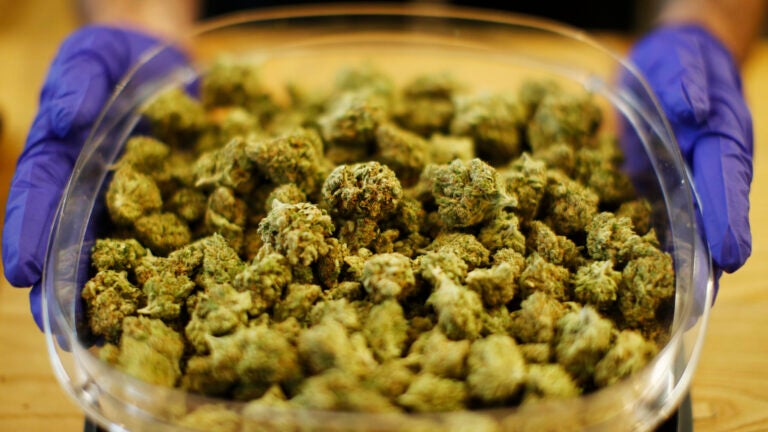 Better get in line.
More than two years after Massachusetts voted to legalize marijuana for all adults over the age of 21, the state's first recreational sales are set to begin Tuesday.
On Friday afternoon, the Cannabis Control Commission authorized two existing medical marijuana dispensaries — Cultivate Holdings in Leicester and New England Treatment Access, or NETA, in Northampton — to begin sales in three calendar days.
Norton Arbelaez, the director of government affairs for NETA, says the dispensary plans to open for recreational sales Tuesday morning at 8 a.m. The Northampton shop, located at 118 Conz St., will remain open until 10 p.m.
"We will be thrilled to be part of this milestone for Massachusetts when NETA Northampton opens its doors to adults 21 years and older, offering legal, safe, regulated cannabis," Arbelaez said.
Cultivate also plans to open at 8 a.m. Tuesday, though their normal business hours will be 10 a.m. to 8 p.m. going forward, a spokesperson for the 1764 Main St. store said Saturday.
"This signal to open retail marijuana establishments marks a major milestone for voters who approved legal, adult-use cannabis in our state," CCC Chairman Steven Hoffman said in a statement Friday afternoon.
The agency, which has spent the past year creating a regulatory framework for the new recreational cannabis industry and licensing businesses, encouraged consumers to know the rules and use the substance responsibly, upon issuing the commence operations notices to the two dispensaries Friday.
"To get here, licensees underwent thorough background checks, passed multiple inspections, and had their products tested, all to ensure public health and safety as this new industry gets up and running," Hoffman said. "As patrons look forward to visiting Massachusetts stores, we hope they will do their part by first familiarizing themselves with the law and understanding what is required of responsible consumers."
Arbelaez also thanked the commission and local Northampton officials Friday for their support as they prepared to enter the retail cannabis industry, but stressed that their top priority remains with the patients who use the drug for medicinal purposes.
"NETA looks forward to providing legal marijuana to our customers, but we want our patients to know that we will never waver from our commitment to them and their needs," he said.
Jim Borghesani, the former spokesman for the 2016 legalization campaign, hailed the forthcoming sales as a major milestone, even if it was a long time coming.
"We can rightfully squawk about state delays and problematic local opposition, but the fact remains that we're the first state east of the Mississippi to offer legal, tested cannabis to adult consumers in safe retail settings," Borghesani, who is now a cannabis industry consultant, said in a statement.
"This is a historic distinction for Massachusetts," he added. "Now we're going to be at the forefront of the drive toward replacing lingering reefer-madness fears with a rational approach that benefits consumers and communities."
Cultivate and NETA won't be the only two dispensaries in the state selling recreational marijuana; they should soon have company.
The commission issued a third retail license to Verilife, a medical marijuana dispensary in Wareham, earlier this month. The store still has to get a "commence operations" notice from the commission before it can begin recreational sales.
The commission is also posed to issue two more retail licenses at its meeting Tuesday.
As of the commission's last meeting on Nov. 1, state officials said they were in the process of reviewing 58 applications from businesses hoping to open recreational marijuana stores.