Local
More than 1,500 people have died from opioids in Massachusetts so far in 2018
"The opioid epidemic, fueled by an all-time high level of fentanyl, remains a tragic public health crisis responsible for taking too many lives in Massachusetts," Gov. Charlie Baker said.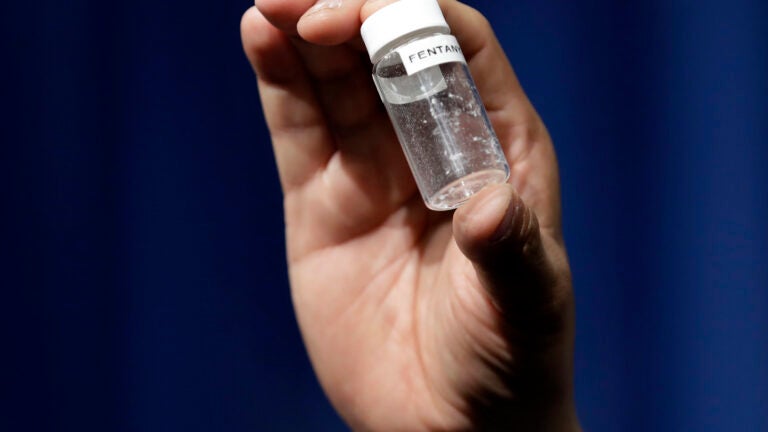 BOSTON (AP) — Massachusetts remains in the throes of an opioid crisis with more than 1,500 deaths through the first nine months of 2018, most linked to the powerful synthetic opioid fentanyl, according to new state figures released Friday.
The Department of Public Health's latest quarterly report on opioid-related deaths also pointed to some encouraging trends, including a slight drop in overdose deaths as compared to last year and a continuing reduction in the number of prescriptions being written by doctors for opioid painkillers.
The report said there were 1,518 opioid-related overdose deaths through September of this year, a number that includes deaths confirmed to have been caused by overdose and others expected to be added to the list once an official determination is released. In 2017, the state reported 1,538 confirmed and estimated overdose deaths.
While there have been fewer deaths so far this year, the state does not appear to be on pace to match the 4 percent decline that occurred between 2016 and 2017.
Fentanyl was present in 90 percent of the toxicology reports in opioid deaths during the second quarter of the current year, a figure that has tripled since 2014, the report stated. By contrast, heroin, present in more than 70 percent of opioid-related deaths that year, fell to 37 percent in the April-June period of the current year.
"The opioid epidemic, fueled by an all-time high level of fentanyl, remains a tragic public health crisis responsible for taking too many lives in Massachusetts," said Republican Gov. Charlie Baker in a statement accompanying the report. "While there is much work left for all of us to do, we are encouraged that overdose deaths and opioid prescriptions continue to decline as searches on the Commonwealth's Prescription Monitoring Program increase."
Legislation signed by Baker in 2016 took aim at excessive or unnecessary painkiller use that can lead to opioid dependency by limiting first-time opioid prescriptions to a 7-day supply and allowing patients to request that pharmacies fill less the full prescription of an opioid.
About 547,000 Schedule II opioid prescriptions were reported to the monitoring program during the third quarter of this year, a 35 percent decline from 2015, the report said. Prescription drugs were present in 17 percent of toxicology reports on overdose deaths in the second quarter of 2018.
After signing a bill earlier this year that closed a loophole in state law that hampered prosecution of fentanyl-related crimes, Baker recently filed legislation $5 million to help law enforcement agencies step up and coordinate fentanyl interdiction efforts.
Also troubling, state officials said Friday, was a finding that opioid-related overdose deaths among black men rose 44 percent in 2017, even as deaths declined among the total population.
"We are also targeting public awareness campaigns to black communities in (Massachusetts), including a campaign to raise awareness about the importance of carrying naloxone, the opioid reversal medication," said Dr. Monica Bharel, the state's public health commissioner.
A study released earlier this week by the Massachusetts Taxpayers Foundation detailing the economic impact of the opioid crisis pointed to billions of dollars in lost productivity as a result of employees whose job performance was compromised or could not work at all because of opioid addiction. The report also conservatively pegged annual health care costs related to the epidemic — both public and private — at $4.5 billion, while noting that figure is in all likelihood understated.