Local News
Record growth for bald eagles in northern New England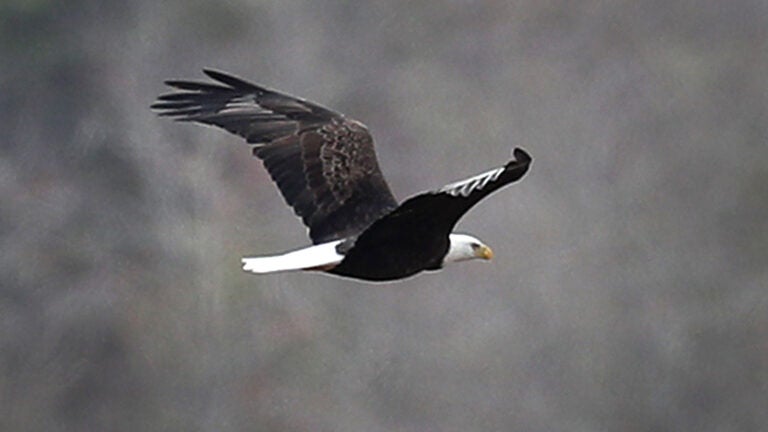 PORTLAND, Maine (AP) — Bald eagles are in the midst of record population growth in northern New England, where America's national bird could soon find itself removed from all state endangered lists.
The eagle was once completely gone from Vermont and New Hampshire and down to just 21 pairs in Maine. But wildlife officials and conservationists in the three states said the bird is repopulating fast, to the point where it has become a threat to rarer species in some areas.
Wildlife officials attributed the bird's comeback to habitat and environmental protection measures, such as the ban on the pesticide DDT, a change that made it easier for birds of prey like eagles to reproduce successfully.
The bald eagles' comeback in northern New England tracks in line with their population growth elsewhere in North America. Bird counters who participated in the Audubon Society's annual Christmas bird count were lucky to find 10,000 bald eagles in the U.S. and Canada in the 1980s, according to data collected by the organization. Now the counters routinely find more than 40,000.
In Vermont, state biologist John Buck said the eagle might be removed from the state endangered list in the coming years. The bird was removed the federal endangered list more than a decade ago, and it came off state lists in Maine in 2009 and New Hampshire in 2017.
"It's going faster than most people thought it would, the recovery," said Margaret Fowle, a conservation biologist with Audubon Vermont. "There's been a consistent upward trend."
A state committee has recommended the bald eagles be downgraded from endangered to threatened in the Green Mountain State, a move that could precede their removal from the list altogether. The state saw 33 eagle chicks fledge this summer, which almost topped a record of 35 last year, Buck said.
The news is even better in New Hampshire, where 70 eagles reached fledging age over the summer, which was the most ever recorded.
The birds have come back so strong in Maine that they sometimes pose a threat to birds such as the great cormorant, which is a seabird on a state protected list, said Doug Hitchcox, a staff naturalist with Maine Audubon. Eagles sometimes prey on the cormorants' young, which presents a difficult balancing act for conservationists who want to see both species protected, he said.
"I want to hold up that banner and say look at the success story, but in a greater ecological perspective, we're not done telling that story yet," Hitchcox said.
Maine has by far the largest bald eagle population in northern New England, and wildlife officials in that state said the population is growing in all parts of it. Wildlife officials found 733 nesting pairs during a survey this year. That was a 16 percent increase from just five years earlier, and hundreds more than where ever found in the 1980s, state data indicated.