Local
Here are the next recreational marijuana dispensaries likely to open in Massachusetts
The first two shops that opened Tuesday should soon have company.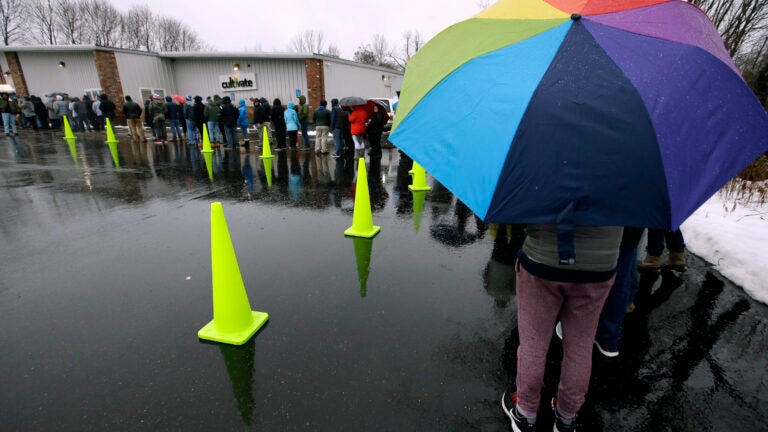 Anyone hoping to purchase recreational marijuana on the first day of sales in Massachusetts faced long lines, snarled traffic, and wait times of several hours, as thousands of customers flocked to the only two dispensaries licensed to sell the drug to all adults Tuesday.
The lines returned again for Day 2 of sales Wednesday. However, Bay Staters (and out-of-state visitors) should soon have more options.
As the crowds braved the rain and sleet Tuesday in Leicester and Northampton, the Cannabis Control Commission was back at work in Boston approving final licenses for two more retailers, in Easthampton and Salem. Including a recently licensed Wareham pot shop, that means there are a total of three medical marijuana dispensaries well on their way to opening for adult-use sales in Massachusetts.
"Now is not the end," CCC Chairman Steve Hoffman said during Tuesday's meeting, roughly quoting former British Prime Minister Winston Churchill.
"It is not even the beginning of the end," he said. "But perhaps, the end of the beginning."
The three dispensaries that are poised to join Cultivate in Leicester and New England Access Treatment in Northampton in the recreational marijuana industry still need to get "commence operations" notices from the CCC, which will allow them to begin sales in three days. Hoffman said Tuesday that all three still have a few steps left.
"They've got to get their inventory into METRC [the state's "seed-to-sale" tracking system], and they've got to let us come out and do a physical inventory inspection," he said, per the State House News Service. "Those three stores will be open as quickly as that happens. That's at the control of the licensees."
Verlife, the Wareham dispensary issued a final retail license during the CCC's meeting on Nov. 1, is reportedly hoping to open early next month. The 112 Main St. dispensary would be the first recreational marijuana shop on the South Coast.
"We're excited," Shelley Stormo, the company's executive director, told Wicked Local earlier this week.
The two medical dispensaries that obtained final licenses for recreational sales Tuesday were INSA in Easthampton and Alternative Therapies Group in Salem.
Mark Zatyrka, the CEO of INSA, told Boston.com that there's a chance their final CCC inspection could happen in the next 10 days, which would allow the 122 Pleasant St. dispensary to open in "a couple weeks." But he cautioned that there's no concrete opening date and it could be more like a month.
"I am hopeful we are looking at an adult-use opening within the next few weeks," Zatyrka said Tuesday night.
INSA also has a Springfield dispensary, which will remain for medical marijuana sales only.
"We invite medical patients to visit our Springfield dispensary to avoid the crowds and long wait times associated with recreational sales," Ian Kelly, the company's director of operations, said in a statement Tuesday, adding, "We expect a substantial uptick in foot traffic to take place when adult-use sales are first offered."
Alternative Therapies Group, or ATG, estimates they'll be open in three to four weeks.
"This is another important milestone in the process, and we greatly appreciate your patience as we continue to work diligently with our regulators to complete the additional steps which must be completed prior to commencing adult-use sales at this facility," Chris Edwards, ATG's executive director, wrote in a blog post Tuesday after the CCC issued them their final retail license.
The 50 Grove St. store in Salem became the first dispensary in Massachusetts to open under the state's medical marijuana program in 2015. ATG has also obtained a provisional retail license for a new, hybrid medical-recreational dispensary at 49 Macy St. in Amesbury.
In the meantime, Edwards says they're working to get their Salem inventory tagged in METRC and may request a waiver from the Department of Public Health to transfer a portion of their medical-use inventory to the adult-use program. Once those steps are complete, the dispensary will request their final inspection from the CCC.
"We're almost there," Edwards wrote Tuesday.
In total, the CCC said Tuesday that it has received 80 retail license applications from all across the state, 60 of which are currently under review.