Local News
What to know about Boston's plastic bag ban
The ban starts Dec. 14, but not for every business in the city.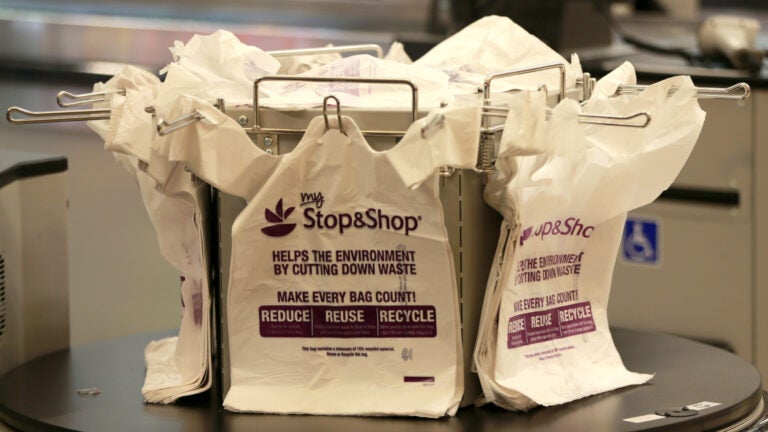 Bostonians, get ready to grab your reusable bags.
On Dec. 14, the city is beginning its transition away from single-use plastic bags in favor of recyclable or reusable options.
We know that single-use plastic bags have an impact on the environment. They often end up in city streets and gutters, abandoned lots, & even in trees. On December 14, we're switching to reusable bags: https://t.co/dnLF9jhQI3 pic.twitter.com/iynY9qix6N

— City of Boston (@CityOfBoston) November 14, 2018
The goals of the ban, which was passed last year, are to cut down on solid waste and greenhouse gas emissions, reduce trash in the streets, protect marine life and waterways, and "promote the use of reusable bags," according to the city's website. 
But that can come at a price to consumers, and the ban won't hit all businesses at once.
Here's a quick guide on what to expect:
Rolling start dates
The bag ban officially begins Dec. 14, but not all businesses will be plastic-free then.
Only retailers 20,000 square feet or larger will need to have alternative options then, according to the city's Department of Inspectional Services. 
By April 1, businesses at least 10,000 square feet will need to get rid of their plastic bags.
The last start date is July 1, and that's for all retail establishments less than 10,000 square feet.
There could be some lingering plastic bags after that, but that's only for retailers that were approved for a one-year exemption because they proved "undue hardship" by the ban.
Bring your own bag, or pay
Customers can bring their own reusable bags. But if you forget, or just don't have one, some businesses may begin to sell reusable, compostable, or recyclable bags. These will cost at least a nickel each, and customers will be able to see how much they paid for the bags as it will be broken out on the receipt, the city says.
But businesses don't have to sell bags, so customers may have to carry out their purchases without one if they don't bring their own.
Bags given out to bring home leftovers from restaurants are included in the ban.
There will still be some plastic out there
Several plastic bag uses are still allowed, though they are limited. These include bags for produce, bags to put frozen food or meat in, newspaper bags, and dry-cleaning or laundry bags, the city's website says.