Local
The ACLU vs. Boston police: What to know about the 'paper warriors' Facebook flareup
"When we do these things, there's repercussions."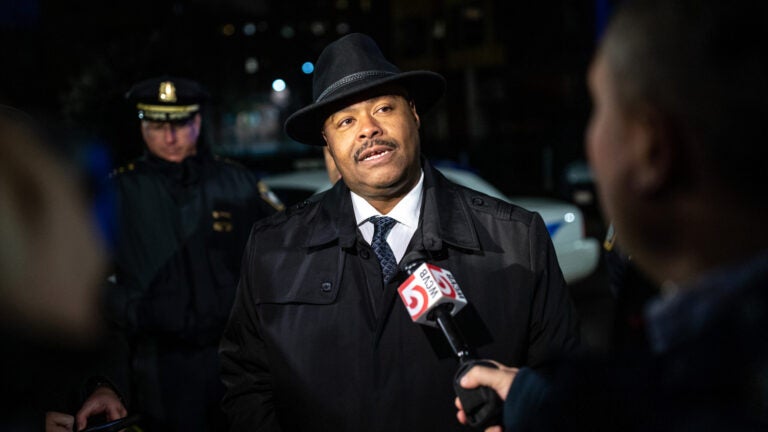 The Boston Police Department usually doesn't comment on active litigation. However, that apparently doesn't apply to Commissioner William Gross's personal Facebook page.
A surprisingly combative post has publicly recast the city's recently sworn-in top cop into the middle of an ongoing fight with the American Civil Liberties Union over the department's treatment of people of color, as local elected officials pick sides in the dispute.
Gross, who became Boston's first black police commissioner in August, chastised the ACLU's "paper warriors" in the recent Facebook post, which the civil liberties group says was an attempt to "divert attention" from the more pressing issues at stake.
With the back-and-forth over Gross's post now spilling over into its second week, here's a look at how the controversy has unfolded.
The lawsuit
On Nov. 15, the ACLU of Massachusetts and several other local legal advocacy and immigrants rights groups sued Boston police for information about the department's "gang database."
The lawsuit — which specifically named Gross, the City of Boston, the police department, and its intelligence collection unit, the Boston Regional Intelligence Center — said the groups had not gotten an adequate response to a May public records request asking how police track, label, and share information alleged gang members, particularly as it relates to federal deportation efforts.
The department uses a point system to determine whether individuals are officially considered part of a gang in their database. The system assesses points for various supposed markers of gang involvement, from self admission (eight points) or information from another law enforcement agency to being photographed with an identified gang member (two points) or possessing group "paraphernalia or identifiers" (four points).
Individuals who obtain 10 or more points are listed as gang members; individuals with at least six points are listed as gang associates.
The ACLU argues that the point system can turn normal teenage behavior — such as incidentally being spotted with an alleged gang member at school or wearing certain clothing — into de facto gang membership.
"It's very easy to get in," Carol Rose, executive director of the ACLU of Massachusetts, said in an interview Tuesday on WGBH's "Boston Public Radio."
"If you're wearing a Chicago Bulls hat, you can get four points," she said. "If you're seen with another person wearing the hat, that's another four points. And if your family member is in the gangs database and you're associating with them, that's another four points, so suddenly you're … in the database, and there's no way to get out."
Despite the "catastrophic consequences for a young person's life" from being labeled a gang member and Boston's status as a so-called sanctuary city, their lawsuit says that Boston police have refused to share information about the database, including its demographic makeup, accuracy, and effectiveness, as well as if and how a person can be removed.
While Boston police have a strong reputation for community policing (which Gross has worked to bolster since becoming commissioner), other similar gang databases across the country have been found to be full of errors and disproportionately comprised of people of color. In their complaint, the ACLU gave three examples of young Boston immigrants — two of whom remain detained by Immigration and Customs Enforcement — who have had their lives upturned by purportedly flimsy evidence of gang affiliations.
Their lawsuit is asking a Suffolk County Superior Court judge to turn over the gang database information they've requested. Rose says that the department's failure to do so thus far violates citizens' constitutional due process rights to know "if the government has put you into a gang database and then, if it's wrong, to correct it."
"What we're really looking for is transparency, is more information — rather than saying that it's inherently good or bad," she said. "We simply don't have the information."
What Gross said
While the Boston Police Department declined to comment on the legal dispute, Gross apparently felt compelled to speak out about the lawsuit about a week-and-a-half after it was filed.
As the Boston Herald first reported, the 54-year-old commissioner took to his personal Facebook account to vent about the ACLU, criticizing the group for not being involved with police efforts to combat crime or offering support in the wake of violence.
"NO ACLU when Officers are shot, No ACLU when we help citizens, no ACLU present when we have to explain to a mother that her son or daughter was horribly murdered by gang violence," he wrote in the Nov. 24 post.
According to The Boston Globe, the comments — viewable to Gross's more than 4,700 Facebook friends, which included journalists  — were posted just before 3 p.m. that Saturday. The commissioner also referenced the "hell of a risk" he took in visiting El Salvador this past summer to learn about the MS-13 gang, which reportedly targets students at local public schools with high immigrant populations, such as in Chelsea, Everett, and East Boston, to be prospective members.
"I sure as hell didn't see the ACLU in El Salvador working to find a solution to our youth being inducted into the MS-13 gang," Gross wrote in his post, which also thanked the "98 percent of the people in Boston that are doing the right thing and are helping out others."
"Despite the paper warriors, we'll continue to do our jobs," he said of Boston's police.
After the Herald reported on his original post, Gross followed up on his initial remarks with an additional comment.
"I hope I have the CONSTITUTIONAL RIGHT to comment on my private FB page where you have to be invited into as friends only," he wrote.
How the ACLU responded
Rose told the Globe in a statement last Sunday, the day after Gross's post, that the commissioner was trying "to divert attention from the serious issues raised by an ACLU lawsuit."
"In order to make Boston a safe city for all its residents, we must meaningfully address discriminatory policing, and confront the role the gang database plays in the lives of young Black and Latinx people in our city," she said at the time.
In her WGBH interview this Tuesday, the ACLU leader said the post had "blindsided" the organization. Rose said that they had reached out to Boston police and described a "willingness" from the department to discuss the issue in person — though no firm meeting had yet been scheduled.
"We're a free speech organization, so we really appreciate and defend Commissioner Gross's right to make his statements known, his views, and we appreciate the role of measured criticism," she said. "We dish it out, as well as receive it. So we never took this very personally."
At the same time, Gross's remarks did rankle the organization. Rose noted that ACLU staffers "really are on the front lines," referring to the group's work since President Donald Trump took office, as well as trips they have made to Central American countries — including El Salvador — to witness "firsthand" the conditions many people in those countries are trying to flee.
Rose added that some staffers in the Massachusetts chapter had served in the military and were "pretty upset" about Gross's remarks.
"They felt pretty offended to be accused of not being actual people who are willing to be on the front lines," she said.
What elected officials in Boston had to say
Following Gross's comments, several Boston city councilors worked to defuse the situation. Councilor Andrea Campbell, the council's president, emphasized that the two sides need to be able to work together to address the "legitimate concerns" raised by the lawsuit.
"While both our police department and the ACLU do incredible work, we have to recognize where we can do better and that requires us as public officials not to take a defensive posture," Campbell told the Globe in a statement last Tuesday.
Two other Boston city councilors also defended the purpose of the ACLU's lawsuit, while also supporting Gross's right to express himself. According to Councilor Lydia Edwards, Gross had actually committed to working with the City Council earlier this year to address the concerns about the gang database.
"How are we being watched; what are we allowing as a society in the name of safety?" Edwards told the Globe, adding that the lawsuit has "nothing to do with how amazing, how hard-working [Boston police are], what the police officers are willing to sacrifice their lives for. This is not a criticism of that dedication."
Meanwhile, Councilor Annissa Essaibi George commended Gross's efforts to find a balance between individual liberties and public safety, while also speaking his mind.
"He is very honest, very upfront," she said. "That is one of the things we should acknowledge and celebrate."
Gross clarifies himself
During a public event last Tuesday at Boston police headquarters in Roxbury, Gross suggested his comments were somewhat taken out of context.
"You know my passion," he told reporters, explaining that the intent of his Facebook post was to raise the morale of some of his close friends and law enforcement colleagues.
"Don't get dejected," the former Boston cadet-turned-patrolman who rose through the ranks to become commissioner said. "You can sue us all day — don't get dejected, your voices will be heard."
To the ACLU, Gross said he was asking for some understanding.
"Can you walk a mile in our shoes? Can you walk a couple of steps and just hear our voice, too?" he said Tuesday. "We do care about the community. We've been through tragedies, we are busting our butts out there. Can we not be painted with a broad brush?"
Police officers back up Gross
In his primary objective, Gross appears to have been successful: Police officers were reportedly galvanized by his Facebook post.
Michael Leary, president of the Boston Police Patrolmen's Association, told the Globe that his phone had been flooded with calls and texts from officers supportive of the commissioner's post.
"The guys are behind him 100 percent," he said. "The ACLU is trying to bog us down with lawsuits and we're trying to do the right thing. No one is trying to target anyone. We're trying to target criminals."
Likewise, Michael Talbot, vice president of governmental affairs for the Massachusetts Fraternal Order of Police, said he thought their surveillance tactics had been unfairly criticized. In an interview with the Herald, former Boston police commissioner Ed Davis also defended the database.
"For the ACLU to be saying the BRIC shouldn't be doing that is foolhardy," Davis said last Tuesday. "People have a right to feel safe in their neighborhoods."
Dan Conley, the recently departed Suffolk Country district attorney, said the intelligence gathering system was actually in part a response to ACLU demands to be more "smart on crime." Conley told the Herald in an interview Friday that the database has been "instrumental" in reducing crime, including in the federal indictment of seven alleged MS-13 members last week.
"My frustration with the ACLU is they urged prosecutors and police to be more surgical and when we do it with the gang database, we get criticized," the former district attorney said. "The intelligence we get is very professional."
Where Marty Walsh stands on the dispute
Last but not least is the man who appointed Gross.
Boston Mayor Marty Walsh issued a statement last Tuesday that both supported the sentiment of the ACLU's lawsuit, while also praising the commissioner.
"I have made clear that the residents of the City of Boston deserve to always feel safe and protected, regardless of their background or status," he said. "What is most important to me is that we have a police commissioner who prioritizes the safety of our residents above all else, which is exactly what Commissioner Gross does every single day."
However, the mayor was forced to speak more in-depth on the subject during his monthly WGBH appearance Friday.
Walsh said he had since spoke to both Gross and Rose, the ACLU leader. In the latter conversation, he said they talked about making sure the city and ACLU had a good relationship, even if they might not always agree.
"We want to be very clear that there's a role for the ACLU in society and certainly in the city of Boston," the Democratic second-term mayor said, adding that it was "probably a growing role" on the national political scene.
And while reiterating his support for Gross, Walsh said he also talked to the commissioner about the "tricky" issue of using social media in his new, elevated role.
"He's the police commission 24 hours a day, seven days a week, 365 days a year," said the mayor, adding that he understood Gross was posting out of "frustration."
"But in this world of being a public servant, nothing is private," he added. "Everything is public, no matter what you say."
Walsh said he didn't tell Gross that there was anything specifically that he couldn't do or say.
"It's a free county," he said. "I just said, 'When we do these things, there's repercussions.'"