Local
How can Boston make the local marijuana industry equitable?
The City Council turned its attention to the barriers local, emerging entrepreneurs face.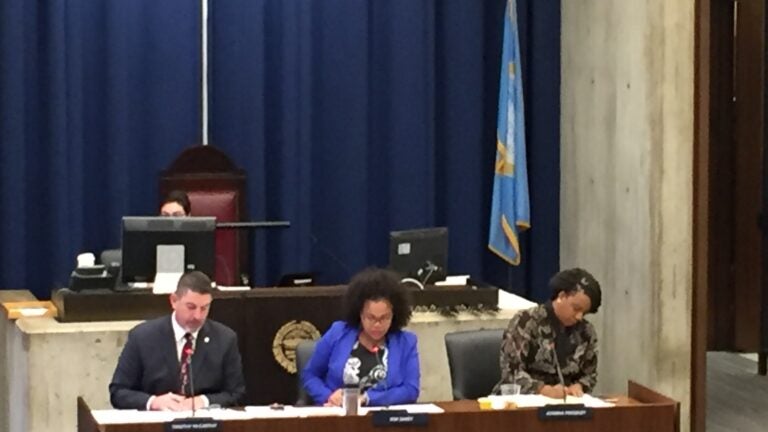 The Boston City Council is considering how the city can level the playing field for residents, namely women and people of color, who want to launch local marijuana businesses but are burdened with significant financial barriers, among others, not shouldered by large companies.
Several councilors emphasized Tuesday that city leaders hold important power to sculpt how the state's emerging industry can be inclusive, diverse, and, above all, equitable as dispensaries, manufacturers, and other branches of the lucrative marijuana business flower across Boston in the coming years.
"We need to make sure that communities that have been locked up are not locked out of this economic opportunity," said Councilor Kim Janey, who highlighted the issues that disproportionally plague communities of color because of the War on Drugs.
Representatives of Mayor Marty Walsh's administration who testified at Tuesday's Committee on Small Business and Consumer Affairs hearing told councilors they are focused on fostering those objectives in the local economy, although doing so can mean the city sees a slower industry rollout.
John Barros, Boston's chief of economic development, said he thinks it's smart for the city to consider approving an equal ratio of those smaller, locally-owned businesses to larger companies — a "1-for-1" initiative following in the footsteps of a similar ordinance recently passed in Somerville.
Somerville's Board of Aldermen last month signed off on a regulation that allows the city to only approve, on an alternating basis, already operating medical marijuana dispensaries and economic empowerment applicants, local entrepreneurs, and co-ops over the next two years.
"I think a 1-for-1 would allow us to be deliberate and intentional. … A 1-for-1 would slow us down, and I'm for that because equity, I think, should be our primary objective," Barros said.
Shaleen Title, who serves on the state's Cannabis Control Commission as its social justice member, pushed back on the notion though that prioritizing equity competes with how quickly the rollout moves. She cited how the commission puts economic empowerment companies — those owned, or that employ or benefit communities with high drug-crime incarceration rates — at the front of the line once they come before the state regulatory authority.
"That would actually speed up the process," she said.
While Boston has yet to see the opening of its first recreational marijuana dispensary, the numbers based on applications alone so far show a significant dearth in minority-owned businesses looking to set up shop.
Just over 50 applications have trickled into City Hall, and, of those, 27 have reached the second step of the four-step application process, according to officials — and only one economic empowerment company has made it that far.
The situation isn't much different on a broader scale. The state's Cannabis Control Commission has approved 76 provisional licenses, none of which went to minority-led businesses.
Furthermore, the lack in diversity was also present in the rollout of medical marijuana, not to mention longstanding issues in the alcohol industry, said 7th District Congresswoman-Elect and Councilor Ayanna Pressley.
"There were 182 applicants, eight provisional licenses awarded, one to a person of color. … There are immediate lessons we can learn about what was prohibitive and unintended consequences from medicinal marijuana where we did not see equity," she said.
Walsh administration officials said they think the city's application process is rather straightforward. But they and others, including local entrepreneurs, who testified said the resources needed to even get to filing the paperwork remain scarce for average residents, who are ill equipped for access to capital and expensive consultants and lawyers needed to get their businesses off the ground.
"The only folks who really have the resources to bring to bear, to walk through that process pretty simply, in fact, are the big money players nationally that are applying to the city," Barros said.
He highlighted that many of the city's programs geared toward helping small businesses are funded through federal grants, which means they are off-limits to the marijuana industry.
Officials, he said, should discuss finding a way for the city to build a "more robust" program that could support and fund the local burgeoning industry, particularly during next year's budget, although some councilors lamented the idea of waiting that long.
Others said constituents have told them they've had trouble reaching city officials to discuss the application process and the roadblocks they face.
"This was passed in 2016. The federal laws have been the same for a long time," City Council President Andrea Campbell said, adding that she grew frustrated throughout the hearing. "We knew that this was coming and that it was going to be a $1 billion industry with opportunities for folks, particularly for folks in underserved communities … I feel like we're just behind the ball."
Tuesday's discussion delved into some of the finer details of the city's application process, from the information the city gathers from prospective businesses to how community meetings presenting business plans to neighborhoods are facilitated.
The process, however, does not ask applicants whether they have economic empowerment certification from the state — something that officials will change, according to Alexis Tkachuk, director of the Office of Emerging Industries. The city will also require applicants to lay out their inclusion plans, she said.
Some councilors floated the idea of putting a residency requirement in place for applicants.
Pressley advocated that the city must thoroughly hold businesses accountable to the agreements they sign with the city, such as diverse hiring practices.
"We (want to) prioritize local business. We want to prioritize businesses that have been historically disenfranchised and not been utilized in the marketplace," she said. "But my main thing is if people are going to offer … a plan around veteran hiring, or youth hiring, people of color, and women then are we holding them accountable to that? Otherwise, they'll offer anything for the purposes of being competitive and getting the buy-in from the community."
Walsh said last week the city's first dispensary will likely be Ascend — whose CEO is former Suffolk County Sheriff Andrea Cabral — near North Station and will open sometime next year. He attributed the city's relatively slow rollout to its focus on choosing applicants from the state's equity program as well as dealing with opposition marijuana dispensaries still face in Boston's neighborhoods.