Local
This firefighter dressed up as Buddy the Elf and challenged strangers in Boston to pillow fights
"Humor is something you can always go back to."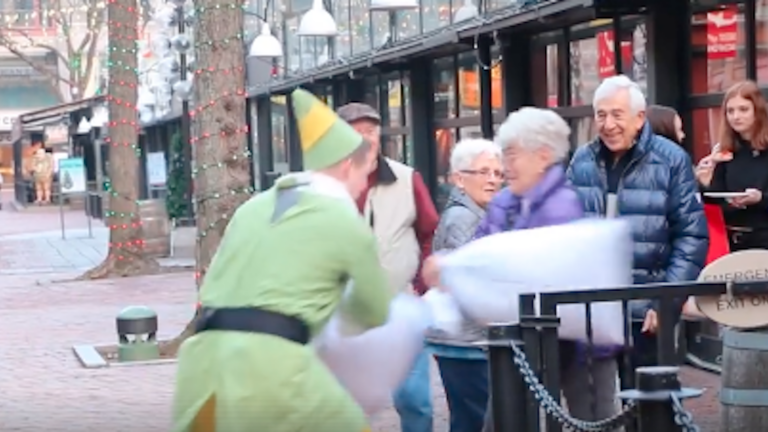 One area firefighter is spreading the holiday cheer — in the form of pillow fights while dressed as Buddy the Elf, that is.
Brendan Edwards, 27, who lives in Milford and works as a firefighter for a department outside of Boston, took his love of comedy to Faneuil Hall, Boston Common, and Newbury Street recently and challenged random strangers to pillow fights.
"We've released some videos here and there this year, so we said, 'Let's do one for Christmas. What can we do to spread Christmas cheer?'" he told Boston.com. "So we came up with pillow fights with strangers featuring Buddy the Elf."
https://www.facebook.com/RealBrendanEdwards/videos/488824858291023/?__xts__%5B0%5D=68.ARAnfbuT5BsLVCQfu_ONMTSxZxnfsPt-d_yaFn_SUs6PEHejcjuatBoHIkBRcjqZAA9BcdklD9t7nTvVTTU-__te6rJAY5hdIk0cEuTg4RUChA-qw9m68K03g5peNzIKqcp1l7652O2bK4E4ziORjdEtLG0YE0oKmLip4LWWdjgzwZv3RbOdr8TXCMVUmBOl6nKVBbk0dqRJETJjCbxdZ9HiAtskMCjw3kE3Cip-8Gkcmkjcyr61EGLsEnv6Obu40hL3virxWpVKoLRFESdFq4cy-BHpsZ8WwrPcxUv-NGKBbpW10XW6Hr0EgYqb5A8WenFSRnfEf55HjughZ_cN4Xujv5Ju7u0SPxKPqA&__tn__=-R
Buddy the Elf, as some may remember, is the protagonist of the movie "Elf." He's played by Will Ferrell.
The video, posted Tuesday morning, has made the rounds on social media and various news outlets. It had over 45,000 views and roughly 790 shares on Edwards's Facebook page as of about 2:30 p.m. Wednesday afternoon.
Edwards is met with a variety of challengers in the video. On the younger end is a teenage boy of 15 or 16 who was in the city with his family. He also approached an older group "and they loved it."
Edwards is a big fan of Will Ferrell and his brand of comedy, he said.
"He's outrageous," he said. "It's like the humor is so out of control and over the top that it's that funny."
Edwards has only taken his comedy into the public one other time — he dressed as a hot dog and asked people random questions. That didn't take off, he said.
The person behind the camera was Edwards's younger brother, Ryan, who's 16 and in high school.
Edwards hasn't ruled out another Buddy the Elf visit to Boston before the season is over, he said.
Edwards thanked the participants. He noted that being a firefighter means that he sees some difficult things.
"Humor is something you can always go back to," he said. "Humor is always there; it's what makes people smile."