Local
Firefighter is killed battling 5-alarm blaze in Worcester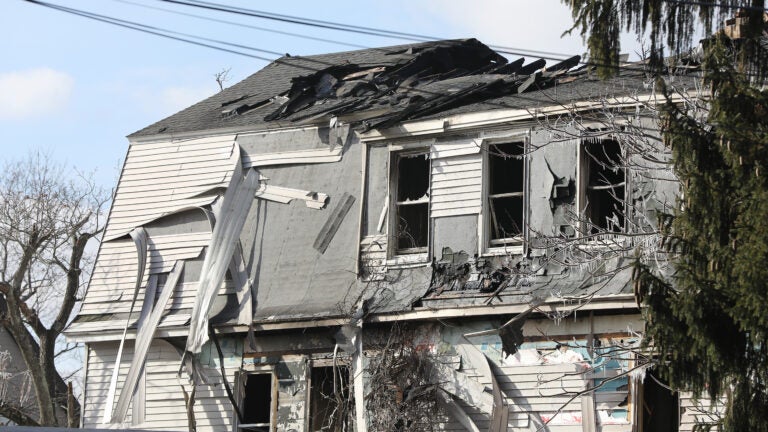 WORCESTER — Residents of a Lowell Street apartment house awoke hours before dawn Sunday, startled to find smoke and heat rising into the first floor from the basement.
As families fled, firefighters rushed inside, but soon the rapidly growing conflagration forced them to retreat — some scrambling down ladders to safety.
One did not make it.
Christopher Roy, 36, was a Worcester firefighter for 2½ years and a devoted father of a 9-year-old daughter, officials and neighbors said Sunday morning.
"He was a great guy, a great man, a very helpful neighbor who loved his daughter [so] much,'' said Gehan Hanna, 48, who has lived next to Roy and his daughter since the two moved into a Shrewsbury townhouse about three years ago. "He was always with her.''
Worcester City Manager Edward M. Augustus, speaking at a news conference Sunday morning, described Roy's death as "an unimaginably devastating loss.''
"Every day, our firefighters selflessly risk their lives without a second thought,'' Augustus said.
Worcester Mayor Joseph M. Petty said Roy, whose parents, Michele and Ronald Roy, are Worcester residents, had "paid the ultimate sacrifice . . . doing what he always wanted to do: helping people and saving lives.''
Officials had not determined the cause of the five-alarm fire as of Sunday evening.
Worcester fire officials and the state fire marshal's office are investigating the cause and whether there were working smoke alarms in the building, according to Jennifer Mieth, a spokeswoman for the state Department of Fire Services.
The building's owner did not respond to a request for comment Sunday.
Flames were reported in the basement of the three-story building at 7 Lowell St. at 3:58 a.m., Worcester Fire Chief Michael Lavoie said.
Firefighters were soon on scene and had ascended to the second floor of the six-unit structure when it became clear that it was unsafe to remain inside, officials said.
"With the assistance of other crews in the rapid intervention team, five firefighters escaped over ladders. Two firefighters were transported to the local hospital,'' Lavoie said. One was evaluated and released, officials said.
"Fire crews were heroic in their efforts to rescue their colleagues under extreme conditions,'' Lavoie said.
"The loss is especially gut-wrenching in the wake of the anniversary of the Worcester Six on Dec. 3, 1999, and firefighter Davies on Dec. 7, 2011,'' Augustus said. "Every day, our firefighters selflessly risk their lives without a second thought. Today they showed incredible heroism, dedication, and devotion in their efforts to save firefighter Roy.''
Dan Guilbault, 29, who lives nearby, was awakened by his dog early Sunday and watched firefighters enter the building as second- and third-floor windows glowed with flames, and the crackle of shattering glass pierced the frigid night.
Soon, with flames erupting high above the roof, firefighters were forced out. Guilbault heard a firefighter yell "Get the ladders,'' and saw a firefighter use a chain saw in an attempt to open the building's side.
"You could see the desperation,'' he said.
One firefighter was pulled from a window and placed on a stretcher, Guilbault said, but a second was motionless as he was pulled out by a line and lowered to the ground.
Guilbault said he was in shock Sunday.
"We're pretty heartbroken,'' he said.
Roy lived with his daughter in a tiny enclave consisting of a pair of two-family town houses wedged between commercial properties, neighbors said.
On Sunday, those neighbors remembered Roy in phone interviews as a kind soul who was rarely apart from his daughter. They described seeing Roy do yard work as the child played nearby, riding her bike or gliding through the air on the swing he had built for her.
"I just saw him the day before yesterday, when we were [getting] out of our cars together,'' said Hanna. "I can't believe he's not going to be there anymore.''
Hanna was on her way to church Sunday morning, she said, when a neighbor called her with the news of Roy's death.
"We cried and couldn't even believe it,'' she said. "I just need to ask everyone to pray for his daughter. He would love for all of us to pray for her.''
Another neighbor, who asked not to be identified, said she remembered when Roy was training to be a firefighter. She recalled how he spoke enthusiastically of the time he would have off between courses, when he could spend more time with his daughter.
After he became a firefighter, Roy would drop the child off with his parents on his way to work.
"I can give him a 'number-one father' award,'' the neighbor said.
Flags across the state, which have been lowered following the death of former president George H.W. Bush, will remain at half-staff to honor Roy, at the order of Governor Charlie Baker.
Lieutenant Governor Karyn Polito visited Lowell Street with Worcester officials Sunday but did not speak to reporters.
Baker extended his condolences to Roy's loved ones in a statement posted to Twitter, where he added, "December has been especially cruel to Worcester firefighters & their families over the years. Keep them all in your thoughts & prayers.''
On Saturday, Worcester firefighters marked the seventh anniversary of a three-alarm fire that killed Jon D. Davies Sr. when the building collapsed, according to the department website.
And nearly two decades ago, six Worcester firefighters perished in the 1999 Cold Storage Warehouse fire, among the deadliest incidents for Massachusetts firefighters. Today, the site is a fire station.
"December is already a difficult month for the Worcester Fire Department, and this tragedy only adds to the grief we feel for heroes like Christopher who have been taken from us too soon,'' US Representative Jim McGovern, a Worcester Democrat, said in a statement Sunday.
The Lowell Street fire displaced about 30 residents, according to a spokesman for the American Red Cross. Red Cross officials at the scene offered shelter and assistance with necessities, according to Christopher Rae, the spokesman.
First-floor residents Oscar Moquete, 42, and his wife, Yolanda Lopez, 38, said they awoke early Sunday and saw smoke coming up from their floor.
They quickly fled with their three teenage children and Moquete's mother, all of whom lived in the apartment, Moquete said. A family member who lived in another unit also fled, he said.
They watched as flames grew tall and tore through the building's upper floors, he said.
Sunday afternoon, Moquete had a Red Cross blanket draped around his shoulders and watched as firefighters and public works employees continued their efforts. The building was torn apart by the blaze, the roof burned away.
"Our only plan is to survive,'' Moquete said.
As he spoke to a reporter, his thoughts turned to the firefighter who gave his life.
"We can buy everything. We can buy clothes; we can buy food. We can continue [with our lives],'' Moquete said. "He can't. . . . It's very bad.''
In a separate interview, Lopez brushed away tears as she looked up at her family's blackened home. They had only lived there a few months, she said.
At one point, she turned away at the mention of Roy, too emotional to speak.
"That's hard,'' she said, tears welling up in her eyes.
Later, she offered condolences for his death: "I'm so sorry.''
Another first-floor resident, Frances Perez, 36, mourned as she watched crews work Sunday.
"The person who died, that was real sad, because he was trying to help us,'' she said. "It's not fair.''
Perez struggled to accept the knowledge that her home was destroyed.
"I can't believe we're in this situation,'' she said.
At the Webster Square Fire Station, where Roy had been assigned to Ladder 4, some Worcester residents stopped to pay tribute.
Chrissa Daniels, 52, left a bouquet of flowers at the base of the station's flagpole, pausing to make the sign of the cross before she walked away.
Firefighters are a "special breed,'' Daniels said, as her eyes welled with tears.
"They do it knowing they're risking their lives,'' she said. "The fact that this guy didn't come back just breaks my heart.''
Despite the tragedy, the department's work went on.
Just before 4:15 p.m., sirens blared from the Webster Square Fire Station. Garage doors opened, and an engine truck with lights blinking roared from the building.
Overhead, black bunting across the Ladder 4 door rustled in the frigid breeze.